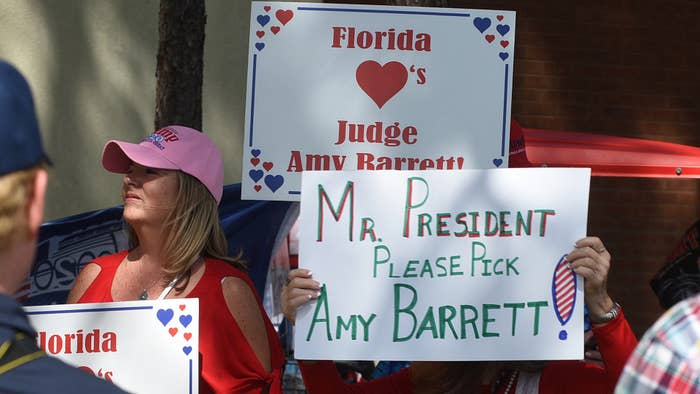 UPDATED Sept. 26, 5:55 p.m. ET: On Saturday afternoon, Donald Trump officially announced that Judge Amy Coney Barrett would be his nominee for the Supreme Court seat that is vacant by Justice Ruth Bader Ginsburg's death last week.
"This should be a straightforward and prompt confirmation," Trump said during the press conference. "Should be very easy. Good luck. It's going to be very quick. I'm sure it'll be extremely non-controversial."
"She is a woman of unparalleled achievement, towering intellect, sterling credentials, and unyielding loyalty to the Constitution," he continued. He also praised Barrett and her legal record, saying: "I looked and I studied and you are very eminently qualified for this job."
Judge Barrett also made brief remarks regarding the nomination.
"I fully understand that this is a momentous decision for a president, and if the Senate does me the honor of confirming me, I pledge to discharge the responsibilities of this job to the very best of my ability," Barrett said. "I love the United States and I love the United States Constitution. I am truly humbled by the prospect of serving on the Supreme Court."
See original story from 09/25/20 below.
Though we're still a day away from a formal announcement, Donald Trump has chosen his Supreme Court nominee, The New York Timesreports. 
Republican sources tell CNN the president has selected Amy Coney Barrett, a conservative judge on Chicago's 7th U.S. Circuit Court of Appeals. Barrett is reportedly the only potential nominee who has met with Trump in-person. Insiders claim she was at the White House on Monday and Tuesday, and apparently impressed Trump during the initial meetings. 
"She was the plan all along. She's the most distinguished and qualified by traditional measures," a former senior administration official told CNN. "She has the strongest support among the legal conservatives who have dedicated their lives to the court. She will contribute most to the court's jurisprudence in the years and decades to come."
Barrett was reportedly a top contender for Trump's SCOTUS pick in 2018, when the president was determining who would fill a seat vacated by Anthony Kennedy. Justice Brett Kavanaugh was ultimately chosen. Barrett, a devout Catholic, is a favorite among many social conservatives who would prefer to see another pro-life judge in the nation's highest court. She's also seen as an "originalist," who believes the Constitution is a static document that cannot evolve or change over time.
During her 2017 confirmation hearing, Barrett said that as a circuit-court judge she would "faithfully apply all Supreme Court precedent," including Roe v. Wade, the Supreme Court's 1973 decision that recognized a woman's right to abortion. However, if she is appointed to the Supreme Court, Barrett has the opportunity to reconsider Roe v. Wade and potentially vote to overturn the decision.
In a 1998 law review article, Barrett described abortion as "always immoral" and once said "the framework of [Roe v. Wade] essentially permitted abortion on demand, and Roe recognizes no state interest in the life of a fetus."
While speaking at Jackson University in 2016, Barrett said she does not believe the Supreme Court would overturn the Roe v. Wade decision; however, she said she could see the court allowing each state to place their own restrictions on abortions.
"I don't think the core case, Roe's core holding that women have a right to an abortion, I don't think that would change," she said. "But I think the question of whether people can get very late-term abortions, you know, how many restrictions can be put on clinics, I think that will change."
In 2015, Barrett signed a letter to Catholic bishops that expressed support for the church's conservative views and teachings on issues like abortion, marriage, and sexuality.
The letter reads in part:
We give witness that the Church's teachings—on the dignity of the human person and the value of human life from conception to natural death; on the meaning of human sexuality, the significance of sexual difference and the complementarity of men and women; on openness to life and the gift of motherhood; and on marriage and family founded on the indissoluble commitment of a man and a woman—provide a sure guide to the Christian life, promote women's flourishing, and serve to protect the poor and most vulnerable among us.