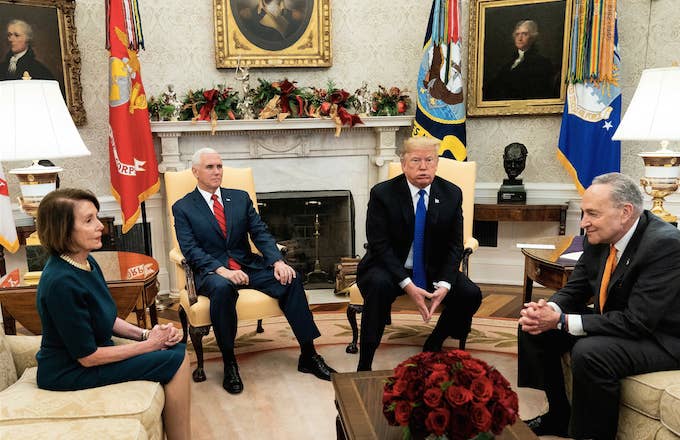 Things got testy in the Oval Office on Tuesday. America loved every second of it.
In his effort to secure funding for his long-promised border wall, President Donald Trump held a heated meeting with Democratic congressional leaders Nancy Pelosi and Chuck Schumer. The debate—which, of course, played out in front of cameras—delivered clapbacks, finger-pointing, and shady interruptions. But, perhaps, the best part of the exchange was when Schumer baited Trump into owning a potential government shut down over the proposed wall.
"I am proud to shut down the government for border security, Chuck," Trump said. "Because the people of this country don't want criminals and people that have lots of problems and drugs pouring into this country. So I will take the mantel, I will be the one to shut it down. I won't blame you for it."
Trump has repeatedly threatened to shut down the government if Democrats refuse to approve the funding for the Mexican border wall. Following Trump's threats, GOP members claim that the left will be responsible for the potential shut down; while Democrats argue they will not be blamed because Republicans maintain control over Congress and the White House. Trump's "proud to shut down" comments have clearly given the left the upper hand.
Another delightful moment was when Pelosi put Trump in check after he questioned her negotiation skills.
"If we don't have border security, we'll shut down the government," Trump said, before referring to Pelosi's fight to become speaker. "Nancy's in a situation where it's not easy to talk right now."
"Please don't characterize the strength that I bring to this meeting as the leader of the House Democrats who just won a big victory," Pelosi replied.
Schumer added salt to the wound by reminding the president about the 2018 midterms: "Elections have consequences, Mr. President."
"That's right. And that's why the country is doing so well," Trump fired back. "[...] Excuse me. Did we win the Senate? We won the Senate. 
"When the President brags that he won North Dakota and Indiana, he's in real trouble," Schumer replied. 
Though it doesn't seem the parties are any closer to striking a deal, many Americans have applauded Pelosi and Schumer for standing their ground and refusing to cower before Trump.
You can check out some of the reactions to Tuesday's meeting below.