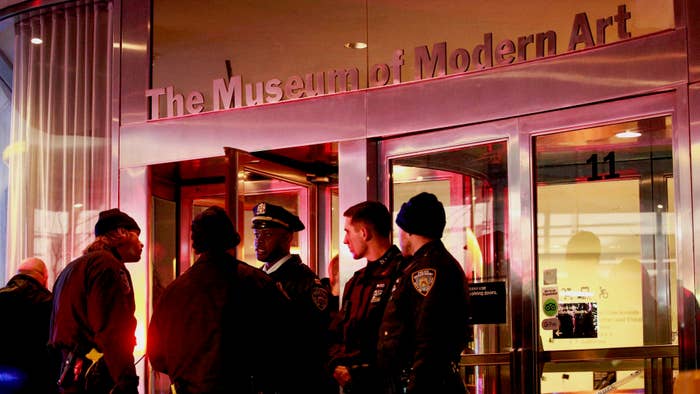 UPDATED 3/15 8:36 a.m. ET: A 60-year-old man wanted in connection with the stabbing of two Museum of Modern Art workers has been arrested.
Per the Associated Press, Gary Cabana—who is said by NYC police to have been seen in footage stabbing the two MoMA employees this weekend—was arrested on Tuesday at a bus terminal in Philadelphia. Police in the area said they had been looking for Cabana over reports of a fire having been set at a nearby hotel. 
Per a separate report from WNBC, Cabana is expected to face arson-related charges in connection with the hotel fire, as well as eventual extradition to NYC.
Police confirmed Cabana's arrest on social media Tuesday morning.
See original story below.
Authorities are searching for a man who allegedly stabbed two workers at NYC's Museum of Modern Art.
According to NBC 4, the attack took place late Saturday afternoon, when the suspect was denied entry into a film screening. Police say the 60-year-old man was known among MoMA staffers, as he had been a former member of the museum; however, his membership was revoked earlier this week due to repeated disturbances.
"At approximately 4:15 this afternoon, an individual entered the museum, attempted to gain entrance presenting his membership card and was denied entrance because his membership had expired," said John Miller, NYPD deputy commissioner of Intelligence and Counterterrorism."His membership had expired as a result of two incidents involving disorderly conduct here at the museum on two separate dates in recent days [...] The individual involved in this incident is known to us and we are endeavoring to locate this person right now."
After he was turned away, the suspect allegedly jumped over the reception desk and repeatedly stabbed two female employees in their backs, collarbones, and necks. The victims were transported Bellevue Hospital and are said to be in stable condition.
MoMA was immediately evacuated as police searched for the suspect, who is described as a white male who was last seen wearing a black jacket and a blue surgical mask.
Videos posted on social media show large crowds fleeting the museum after the stabbing. The New York Times reported people shouted, "Shooting!" This may have caused the commotion, but police have said there was no indication that a shooting occurred.
"I was watching Picasso and Cezanne, you know, just enjoying the museum and suddenly they said, 'Museum is closed.' and people started running," MoMA patron David Durejko said, as reported by ABC 7. "Then they started shouting 'Get out, get out for your own safety.'"
MoMA will be closed on Sunday, March 13 until further notice.