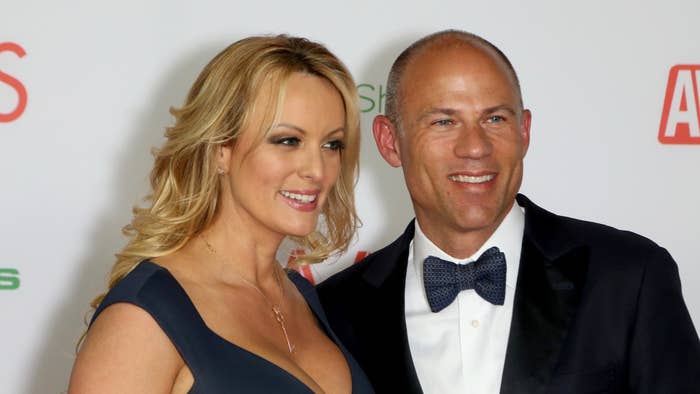 Michael Avenatti was sentenced to four years in prison after stealing hundreds of thousands of dollars from adult film actress Stormy Daniels.
The disgraced attorney received the sentencing in a Manhattan federal court Thursday, about three months after he was found guilty of one count of wire fraud and one count of aggravated identity theft. Avenatti, who represented Daniels in her high-profile legal battle against former president Donald Trump, was accused of stealing nearly $300,000 that was owed to his client as part of her Full Disclosure book deal. An explosive memoir that detailed Daniels' alleged affair she had with Trump before he took office.
"No one else had the guts to take her case," Avenatti told the court. "I believed we could take down a sitting U.S. president who was the biggest threat to our democracy in modern times."
The defense stated the book's publisher agreed to pay Daniels an $800,000 advance in four installments. Avenatti sent a forged letter to Daniels' literary agent requesting the payment be sent to a bank account under Aveantti's control.
In 2020, Avenatti received two-and-a-half years in prison for trying to extort up to $25 million from Nike. According to NBC News, the 51-year-old will serve the Nike and Daniels sentences concurrently, which means he'll have to serve an additional two-and-a-half years once the Nike sentence is complete.
District Judge Jesse Furman described Avenatti's crimes against Daniels as "craven and egregious," adding his once "healthy ambition" eventually evolved into "blind ambition."
"I've brought embarrassment and ridicule upon myself and innocent third parties, including my family, my children, my friends, and the legal profession," Avenatti told Furman in court, as reported by the New York Post. "I have destroyed my career, my relationships and my reputation and done collateral damage to my family and my life. There is serious doubt as to how or if I will recover any semblance of a normal life or peace."