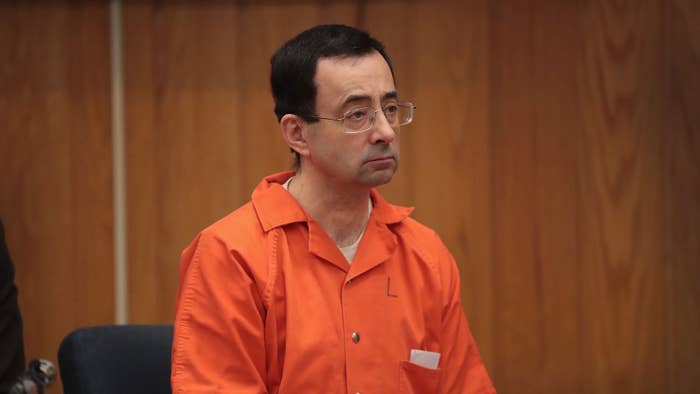 Thirteen of Larry Nassar's sexual assault survivors are seeking $130 million from the FBI, claiming the agency's mishandling of the case resulted in eight more months of abuse.
According to the Associated Press, the female accusers filed tort claims on Wednesday, more than four years after the ex-USA Gymnastics physician was sentenced to up to 175 years in prison for sexual misconduct. Prosecutors say Nassar used his position as a doctor to sexually abuse hundreds of athletes, including world-renowned gymnasts like Simone Biles, Gabby Douglas, Aly Raisman, Jordyn Wieber, and Kyla Ross. 
In summer 2021, the United States Department of Justice released a report that found the FBI's Indianapolis and Los Angeles field offices failed to properly investigate the abuse allegations in 2015. John Manly, a lawyer who represents Nassar victims, told the Indy Star that the Indianapolis office didn't launch the probe until eight months after they learned about the allegations. Manly said at least 120 individuals were sexually assaulted by Nassar during that time.
"We spend so much energy and resources encouraging children to come forward when they have been abused," said Jamie White, an attorney who is representing the 13 claimants. "So the fact that people came forward to the most powerful law enforcement agency in the world and were rebuffed — it's a slap in the face."
The 13 survivors are demanding $10 million each from the FBI. The identities of the claimants have not been revealed. 
As pointed out by the AP, filing an administrative tort claim is the first step a victim can take to receive compensation from the federal government. The law gives the agency six months respond to the claims; if they fell to reach a settlement during that time, the claimants have the option of filing lawsuits in civil court.