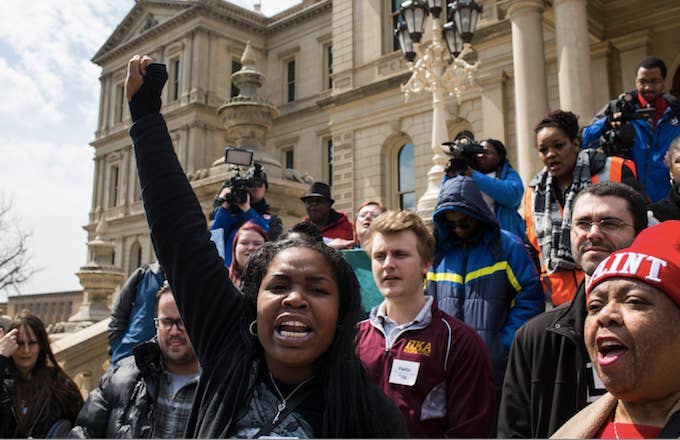 The residents of Flint, Michigan, are one step closer to justice.
On Thursday, a federal judge ruled that the Environmental Protection Agency could be sued over the town's ongoing water crisis, thus permitting more than a dozen lawsuits against the agency to proceed. Judge Linda Parker of the U.S. District Court for the Eastern District of Michigan said the federal government is not immune to legal action, but did not say whether federal employees were negligent in the case.
"The impact on the health of the nearly 100,000 residents of the City of Flint remains untold," Parker stated, according to CNN. "It is anticipated, however, that the injury caused by the lead-contaminated public water supply system will affect the residents for years and likely generations to come."
The lawsuits accuse the EPA and the federal government of failing to intervene in the water crisis in a timely manner. Parker's ruling was announced about five years after Flint residents learned their water supply was laced with lead. She wrote that the EPA had knowledge of Flint's water contamination, but failed to properly warn residents about the dangers.
"Quite to the contrary, the EPA learned that State and local officials were misleading residents to believe that there was nothing wrong with the water supply," Parker stated.
Earlier this week, the Michigan Department of Environmental Quality announced it was giving Flint $77.7 million to improve the city's water infrastructure. The funds will go toward a secondary water source pipeline, the construction of a chemical feed building, water main and water meter replacement, a water quality monitoring panel, and more.
"These projects will help the short and long term sustainability of the water system in the city of Flint," Flint's Director of Public Works Rob Bincsik told MLive, "but as stated in the Water Distribution Optimization Plan the water system needs in excess of another $300 million in capital improvements over the next 20 years."