Teacher Arrested for Allegedly Having Sex With 15-Year-Old Student
Kassandra Moore is facing charges of lewd and lascivious battery as well as transmission of child pornography.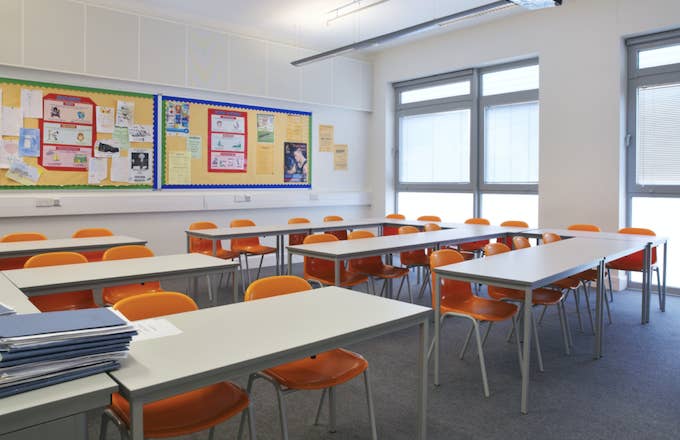 Getty
Image via Getty/Arcaid/Universal Images Group
Florida authorities have arrested a teacher who is accused of having sexual relations with a 15-year-old student.
According to the Bradenton Herald, 31-year-old Kassandra Moore was booked Monday on four counts lascivious battery and one count of transmission of child pornography. She will face up to 65 years in prison if convicted on all charges.
Local police say the abuse started over Instagram, where Moore and the teenage boy began communicating about schoolwork. The messages eventually took an inappropriate turn, as the teacher began sending partially nude photos of herself. The teen reportedly shared screenshots of their conversation with one of his classmates, and claimed to have had sex with Moore on multiple occasions. Leaders at the Broach Private School in Bradenton, Florida, then received a tip about the misconduct and launched an investigation. 
Children's Educational Services, which operates the private school, addressed the probe in an April 10 letter to stakeholders.
"I want to bring to your attention a situation that has taken place as of this morning. We have placed [Moore] on an administrative leave of absence while we investigate accusations that were brought forth that are in clear violation of our code of conduct," the letter states. "As you know, student safety, school integrity, and a family-like culture is embedded in the very core of who we are as a school and an educational company. We greatly appreciate your cooperation and support as we ensure the truth comes to light and proper steps are taken to address the situation."
The student eventually gave investigators screenshots of the selfies Moore had sent him. He also described the four times he and Moore allegedly had sex: one of those encounters took place in the teacher's car, and two others occurred in a public park, where authorities discovered a used condom containing Moore's DNA. Other evidence against the teacher included phone data and surveillance footage of one of the encounters.
Bradenton Captain Brian Thiers said the teacher was fired from Broach Private School shortly after CES launched the investigation. Moore allegedly provided authorities with seven pages worth of alibis; however, investigators concluded none of her claims were true. She is also accused of trying to convince another teacher to provide a false alibi.
"This is a person that has no business having any involvement with children. To me, this is a predatory-type person," Thiers told reporters Monday. "[...] As a parent of young boys, I would be extremely heartbroken and sad—I am heartbroken and sad over this whole case."
Thiers said he wants to believe this is an isolated incident, but urges anyone with additional information about Moore's alleged misconduct to contact police. 
Moore remains in Manatee County Jail. Her bond has been set at more than $31,500.
News of the arrest arrives about a week after a Maryland substitute teacher was arrested for allegedly having sex with an underage student. Alexis Mercedes Boberg, 25, surrendered to police last Monday and was charged with two counts of fourth-degree sex offense for having sexual contact with a person while in a position of authority.