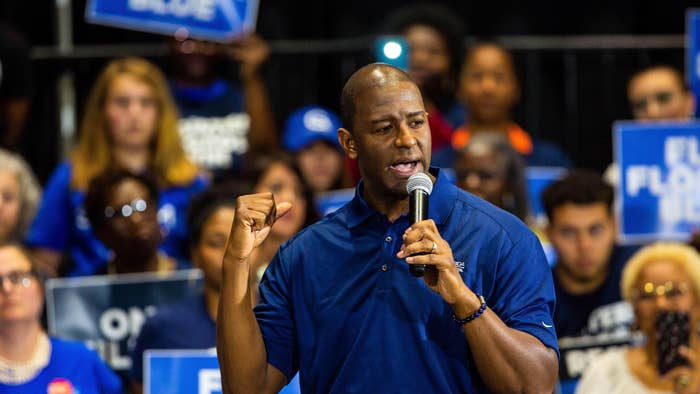 Florida Democrat Andrew Gillum, who lost the 2018 governor's race to Ron DeSantis, is now facing decades in prison.
According to NBC News, federal prosecutors have hit the former Tallahassee mayor with a 21-count indictment alleging wire fraud, conspiracy, and making false statements. Gillum's longtime adviser Sharon Lettman-Hicks was named as a co-defendant.
The U.S. Attorney's Office for the Northern District of Florida announced the campaign-related charges Wednesday, stating 42-year-old Gillum and 53-year-old Lettman-Hicks illegally solicited funds "through false and fraudulent promises and representations that the funds would be used for a legitimate purpose." Prosecutors say the defendants concocted a plan that would divert the money to companies owned by Lettman-Hicks, who would then funnel the funds to Gillum for his personal use. The alleged scheme reportedly took place between 2016-2019.
Gillum and Lettman-Hicks surrendered to the FBI on Wednesday, and made their first court appearance later that day.
"I have spent the last 20 years of my life in public service and continue to fight for the people," Gillum said in a statement to NBC News. "Every campaign I've run has been done with integrity. Make no mistake that this case is not legal, it is political."
He continued: "Throughout my career, I have always stood up for the people of Florida and have spoken truth to power. There's been a target on my back ever since I was the mayor of Tallahassee. They found nothing then, and I have full confidence that my legal team will prove my innocence now."
Gillum was also a subject of "Operation Capital Currency," a 2015 federal probe that looked into alleged public corruption in Tallahassee. He ultimately settled the charges by agreeing to pay a $5,000 ethics fine.
"The government got it wrong today," his attorneys, Marc Elias and David Oscar Markus, said in a statement. "The evidence in this case is clear and will show that Mr. Gillum is innocent of all charges. We look forward to putting this case to rest and giving Andrew and his family peace of mind once and for all."
According to the DOJ, Gillum could receive a 45-year prison sentence if found guilty of the charges.