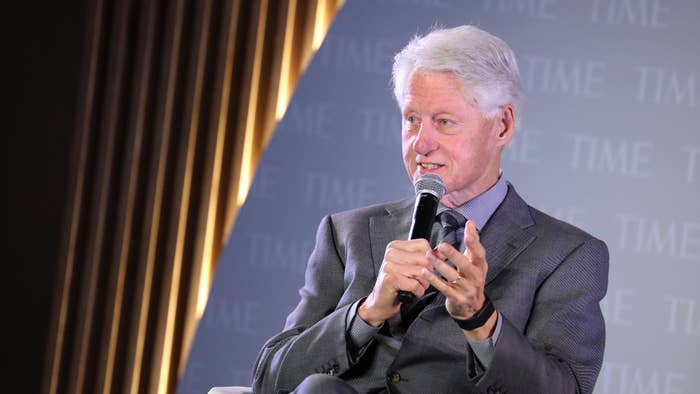 UPDATED 10/15, 8:34 p.m. ET: Bill Clinton's spokesperson says the former president is in "excellent spirits," but will remain hospitalized overnight.
Angel Ureña shared the updated via Twitter on Friday, just a day after he confirmed Clinton was being treated for a non-COVID-related infection.
"President Clinton is continuing to receive treatment for an infection at UC Irvine Medical Center. All health indicators are trending in the right direction, including his white blood count which has decreased significantly," Ureña wrote. "In order to receive further IV antibiotics, he will remain in the hospital overnight."
Ureña went on to say Clinton was "deeply grateful" for all the support and well wishes coming his way, and thanked the hospital staff for their "outstanding care."
See the original story below.
Former President Bill Clinton has been hospitalized with a non-COVID-related infection. 
The 75-year-old's spokesperson announced the news via Twitter on Thursday, confirming Clinton had been admitted to the University of California Irvine Medical Center earlier this week.
"On Tuesday evening, President Clinton was admitted to UCI Medical Center to receive treatment for a non-Covid-related infection," Angel Ureña wrote. "He is on the mend, in good spirits, and is incredibly thankful to the doctors, nurses, and staff providing him with excellent care."
In a subsequent tweet, the spokesperson shared a joint statement with Dr. Alpesh Amin, chair of medicine at UC Irvine Medical Center, as well as Clinton's personal primary physician, Dr. Lisa Bardack. The doctors provided a brief breakdown of the former president's treatment and expressed optimism about his recovery.
"President Clinton was taken to UC Irvine Medical Center and diagnosed with an infection," the message read. "He was admitted to the hospital for close monitoring and administered IV antibiotics and fluids. He remains at the hospital for continuous monitoring. After two days of treatment, his white blood cell count is trending down and he is responding to antibiotics well. The California-based medical team has been in constant communication with the President's New York-based medical team, including his cardiologist. We hope to have him go home soon."
Ureña and the physicians didn't provide any more details about Clinton's illness, but a source "familiar with the matter" told The Hill he was receiving treatment for sepsis, a life-threatening condition caused by the body's severe response to an infection. The insider also claimed Clinton remains in the ICU for privacy reasons.
According to the New York Times, an aide for Clinton said that he suffered from an urological infection.
The Arkansas native, who served as president from 1993-2001, underwent a successful quadruple bypass in 2004, and had two two stents placed in a coronary artery about six years later. His recent hospitalization appears to be unrelated to his previous heart problems.
Stay tuned as more information becomes available.