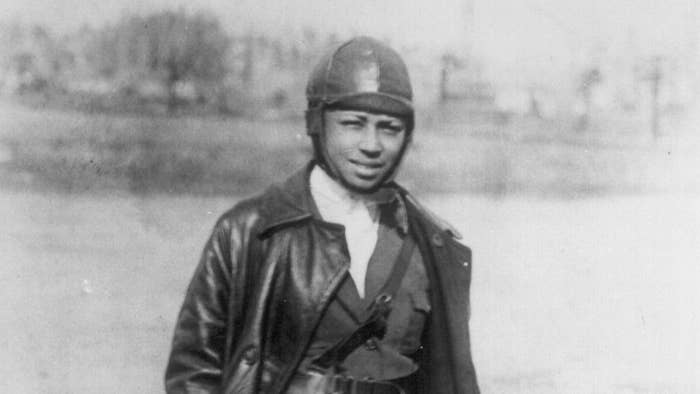 Trailblazing aviator Bessie Coleman is getting her own piece of currency.
The United States Mint announced last week that Coleman will appear on select 2023 U.S. quarters along with four other pioneering women. The Texas native made history more than a hundred years ago by becoming the first Black and first Native American woman to obtain an International Pilot's License. In 1922, Coleman, who was also the daughter of sharecroppers, completed the first public flight by a Black woman, and went on to build a successful career in acrobatic, stunt flying.
Coleman, aka "Queen Bess," has received a slew of honors since her 1926 death, including having schools, streets, and libraries named after her; being inducted into the National Women's Hall of Fame; and getting her own U.S. Postal Service stamp. 
Other women who will appear on 2023 U.S. quarters include former first lady Eleanor Roosevelt; America's first prima ballerina Maria Tallchief; suffragist Jovita Ida; and composer Edith Kanaka'ole.
"The range of accomplishments and experiences of these extraordinary women speak to the contributions women have always made in the history of our country," Mint Deputy Director Ventris C. Gibson said in a press release. "I am proud that the Mint continues to connect America through coins by honoring these pioneering women and their groundbreaking contributions to our society."
The American Women Quarters Program launched earlier this year. The first batch of commemorative quarters paid tribute to astronaut Sally Ride; Asian American actress Anna May Wong; Cherokee Nation leader Wilma Mankiller;  suffragist/educator/political Nina Otero-Warren; and award-winning poet/activist Maya Angelou, who became the first Black woman to appear on a U.S. quarter.
The program will honor five different women every year until 2025.