Iraqi Citizen Arrested for Plotting to Kill Former President George W. Bush, FBI Alleges
An alleged ISIS operative living in Ohio was arrested by FBI Joint Terrorism Task Force agents on Tuesday over a plot to assassinate George W. Bush.
Getty
Photo by Mark Wilson/Getty Images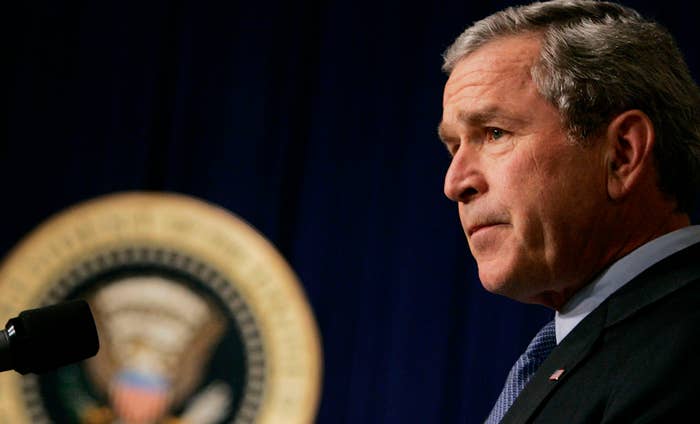 An Iraqi national living in Ohio has been arrested for his alleged plot to assassinate former President George W. Bush.
Forbes reports Shihab Ahmed Shihab Shihab, 52, an Iraqi man with alleged links to ISIS, was arrested Tuesday by FBI Joint Terrorism Task Force agents and appeared in federal court in Ohio this afternoon.
Shihab has been charged with aiding and abetting the attempted murder of a former United States official, as well as a federal immigration crime for his alleged attempt to illegally bring foreign nationals to the United States, the Justice Department said in a statement.
Shihab, who entered the U.S. in September 2020 and later applied for asylum, allegedly planned to smuggle four Iraqi nationals into the country to kill Bush, because he felt the former president "was responsible for killing many Iraqis and breaking apart the entire country of Iraq," FBI special agent John Ypsilantis said in a warrant, per Bloomberg.
According to the Department of Justice, Shihab faces a potential prison sentence of up to 20 years if he's found guilty of the aiding and abetting the attempted murder of a former U.S. official charge. He is looking at another 10 years in prison for attempting to bring someone illegally into the U.S.
Federal prosecutors are requesting that Shihab be detained without bond, with a hearing set for Friday.
Bush has yet to respond to the news but his chief of staff, Freddy Ford, released a statement. "President Bush has all the confidence in the world in the United States Secret Service and our law enforcement and intelligence communities," Ford said.