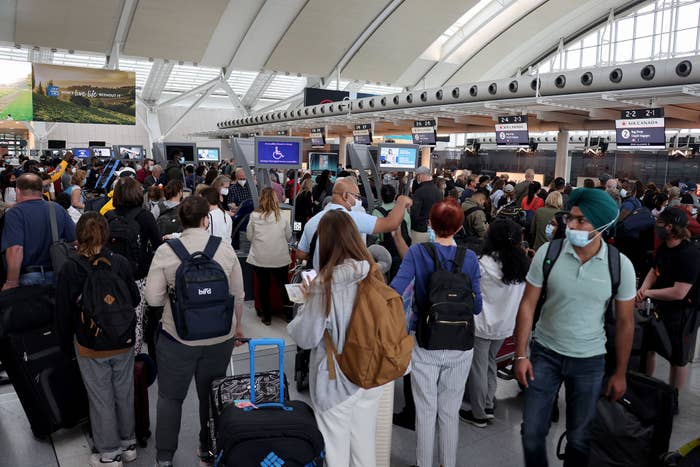 For locals, it's no secret that Toronto Pearson International Airport redefines mayhem. However, when the newspaper of record writes about the airport's disarray, it's officially reached new lows.
"Turbulence on the Ground at Toronto's Pearson Airport" is the title of the New York Times piece published on Saturday, in which the publication exposes their millions of American subscribers to the chaotic operations within Pearson airport.
Travellers who frequent Pearson already know to mentally prepare for the long lines, cancellations, lost luggage, flight delays, and all-around disorder as the understaffed and overcrowded airport continues to operate through the summer rush. 
No one is safe from Toronto Pearson's mess—not even tennis star Nick Kyrgios and his girlfriend, who recently had to sleep on the airport floor due to flight delays. 
"It feels almost like a postapocalyptic movie, just everybody for themselves," one passenger tells the Times. "People were yelling at each other; the public was getting at each other's necks. You get to the gate, and it was just pure chaos." It may sound like hyperbole, but travellers who have dealt with the same difficulties know that it's not.
The federal government has announced plans to fix the airport delays and the Greater Toronto Airports Authority are launching an interactive infographic to help travellers stay informed throughout their journey. Yet, the return of random mandatory testing at Pearson and other Canadian airports this Tuesday will likely only cause further setbacks for already frustrated passengers. 
While the Times is spreading the word of the nightmare that is Toronto Pearson, they also recently published an article titled "Toronto Steps Into Summer" highlighting the beauty of the city of Toronto and encouraging people to visit when they can. Everything in balance.