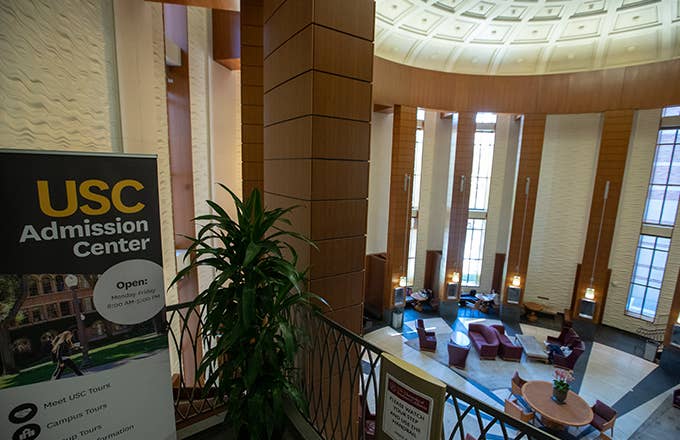 In the fallout of the massive college admissions scandal, the less famous but equally rich culprits involved with the scheme have started to move out of the shadows. The New York Post reported on Tuesday that two of those implicated in the ongoing situation were Gregory Abbott and his wife Marcia, the former of which is the founder of food and beverage distributor International Dispensing Corp. On Wednesday, their son defended their actions after they were accused of paying over $125,000 to artifically boost their daughter's SAT and ACT scores.
"They're blowing this whole thing out of proportion," Malcolm Abbot said while speaking with Post outside his parents' Park Avenue apartment in New York City. "I believe everyone has a right to go to college, man." Malcolm Abbot reportedly considers himself a rapper, and he spoke about the situation while smoking a blunt and boasting about his latest music project. He raps under the name Billa B, and encouraged the reporters to check out his 2018 EP, Cheese and Crackers.
Abbot later appeared outside their home with his brother, who stated that his parents "got roped into [this by] some guy who fucking cheated them." William "Rick" Singer, who was one of the alleged masterminds behind the elaborate scheme, paid off a test proctor to inflate the test scores of Gregory Abbot's daughter. It's not clear which school she hoped to get into, but both parents are currently out on $500,000 bail each.
Earlier today, two Stanford students filed a lawsuit against the colleges and universities involved in the scandal.