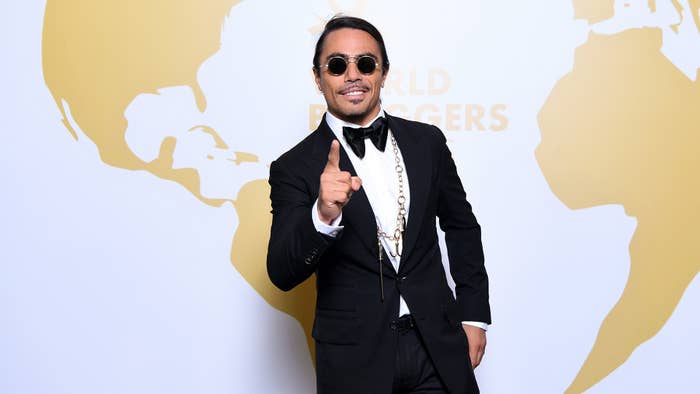 Former employees of Salt Bae's restaurant empire—which includes the Nusr-Et chain of steakhouses—have alleged his business has a culture of discrimination, tip theft, and misogyny.
Per reporting and an investigation from Insider, the Turkish viral sensation, butcher, and chef is allegedly prone to playing favorites and discriminating against employees on the basis of their nationality. Nusret Gökçe, who is better known to the world as Salt Bae, has restaurants across three continents and is known for traveling between his many sites, including 22 Nusr-Et locations. The investigation included interviews with nine people who formerly worked for Gökçe, and cites seven lawsuits against his business.
"You feel like you were treated a lot less, not really respected," said one woman who previously worked as a reservations agent at Nusr-Et Miami. She wore a standard uniform during her employment, but other women were encouraged to wear outfits that looked as though they were "going to the club."
In a lawsuit filed in November 2021, former Nusr-Et New York bartender Elizabeth Cruz said she was told to change into a "short skirt, high-heels, and revealing top" when she showed up for her first day of work. The manager later found out she was Dominican, and reportedly told her, "My wife is Dominican. I know how you women are." When she complied with the request, she said she was harassed by male colleagues including one who followed her home. She asked to wear a more standard uniform after two weeks on the job, but her request was denied and she was fired just days later.
Another employee of the New York Nusr-Et, Angelo Maher, said he was fired in March 2020 when he called out his employer for "nationality-based discrimination." He said in his lawsuit, also submitted in November 2021, that various Turkish employees discriminated against him. One colleague called him "Spanish shit," and he alleges he suffered "mental and physical anguish" due to persistent "physical intimidation and discriminatory intimidation directed at non-Turkish employees."
Other former employees have claimed that there's a persistent issue with tip theft at many establishments. In Maher's legal complaint, for instance, he said he was not permitted to receive tips when celebrities visited the New York restaurant. Former New York waiter Mustafa Fteja alleged in a 2019 lawsuit that Gökçe took 3 percent off tips before he gave the money to employees, and management "systematically fired each waiter who complained about not getting paid tips."
Additionally, a former bartender at Nusr-Et London said everything at the expensive restaurants is "cheap as hell." They allegedly gave uniforms to employees that were made of polyester, which he noted were "the most horrible I've ever worked in" and "paper thin."
Read the full investigation into Salt Bae's empire of restaurants at Insider.