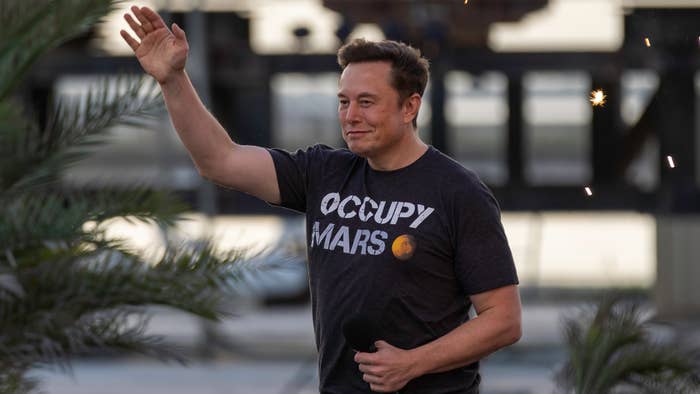 On Wednesday, Elon Musk disclosed that he sold $3.58 billion worth of Tesla stock this week, per the Associated Press.
The Tesla CEO sold the shares from Monday to Wednesday, according to a filing that was posted by the U.S. Securities and Exchange Commission. This brings the total amount of Tesla stock he's sold this year to almost $23 billion, although it's not clear what has prompted the sale. Shares in the electric vehicle company have dropped over 60 percent from its peak last year. His $44 billion acquisition of Twitter could have something to do with his latest sale of Tesla stock, especially since he seems to be more than a little distracted mapping his plans for the social media company.
Needless to say, Tesla investors have expressed frustration at Musk's increasing detachment from the company. Leo KoGuan, who is one of the biggest investors in Tesla, criticized Musk in a tweet shared on Wednesday. "Elon abandoned Tesla and Tesla has no working CEO," Leo wrote. "Tesla needs and deserves to have working full time CEO."
In a note shared with clients on Thursday, Wedbush stock analyst Dan Ives said, "The Twitter nightmare continues as Musk uses Tesla as his own A.T.M. machine to keep funding the red ink at Twitter." Other investors have expressed concern that his recent behavior on Twitter is damaging the Tesla brand. 
According to Forbes, the drop in Tesla shares value has also resulted in Musk losing his title of the world's wealthiest person. Bernard Arnault, the chair and CEO of LVMH, is currently the wealthiest person in the world with a net worth of $172.9 billion. Musk, meanwhile, has a net worth of $168.5 billion, which means Dave Chappelle was wrong when he introduced Musk at a recent show as the "richest man in the world."