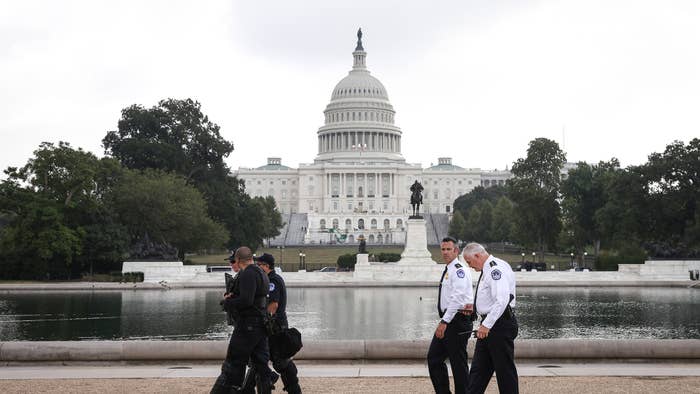 U.S. Capitol Police Chief Tom Manger addressed the likelihood a Jan. 6 copycat riot, and suggested the "threat level is much higher than it was a year ago."
In an interview with CBS News, Manger said there's been a major increase in threats to the Capitol over the last year, even if the possibility of another insurrectionist incident in Washington, D.C. remains unlikely. He said there were less than 4,000 threats directed at the Capitol in 2017, more than 8,600 in 2020, and approximately 9,600 in 2021. "The threats against Congress have grown exponentially over the last five years," he said.
Manger added, "Right now, we're prioritizing the [threats] that are most concerning. We're going to have to get additional folks to handle these kinds of threats."
The Capitol Police faced criticism for the way Jan. 6, 2021 was handled, and as such there's been extensive efforts in the force to make sure another violent mob doesn't attempt an insurrection again.
"There could be a situation where something unexpected happens that we're not prepared for, but I will tell you that today, it is much less likely something like [Jan. 6] could occur because of the things that we've put into place," said Manger. He also directly addressed the failings of the Capitol Police last year, citing training issues, lack of equipment, and a failure to act on prior intelligence. "Those issues have been addressed," he continued.
Manger said that unfortunately over 130 officers have left the Capitol Police department since the events of Jan. 6. Manger is hoping to make 400 additional hires in the future, with 280 coming this year. The force has also opened two field offices to help investigate Capitol threats, one in California and the other in Florida. "It's paid off in terms of some of the cases we've had to look into," he said.
The events of Jan. 6 led to five deaths and 138 injured police officers. In recent months, a large number of individuals involved in the insurrection have pleaded guilty, including the Florida man famously seen carrying House Speaker Nancy Pelosi's lectern.