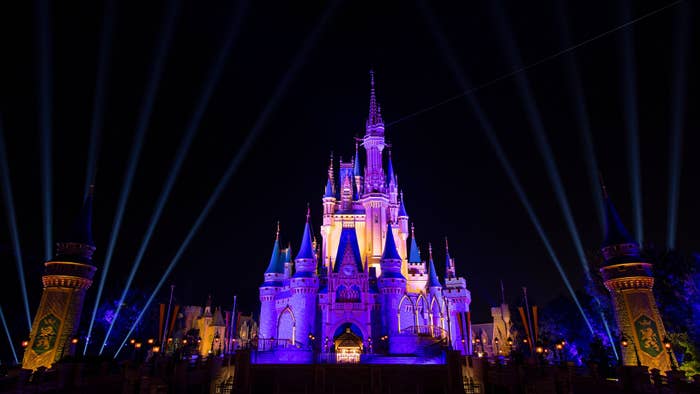 Florida legislators are looking to strip Disney of its Reedy Creek Improvement District—which the Disney World theme park has been operating under for decades to get special park projects done, per NBC News. 
Some legislators—including Florida's House of Representatives member Rep. Spencer Roach—are hoping to discuss repealing an act that once created the district, which allows Disney to operate within the state's unique zone. Roach called Reedy Creek "the largest tax evasion scam in Florida history, if not U.S. history — and we've had our share of scams in Florida."
Conversations surrounding the zone have been sparked again after Disney came out in opposition of Florida House Bill 1557, which is being deemed by critics as the "Don't Say Gay" bill, to restrict sexual orientation or gender identity teachings. Gov. Ron DeSantis has also questioned Disney's zoning situation, but he says he doesn't think anyone should be retaliating against the company for its stance on the bill. 
"Someone said Disney has all these special perks," DeSantis said. "Should you retaliate against them for them coming out and demagoguing this bill? I don't believe you 'retaliate,' but I think what I would say is, as a matter of first principle, I don't support special privileges in law just because a company is powerful, and they've been able to wield a lot of power."
The Reedy Creek Improvement District was created back in 1967 at the request of Walt Disney, to allow the park to have control of 25,000 acres. The area makes it so Disney doesn't have to go through local planning commissions for approval when creating structures, and it doesn't deal with governmental impact fees.
"They have an advantage," Roach said, " and it's anti-economic liberty. That is my bent here. Really, the fundamental question should be: Why did we do this in the first place? As Floridians, do we believe in free markets or not? If we do, then this is wrong."
If local governments had to start servicing Disney parks, Orlando-based attorney Tom Wilkes says that it could cost local taxpayers, with the company paying property taxes in Orange and Osceola counties.
"Disney pays its way when it comes to government services," Wilkes said. "It pays the two counties, and two county school boards — and gets very little services in return. It doesn't get any exemptions there."
But as Roach shares, right now, it's "it's just an idea."
"Disney is politically vulnerable, and they're in a position now where, if it's politically possible to correct this aberration of the free market … although it may on the surface look retaliatory, in politics, timing is important," he said.