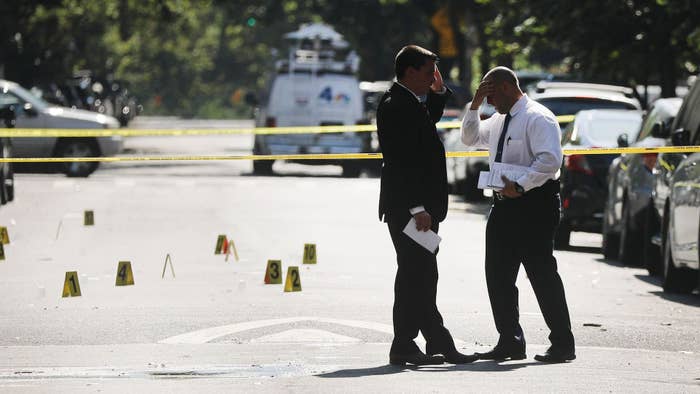 During the first year of the pandemic, the number of gun deaths in the U.S. experienced what experts are calling an unprecedented increase, according to a report from the Centers for Disease Control and Prevention. 
From 2019 to 2020, a 35 percent increase marked the "highest number of firearm homicides in 20 years," per Deb Houry of the CDC's National Center for Injury Prevention and Control. These are numbers, per the CDC, not seen since since 1994. While gun deaths for the most part saw an increase in every group of Americans, the CDC reports the worst increases were among those who were younger, male, and/or Black. 
"Firearm homicide impacts everybody. We saw it go up in rural, small metro, and large metro areas. But it does have the highest impact, or the highest rates, in those 10 to 44, who are young Black men and young Black children," Houry said, per CBS News. 
The highest rates and the largest increases in gun homicides in the U.S. during the first year of the pandemic were among Black and American Indian people, with the overall rate sitting around 6 per 100,000 people in 2020. Rates of gun suicides, on the other hand, "remained nearly level" from 2019 to 2020. 
The rate of gun homicides among Black men and boys age 10-24 years was 21.6 times higher than the same age group of white men and boys, the report reveals. Communities with poorer residents also saw gun homicide rates 4.5 times larger than those with the least deaths.
2020 was "not a one-time blip," per Houry, who warned that early figures for 2021 show the pandemic has "exacerbated" issues of gun violence. The CDC has reportedly collected data on 17,000 gun homicides and 22,000 suicides through October of 2021. 
"If the observed patterns continue from November and December, then we would see that both firearm homicides and suicides will likely turn out to be higher than those in 2020," she said.