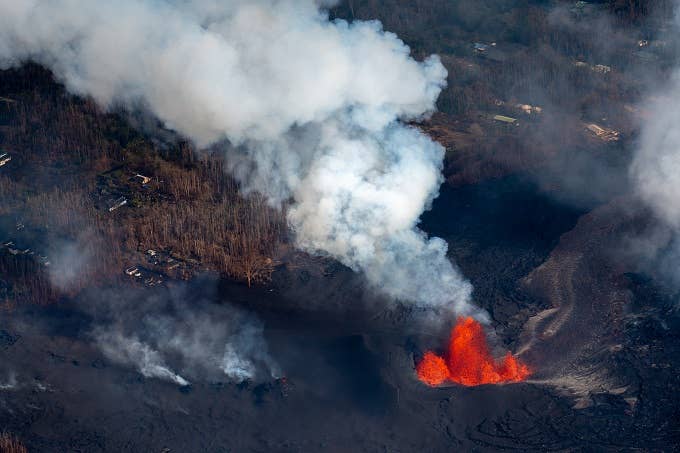 A man fell 70 feet into the caldera of Hawaii's Kilauea volcano on Wednesday night. 
According to the National Park Service, the man fell into the island of Hawaiʻi's most active volcano after he crossed a railing on a cliff above the crater and slipped. 
"He had crossed over a metal railing to get closer to the cliff edge where he lost his footing and fell in," NPS spokesperson Ben Hayes told CNN. "Park officials immediately launched a search and rescue operation with the Hawaii County Fire Department and around 9 p.m. local time search and rescue located the man. He was seriously injured, perched on a narrow ledge 70 feet from the cliff edge."
Hayes reported that the call for help came immediately after the man fell and that it took about an hour to extract the man from where he fell. He was flown to Hilo Medical Center to recieve treatment for his injuries. 
The man's identity has not yet been released and the Park Service has not decided if he will face charges for hopping the railing. Hayes said that rangers are investigating the incident to determine if they should hand down further consequences.
Kilauea is still an active volcano and it erupted as recently as last May. The area around the volcano was closed for months after iit spewed lava and ash, destroying over 700 surrounding homes. That last major incident was part of an ongoing eruption that had lasted since 1983, only coming to an end in September of last year.
"Visitors should never cross safety barriers, especially near the caldera's ridge," Hayes said. "It's still a very dynamic area."