People Are Saying an 11-Year-Old Boy Won Canada's French-Language Leaders' Debate
Many on Twitter praised Charles Leduc, an 11-year-old boy from Quebec, for raising the issue of climate change during last night's federal debate.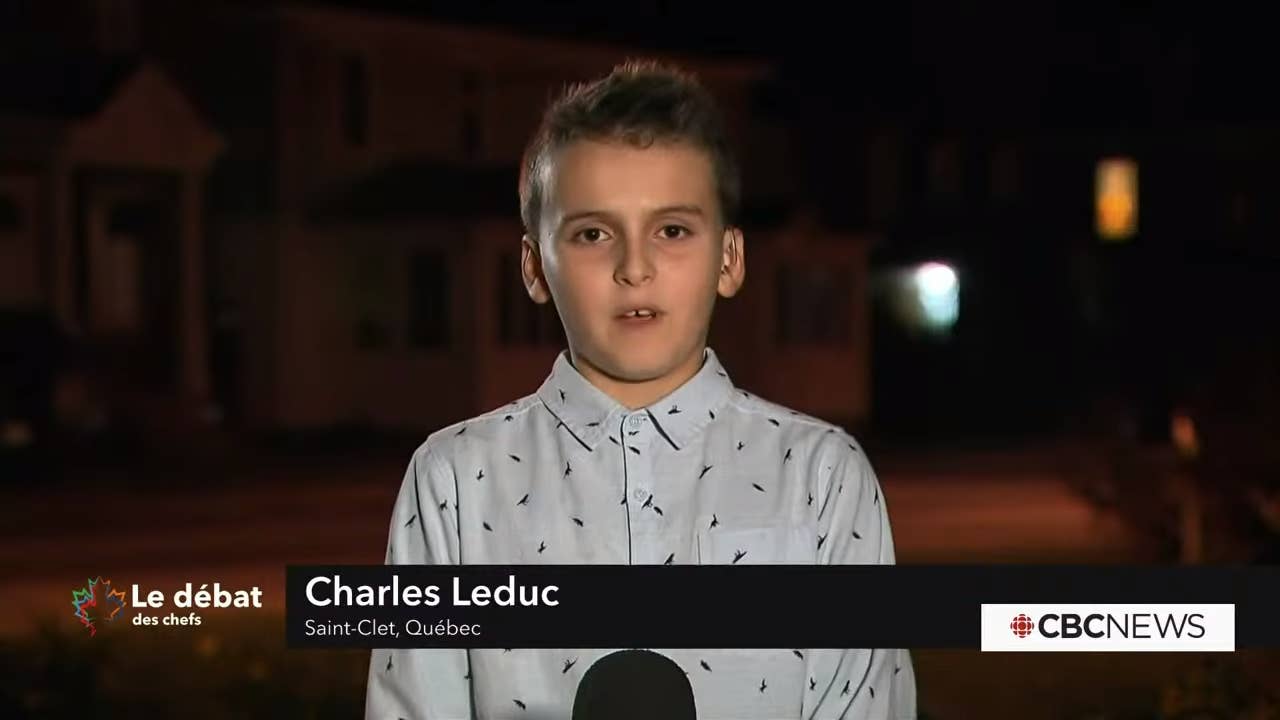 YouTube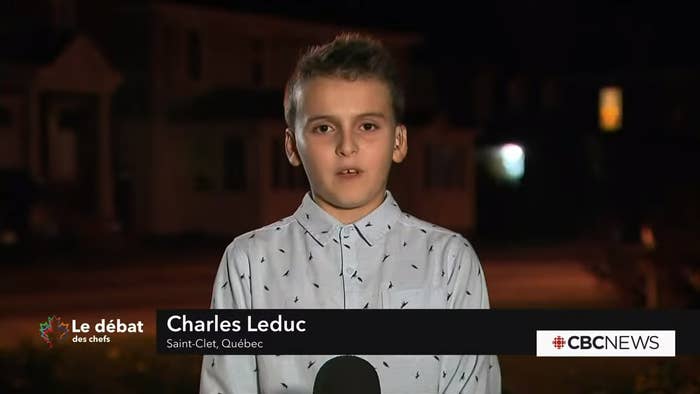 With just two weeks to go before election night, Canada's major federal party leaders squared off for the official French-language debate on Wednesday.
Justin Trudeau, Jagmeet Singh, Erin O'Toole, Yves-Francois Blanchet, and Annamie Paul engaged in a war of words over everything from cultural identity, the cost of living, foreign policy, health care, the pandemic, and mandatory vaccines. But if you ask the denizens of Twitter, it was an pre-teen Quebecois boy who won the debate.
Kicking off the section of the debate on climate change, Charles Leduc, an 11-year-old from Saint-Clet, Quebec, asked the leaders a very pertinent question: "What are you going to do to reduce fossil fuels in Canada?"
He added that he's not only concerned about his own future, but his children's future as well. Shout-out to the little homie for getting a head start on planning a legacy when most thirtysomethings are preoccupied with planning their 2K22 franchises.
People on Twitter were quick to heap praise on the kid. Some called him Canada's answer to Greta Thunberg.
Others gave him props for planning his future family when most of us haven't even planned what we're having for lunch.
Some people were apparently moved to tears by Charles' question.
Folks were just as impressed by the boy's incredibly hard drip.
Children's Healthcare Canada, a national association devoted to the wellbeing of kids, gave kudos to Charles for representing the "voice of youth" during the debate.
So, yeah, the general consensus was that Charles won the evening.
All jokes aside, it was great seeing climate change get a significant chunk of the spotlight last night—the federal leaders discussed it for a whopping 20 minutes, the longest the topic has been highlighted during this election thus far. Prime Minister Justin Trudeau faced repeated attacks from the other leaders over his record on climate change and reducing emissions.
"We can't have another four years of Mr. Trudeau," said NDP leader Jagmeet Singh, who noted that emissions have risen during Trudeau's reign as prime minister. He added that an NDP government would prioritize investing in renewable energy and electric transportation.
Meanwhile, Green Party leader Annamie Paul said her party would cease federal support for the fossil fuel industry, and focus on renewable energy, while Conservative leader Erin O'Toole said his party's plan would create jobs in the energy sector while also reducing emissions.
After a summer that saw crippling heat in Western Canada, causing wildfires and hundreds of deaths due to the highest temperatures ever recorded in the country, it's about damn time leaders paid more attention to the environment. Even if they spent quite a bit of time getting their points across.