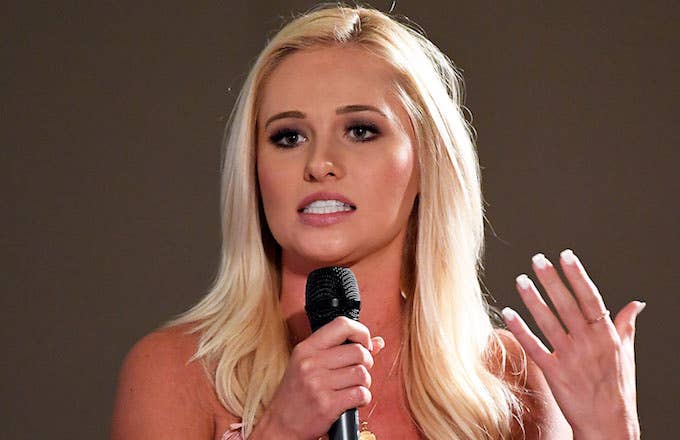 Constantly outraged mayonnaise Tomi Lahren proved on Wednesday that she's capable of apologizing for her heinous comments. Following Donald Trump's State of the Union address on Tuesday night, democratic Rep. Joseph P. Kennedy III gave his televised rebuttal. To no one's surprise, the 25-year-old Fox news anchor did not love what Kennedy had to say and created an Instagram story to share some "final" thoughts.
In the first of two videos, Lahren called the representative a "nasty little ginger," which is mild as far as Lahren's insults go. However, in the second video, she says, "If you haven't yet had the displeasure of watching that little limp dick's response to President Trump's State of the Union, I suggest you take some Pepto-Bismol or some Midol or whatever you need to do to get through it, because it was pathetic, and it was embarrassing. Oh my God." 
In a tweet that has since been deleted, she also shared a photo of Kennedy next to a photo of Caitlyn Jenner, writing, "Is it just me or does Joe Kennedy III look a helluva lot like pre-Caitlyn Bruce Jenner? I'm not wrong."
Misogyny and transphobia are common Tomi Tot tactics of outrage, but in a surprising turn of events, she went on Twitter Wednesday and apologized.
Of course "getting too upset" doesn't excuse transphobia or take away from the fact that Lahren remains a horribly insufferable person. Even after apologizing for the comments, she continued to call Kennedy a "little ginger" and once again compared him to Caitlyn Jenner in a photo on her Instagram story that has since disappeared. The comments are a disgusting attempt to emasculate Kennedy while using Jenner's old name to reinforce that misogyny and transphobia. Caitlyn Jenner also deserves a direct apology from Tammy, because trans people are not and should never be used as props for "jokes."
Lahren is not often one to walk back on her comments, so her apology poses the question of what makes Rep. Kennedy different from Lahren's other targets, including Jay Z, Wale, Obama, Colin Kaepernick, the entire #BlackLivesMatter Movement, Beyoncé...you see where I'm going here? Perhaps it's easier for Lahren to see how her comments could be damaging to other YTs. Meanwhile, she often forgets to issue apologies, even half-assed ones, for any people of color.
Recently, Wale and Lahren rekindled their ongoing feud after Lahren attacked Jay Z for calling Trump a "Superbug" in his Vance Jones interview. Wale came to Jay's defense and reminded Lahren that she should stop attacking rappers if she's going to keep consuming black culture, i.e. that time she was caught lip syncing 21 Savage's "Bank Account."