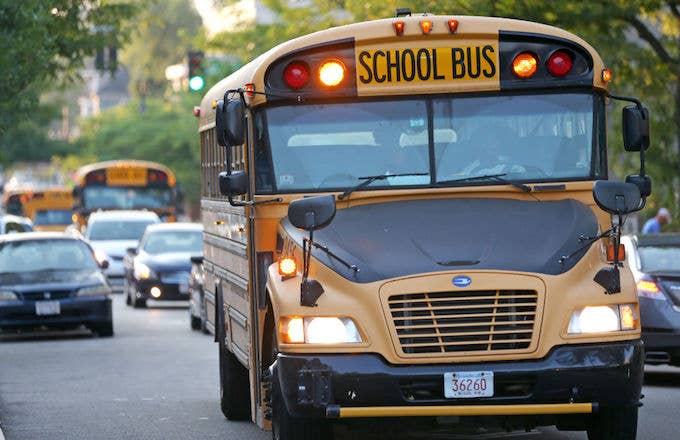 There's nothing like a huge act of kindness to get you into the Christmas spirit. After school hours were delayed for winter weather earlier this week, one Alabama school bus driver decided kindness and some McDonald's biscuits were what his passengers needed.
For a lot of kids, especially those in lower income households, the breakfast they get at school is the only one available to them. So Wayne Price decided to fill that gap, according to Today. Price has been an elementary, middle, and high school bus driver in Montevallo, Alabama since 2013, and knew many of the children in his district rely on the National School Lunch Program. 
According to People, about 75 percent of students at Montevallo Elementary School, where Price was dropping the kids off, rely on the program that helps provide breakfast and lunches to low-income families in their district. Because of the delay, students would have to skip their usual breakfast, so Price picked up 50 biscuit meals from McDonald's for the kids who ride his bus. 
"One of the kids said, 'Oh, Mr. Price, you must be rich,'" he recalled to Today. "I am not rich. I am in full-time ministry...but you sit there and think about it, you take your family out to dinner, and you can drop $50 going out to dinner, and it was nothing more than taking my family out to dinner. When it came down to the financial side, it was just second nature. I really did not think about it. I thought, hey this would be neat. I bet they will like this."
The kids were definitely appreciative of the gesture. "When the kids got on I said, 'So, what do ya want? Sausage? McMuffin?'...I got some sweet kids and I get really attached to them...They were really appreciative. I dunno. I just love my kids. I got lots of fist pumps, lots of high-fives, lots of 'Love you Mr. Price,' lots of 'Thank you Mr. Price.'"
Fifth grader Elizabeth Lopez told ABC 33 she was shocked by Price's action. "I did not think he was going to do it," she said. "I am really thankful for having him as a bus driver, and he feels like a dad to me."