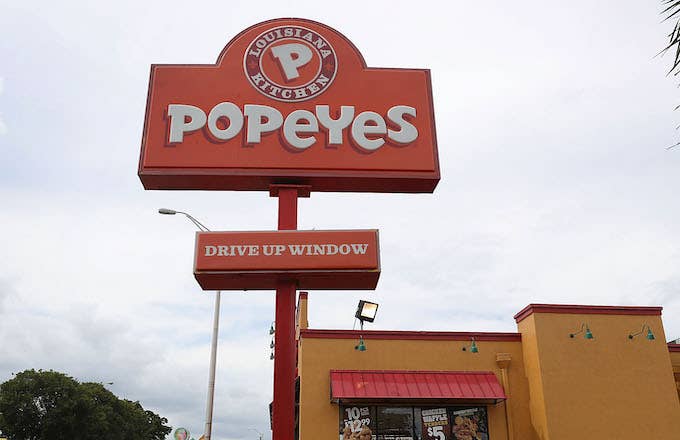 The Popeyeschicken sandwich craze has reportedly reached new levels.
A group consisting of three men and two women grew angry after a visit to a Popeyes in Houston resulted in no chicken sandwiches, KTRK-TV reports. A baby was also reportedly with the group.
Employees at the Popeyes location in question told the outlet that the group attempted to acquire the sandwiches at the restaurant's drive-thru on Monday night. After being told that they were sold out, the group, who were apparently not happy with the news, allegedly attempted to get inside of the restaurant. One of the men pulled out a gun on the Popeyes workers, according to Houston police. Employees say that the "mob," despite their efforts, were not able to gain access as they locked the doors. The aforementioned baby was left inside of the vehicle during the incident—a black SUV. 
Southeast officers are at 7100 Scott. Male pulled a gun on employees of restaurant after they ran out of chicken sandwich. 202

pic.twitter.com/xC6jlmwJeD
ABC13 reports that there were no injuries and that police are currently in the process of looking for the people involved.
Last week, Popeyes notified customers that they were selling out of the sandwiches but were in the process of restocking.
"The demand for the new Chicken Sandwich in the first few weeks following launch far exceeded our very optimistic expectations. In fact, Popeyes aggressively forecasted demand through the end of September and has already sold through that inventory," the restaurant chain wrote in a statement. "As a result, Popeyes restaurants across the country are expected to sell out of the Chicken Sandwich by the end of this week. We, along with our suppliers, are working tirelessly to bring the new sandwich back to guests as soon as possible."
We hear y'all. We're working to get The Sandwich back as soon as possible. If you want to be first to know when it happens, download our app and turn on those push notifications. Thanks for sticking with us!

pic.twitter.com/UaIkGFMr3n