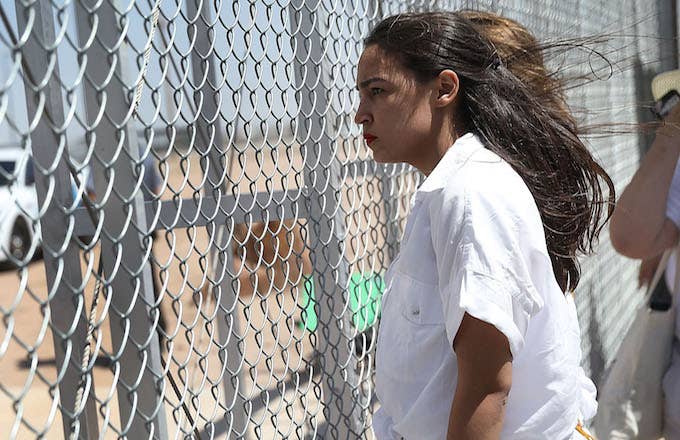 28-year-old community organizer Alexandria Ocasio-Cortez, who's a member of the Democratic Socialists of America, pulled off a stunning victory over Rep. Joe Crowley, who is the fourth-most powerful Democrat in the House, on Tuesday night, CNNreports. 
Crowley received just 42 percent of the vote while Ocasio-Cortez garnered 58 percent, the New York Timesreports. 
Ocasio-Cortez, who's a first-time candidate, ran in New York's 14th District (eastern Bronx and part of north-central Queens) on a leftist platform that called for housing as a human right, fighting climate change, criminal justice reform, immigration justice, abolishing ICE, a federal jobs guarantee, and Medicare-for-all. 
This photo is from Nov. 14, 2017. Alexandria Ocasio-Cortez, 28, was then working as a bartender.

Less than a year later, she defeated the likely next Speaker of the House, and will almost certainly be the youngest woman ever elected to Congress

pic.twitter.com/JgHjdQWAF6
Ocasio-Cortez's website describes her as being "an educator, organizer, and working-class New Yorker who has championed the needs of children, families, and working New Yorkers both on the streets and with policymakers." It continues, "After growing up experiencing the reality of New York's rising income inequality, Ocasio-Cortez dedicated her life to education organizing, economic study, and activism, eventually mounting a 100% volunteer, no-corporate PAC effort to collect thousands of signatures and trigger the first NY-14 primary election in fourteen years."
We triggered the first primary election in 14 years. OUR supporters, collecting signatures in the bitter snow for 5 weeks, did that.

No matter who the vote is for, every single vote cast to day is ours - because we made this election happen.
Following harrowing reports of children being abducted by immigration officers, Ocasio-Cortez traveled to Texas to join protests outside of an ICE detention center.
The child detention camps are here - I confronted the border officers myself.

Using their names, I told them exactly what they are responsible for.

One of them made eye contact with me.

I spoke directly to him.

I saw his sense of guilt.

We can dismantle this.

#AbolishICE pic.twitter.com/QLyc9MAnkt
My niece Zierra recorded this video today 😭

This campaign has meant a lot to me. I've been at this for over almost 2 years. I started while I was working at a restaurant.

I'm emotional over the fact that tomorrow we will have a verdict. I want to bottle this moment so badly.

pic.twitter.com/9cwIiukJhI