Samsung has lifted the curtain on its new lineup of Galaxy Note devices. And it includes not one, not two, but three premium models.
During its Unpacked event in NYC on Tuesday, the tech giant announced the Galaxy Note 10, Galaxy Note 10+, and Galaxy Note 10+ 5G. The former will mark Samsung's most compact Note to date, as it features a 6.3-inch Cinematic Infinity Display, which is just slightly bigger than the Galaxy S10. The 10+ devices, on the other hand, will have a 6.8-inch edge-to-edge display, making them the largest Note device is Samsung's history. Some of the highlights in the new Galaxy Note line include a pro-grade camera; the AR Doodle and 3D Scanner; a zoom-in mic that targets audio in a frame; extended DeX capabilities, which make it easier for users to work between their Notes and computers (a huge plus for gamers); a 45-watt wired charger for faster juicing; and a S Pen that offers gesture control as well as the ability to convert handwriting into digital text. 
Customers will also notice that Samsung not only ditched the Bixby button, it also killed the headphone jack. The Note 10s will instead feature a USB-C for connectivity, and will come with a free pair of USB-C headphones. Those who wish to use their old headphones will have to purchase an adaptor dongle. 
"From the very beginning, the Galaxy Note has stood for the best-of-the-best technologies and features. The Galaxy Note 10 re-imagines this promise for the modern Note fan who uses their smartphone to take their productivity and creativity to the next-level, and who effortlessly flows between ideas and endeavors at a moment's notice," said DJ Koh, President and CEO of IT & Mobile Communications Division, Samsung Electronics. "Every element of Galaxy Note 10 was designed to help users achieve more. Whether they're finishing a big project for work, capturing and editing a video, or playing their favorite mobile game, the Galaxy Note 10 will help them do it faster and better."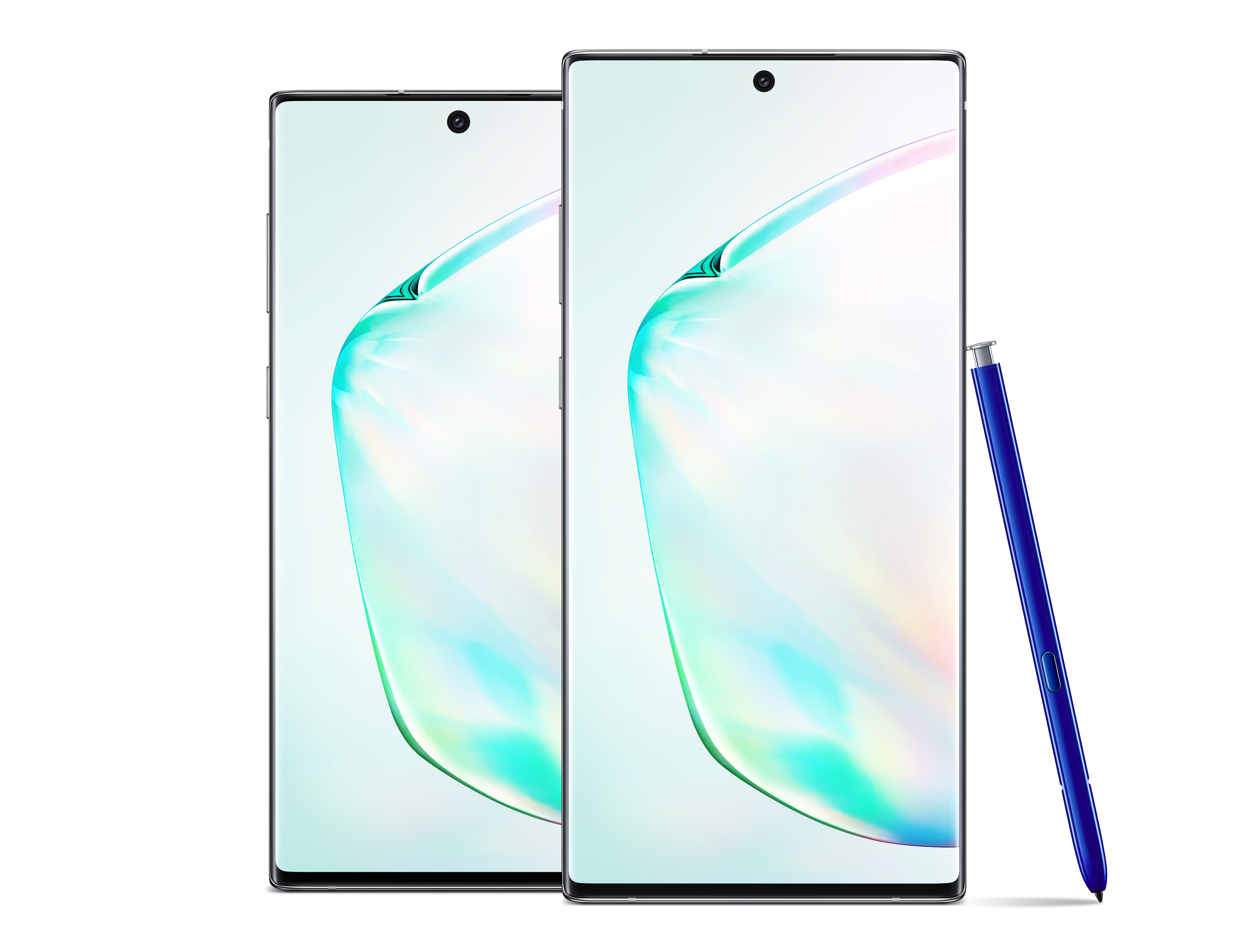 The Note 10s will be available in Aura Glow, Aura White, and Aura Black colorways. The Galaxy Note 10 will cost $949.99, the Galaxy Note 10+ will go for $1,0999, and the Galaxy Note 10+ 5G will cost $1,299.99 and $1,399.99 for the 256GB model for 512GB model, respectively. 
The devices will be available for preorder starting this Thursday. AT&T, Spectrum Mobile, Sprint, T-Mobile, U.S. Cellular, Verizon Wireless, and Xfinity Mobile will carry the Galaxy Note 10 and Galaxy Note 10+ in stores and online starting Aug. 23. The Galaxy Note 10+ 5G will be available at Verizon Wireless for a limited time beginning Aug. 23, 2019; it'll hit AT&T, Sprint, and T-Mobile at a later date.
You can learn more about Samsung's new Galaxy Note line at the company's official website.