At Least 9 Dead, 26 Injured in Mass Shooting in Dayton, Ohio
Authorities are now in the process of establishing a motive.
Getty
Image via Getty/DEREK MYERS/AFP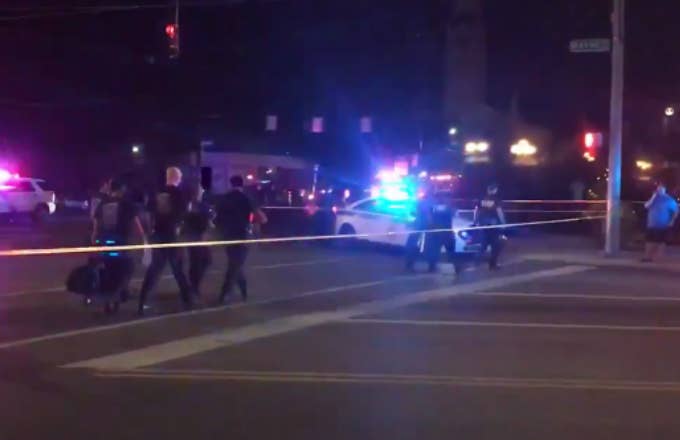 Nine people were killed and more than two dozen have been injured as the result of a mass shooting in Dayton, Ohio, according to police.
The incident took place shortly after 1 a.m. local time outside the Ned Peppers bar on East Fifth Street in Dayton's Oregon entertainment district. Per Dayton's mayor, Nan Whaley, this area is frequented by thousands of patrons and is regularly patrolled by police. As a result, authorities quickly responded to the incident and shot and killed the suspect "in less than a minute."
Despite their promptness, the shooter was still able to kill nine people and injure 26 more. 
"While this is a terribly sad day for our city," Whaley said in a press conference held on Sunday. "I am amazed by the quick response of Dayton Police that saved literally hundreds of lives."
Ohio's governor John Kasich shared his condolences on Twitter and called for a solution to end gun violence.
BuzzFeed News released the full names of the victims taken from police.
It also appeared as though Betts was prepared for a lengthy gun battle with police. At the time of his death, he was wearing body armor and carrying a ".223 high-capacity" gun with multiple high-capacity magazines.

Assistant Police Chief Matt Carper told reporters that authorities are now in the process of establishing a motive. They are searching Betts' parents' house where he lived with his sister in hopes to find more information regarding the crime. 
This shooting comes less than 14 hours after a gunman opened fire in an El Paso, Texas Walmart which left 20 dead. According to President Donald Trump, the government is teaming up with local and state authorities to help resolve both of these incidents.
British Prime Minister Boris Johnson expressed his condolences to the victims of both shootings.