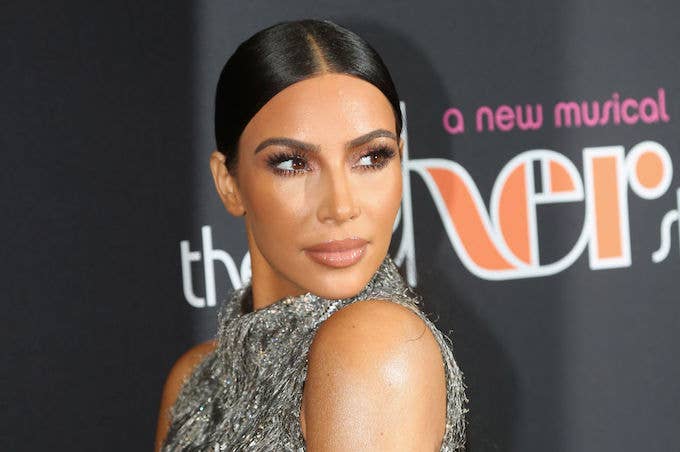 Two days after the mass shootings at two mosques in Christchurch left 50 dead, New Zealand Prime Minister Jacinda Ardern assured her country that the government's reaction would not stop at thoughts and prayers. "I can tell you one thing right now. Our gun laws will change," she said at a news conference Saturday. Gun control advocates across the globe applauded Ardern's pledge and promptly drew comparisons to the United States, where politicians have yet to enact legislation that could have prevented 1,981 mass shootings.  
Kim Kardashian similarly felt compelled to weigh in on the discussion, calling for America to "take note" on New Zealand's willingness to curb access to firearms following the massacre. "Just 24 hours after the Christchurch shooting New Zealand bans semiautomatic guns!" the reality star wrote on Twitter on Saturday. "America take note! Why can't our elected officials put public safety over gun manufacturers' profits?!?!" The other Kardashians similarly took to social media to condemn the hateful action carried out by the perpetrator. 
The suspect, 28-year-old Brenton Tarrant, obtained a gun license in Nov. 2017 and began legally purchasing firearms the following month. Police have confirmed that Tarrant carried out the attack using military-style, semi-automatic weapons. New Zealand Attorney General David Parker claimed that the government would be banning semi-automatic guns in response to the attack. However, he clarified on Saturday that the decision has yet to be finalized. 
Although the rate of gun owners in the country is high in comparison to that of its neighbor Australia, New Zealand does require anyone purchasing a gun to undergo a background check and complete a class on firearms. However, the country does not mandate that guns be registered, which prompted Chris Cahill, the Police Association president, to criticize the absence of a gun registry in the country. "We know how easy it is to get firearms in New Zealand, and while today and the next few days is the time to look after the welfare of the victims and their families, clearly we need to have a look at firearms law in New Zealand," Cahill said.
On Saturday, Tarrant was charged with murder in a Christchurch courtroom, according to the New York Times. Officials said that additional charges will be added and that he may be charged under the Terrorism Suppression Act.