How Theo Skudra Became Drake's Go-To Visual Artist
Meet Theo Skudra, the Toronto native & visual artist behind Drake's videos such as "When To Say When & Chicago Freestyle" & "Tossie Slide."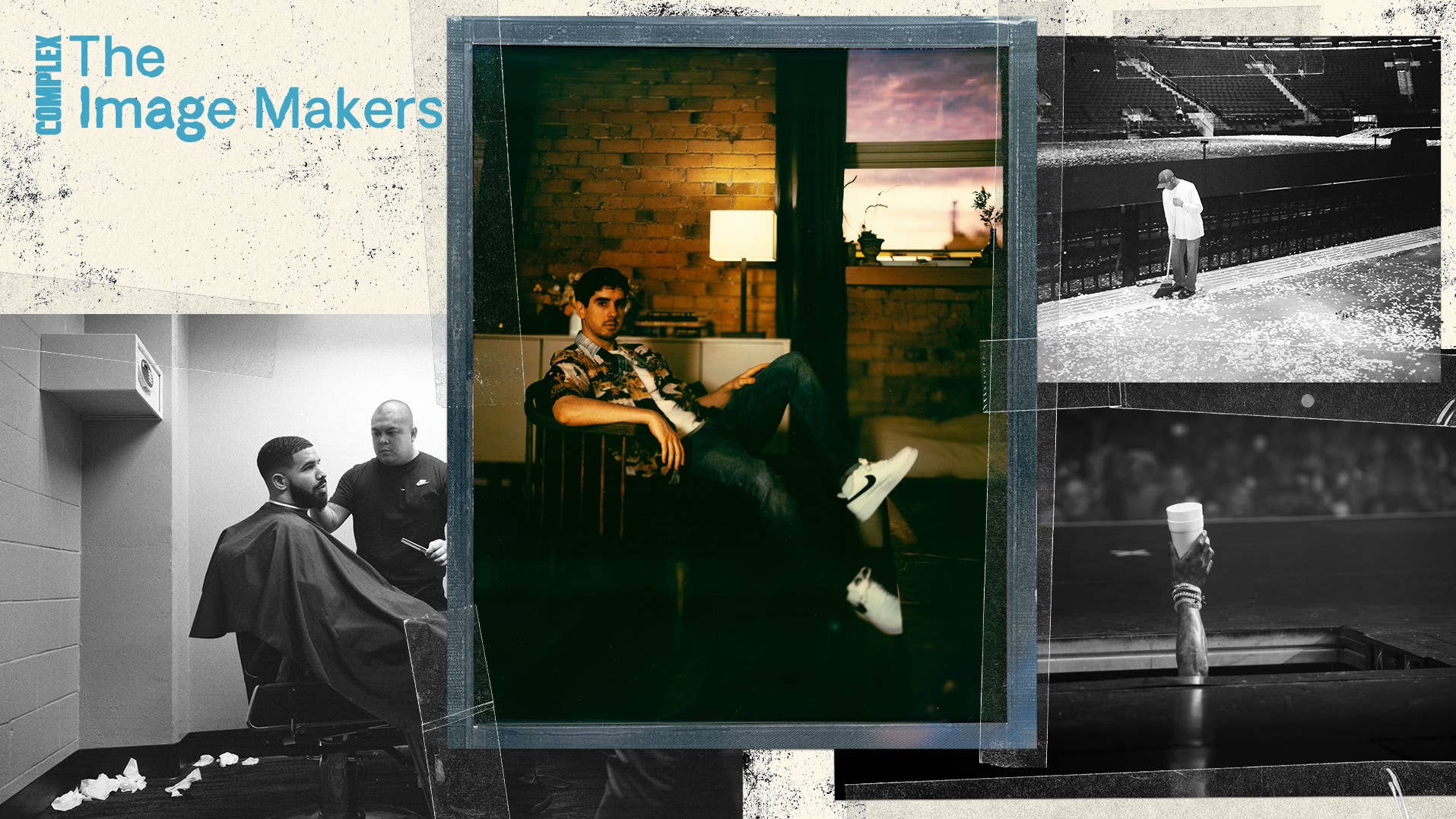 Complex Original
Image via Complex Original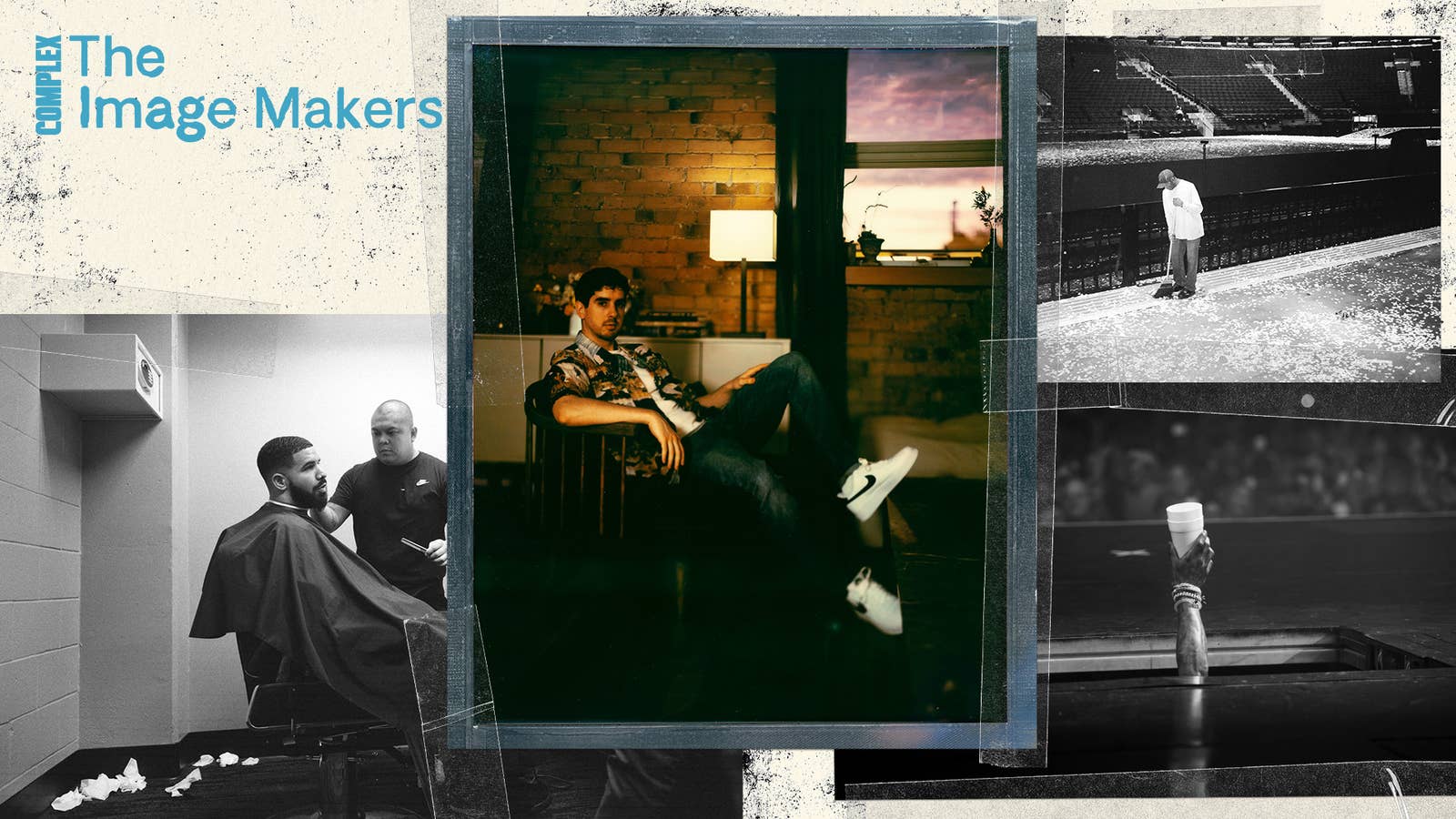 It's a Thursday evening in late April and while most of the world has been put on pause because of Covid-19, Theo Skudra is hard at work in Toronto. At the start of the phone interview he's calm and collected. Within the first 10 minutes of the conversation, he gets off the phone, saying he has to handle something and will call back. It wasn't obvious then, but the call was taking place the same time Drake announced Dark Lane Demo Tapes, a surprise 14-track mixtape composed of various leaks and loosies with features ranging from Playboi Carti to Future, on Instagram. Skudra was a pivotal part of the project. The 33-year-old shot the cover art, a menacing photo of Drake in a balaclava showing only his eyes that helped introduce the body of work to the world. A few weeks prior, Skudra was filming Drake sliding all around his mansion for what would become the "Toosie Slide" video. Skudra directed Drake, wearing a Nike Hyperwarm Hood and ultra rare Raf Simons "Riot Riot Riot" bomber jacket, as he meandered around his palatial home littered with rare artwork from KAWS and Andy Warhol. Even in quarantine, Skudra has been helping shape the visuals for rap's biggest star.
For the past nine years, Skudra has acted as Drake's in-house photographer, shot some of his most memorable music videos, and documented the many facets of Drake's life from the club to the concert stage. He can be seen in the background of Drizzy's infamous speech during the Toronto Raptors 2019 NBA championship run wielding his 16mm camera. He's even credited as the director for Drake's December 2019 Rap Radar interview. If you see an image of Drake floating around, chances are Skudra was the shooter.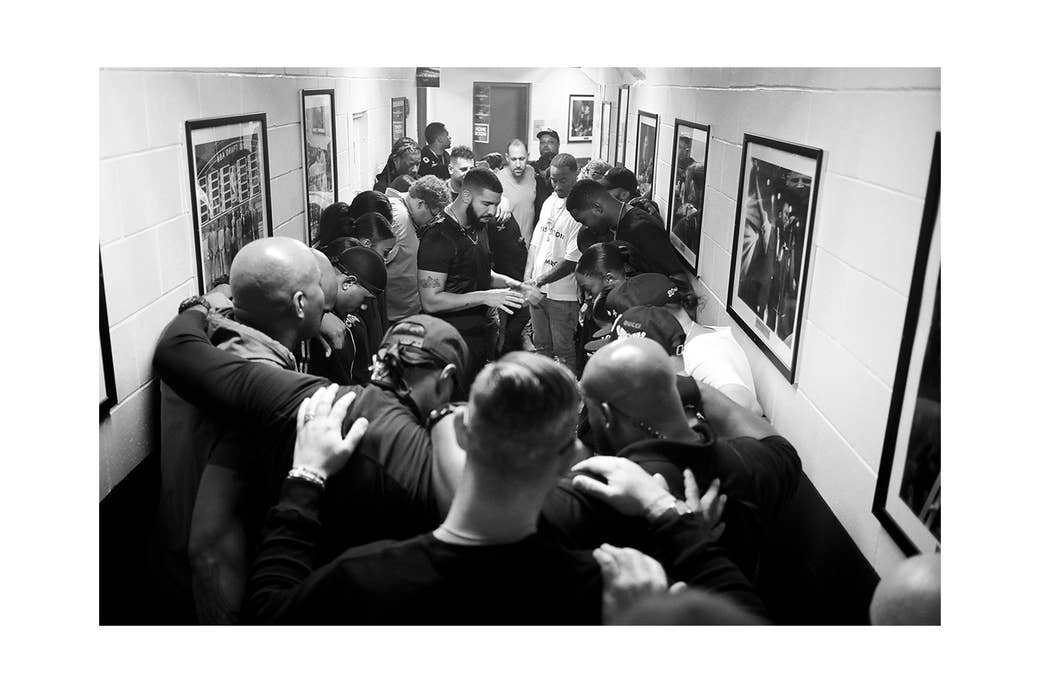 The two initially met almost a decade ago during a tour rehearsal when mutual friends Jonathan Malen, Mazin Elsadig, and Al Mukadam, who starred alongside Drake on Degrassi, introduced them. The same trio would go on to hire Skudra as a digital image technician offloading and backing up footage onto hard drives on the set of "Marvin's Room." Their production company By Any Means Necessary produced the video. Of course, Skudra also brought his camera with him. He had graduated from film school and was working between odd jobs in retail, restaurants, and even moving companies when he wasn't pursuing his passion for writing short films. Photography was just a fun hobby to him, not a potential career path.
"I ended up taking a photo of Drake that I wasn't really supposed to take," says Skudra. "The director snapped at me saying, 'You probably shouldn't be doing that.' It was actually Drake who sort of turned to him and said, 'No, don't worry about it. Just send me those photos when you're done.'" 
In one of the photos Drake is leaning over a small wooden table beside two other men who are unscrewing the cap off a two liter bottle of Sprite. That ended up being used as the single art for "Trust Issues." Drake and Skudra's working relationship grew from there. Drake's team would invite him back to take photos of video shoots and events. Eventually, in 2011, on the set of "Headlines," Drake's creative director Oliver El-Khatib asked Skudra to join the team for 2013's Would You Like a Tour tour. And from there he's become an integral part of the team directing videos and documenting the star's everyday life.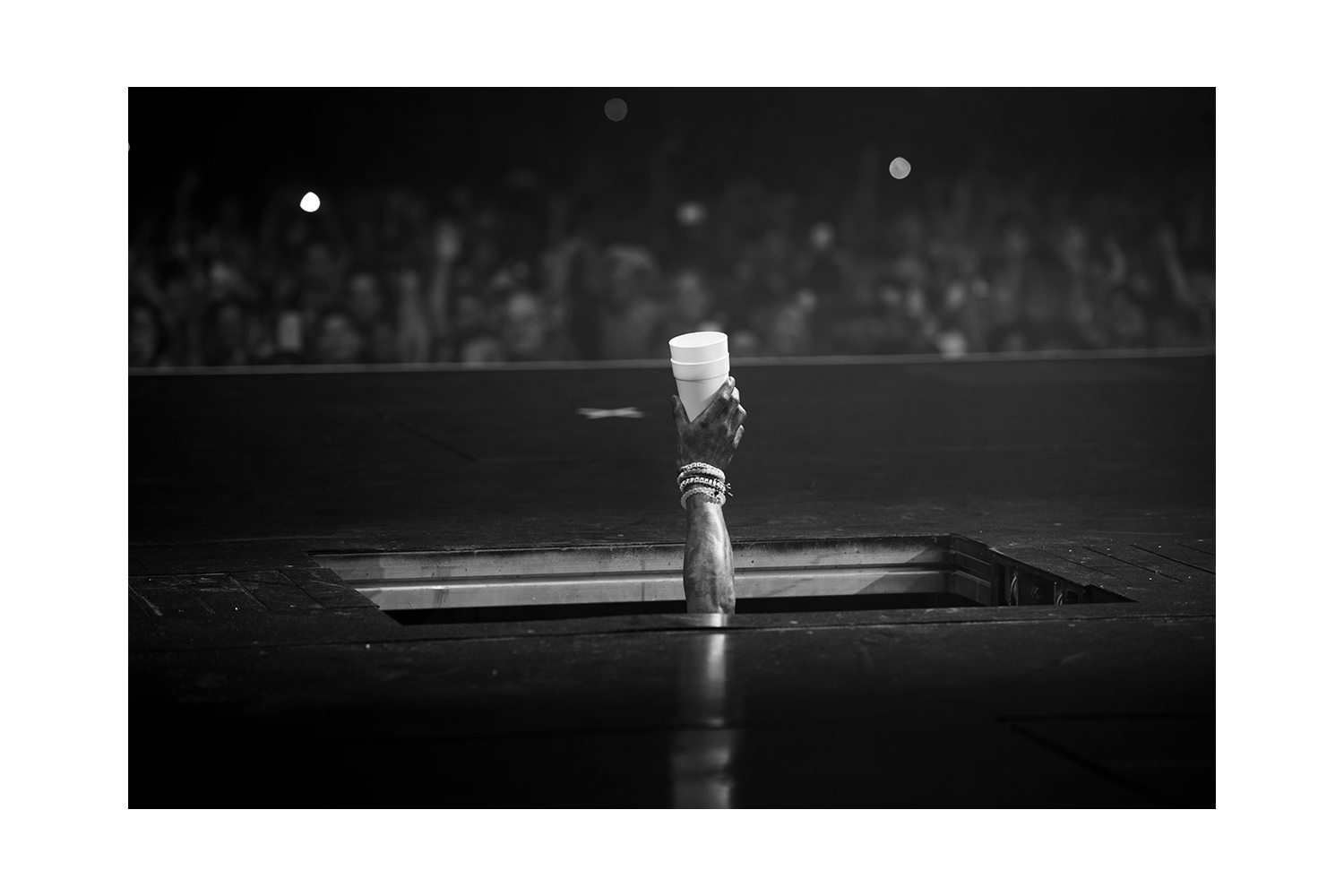 A lot of Skudra's more recognizable shots were captured during world tours like 2016's Summer Sixteen and 2018's Aubrey and The Three Migos. An image of Lil Wayne's hand holding up his signature double cup as he descends from the stage is a particularly memorable image, which Skudra took during a Houston stop on the Summer Sixteen tour. Other photos show Drake simply getting a haircut or circled up with his crew backstage before a show. In a social media driven world eager to feel as close to their favorite celebrities as possible, Skudra's photos are that pathway, able to capture Drake in more private situations like boarding a private jet on the tarmac or toasting with his close friends. Unexpected shots, like fans standing atop seats at a concert venue or a stadium worker sweeping up after a large confetti finale, contextualize these moments from a different angle. All of it feels important and purposeful as Skudra continues to document Drake's dominant, decade long run in music. 
"To be able to capture these parties or these moments, they're just things that are hard to find in a director-artist relationship." -Theo Skudra
It is a level of access and comfort with a primary subject that few photographers have and Skudra considers Drake family. He says they are constantly bouncing ideas off of each other for the next project. And even though it might seem like it, given some of the moments he has documented at restaurants or during late night studio sessions, Skudra isn't always present with a camera, and says there is a certain "voodoo" to the operation. "Film too much and people get sick of it. Film too little and you're not doing your job." He credits the editing process with helping him learn when to shoot something.
"When I started I would shoot everything, and I've looked back at footage and realized that 90 percent of it is pretty useless," says Skudra. "I've gotten better and better at predicting when the moments are going to happen."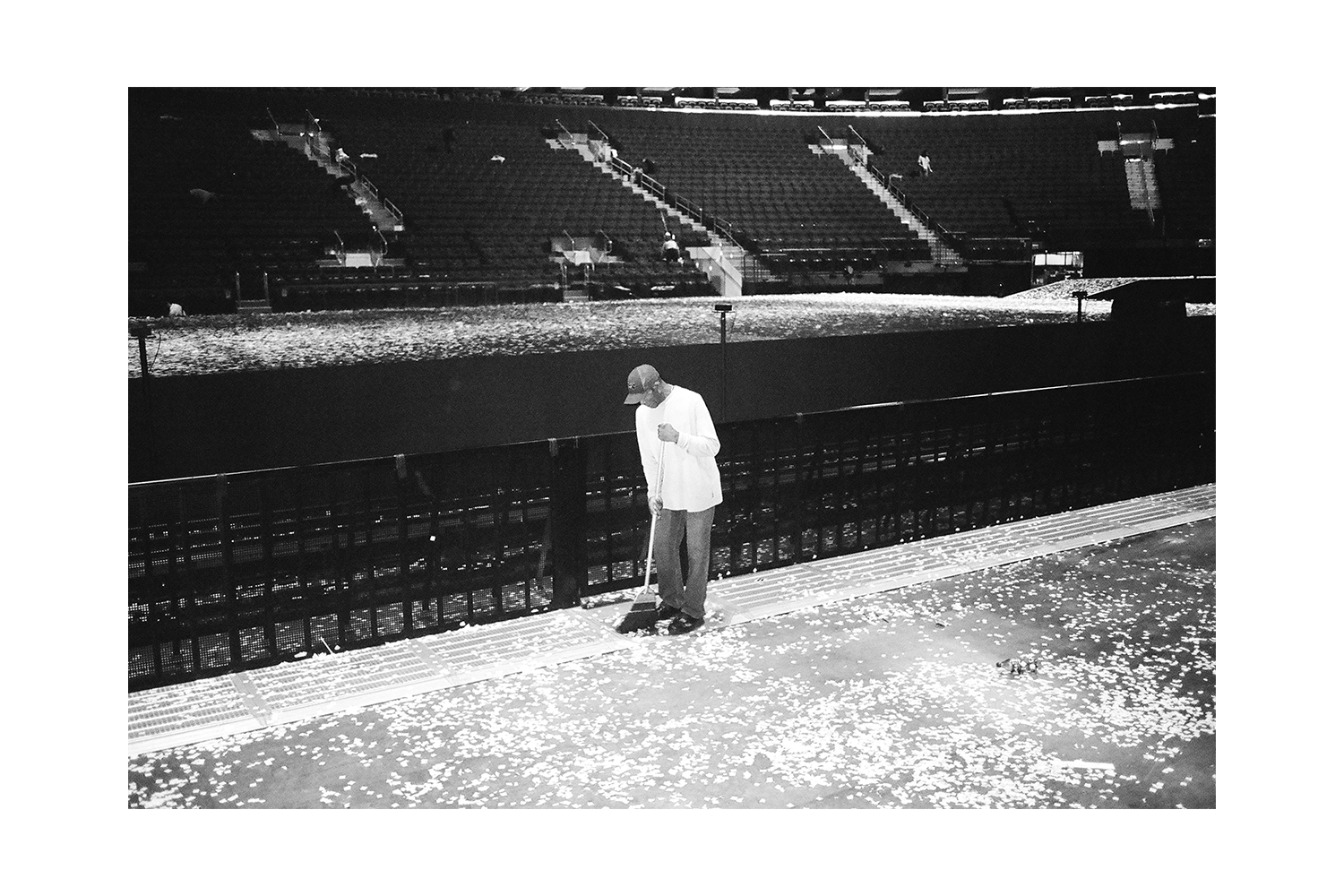 Skudra grew up around photography. His father Tom Skudra was a photojournalist whose award-winning work included placements in Toronto Life and 1984's A Day in the Life of Canada picture book. He recalls always having cameras at his disposal like toys as a kid and he'd even accompany his father on work trips. He says photography was "always in his blood." But his hobby originally put him in front of the camera. He was a child actor from about the ages of 10 to 15, appearing in small commercials and minor short films. Eventually, he wanted to be the person shooting. Along with his father, he credits Sebastião Salgado, Henri Cartier-Bresson, and Robert Frank as photographers who inspired him early on for their ability to capture society and the world around it so vividly. When it comes to film, he was drawn to things he wasn't allowed to watch as a kid. He recalls sneakily watching Quentin Tarantino's Pulp Fiction on VHS when he was 10.
"I remember watching it with my nose glued to the screen with some headphones on having no fucking idea what the fuck was going on. But it was so cool and so advanced in comparison to whatever the hell else I was watching that I could feel it seeping into the back of my brain."
A trip to Cuba with his mother and two brothers when he was 17 was the moment he realized photography was something he had a real knack for. Upon returning, he says his father was impressed with a handful of the images he took. While he didn't notice it then, he understands now that his admiration for his father's career certainly played a pivotal role in where he has ended up today.
"I think that there was something where he acknowledged how strong some of the images were, and I think coming from him, someone I still really do admire, giving me that validation maybe pushed me a little bit," says Skudra.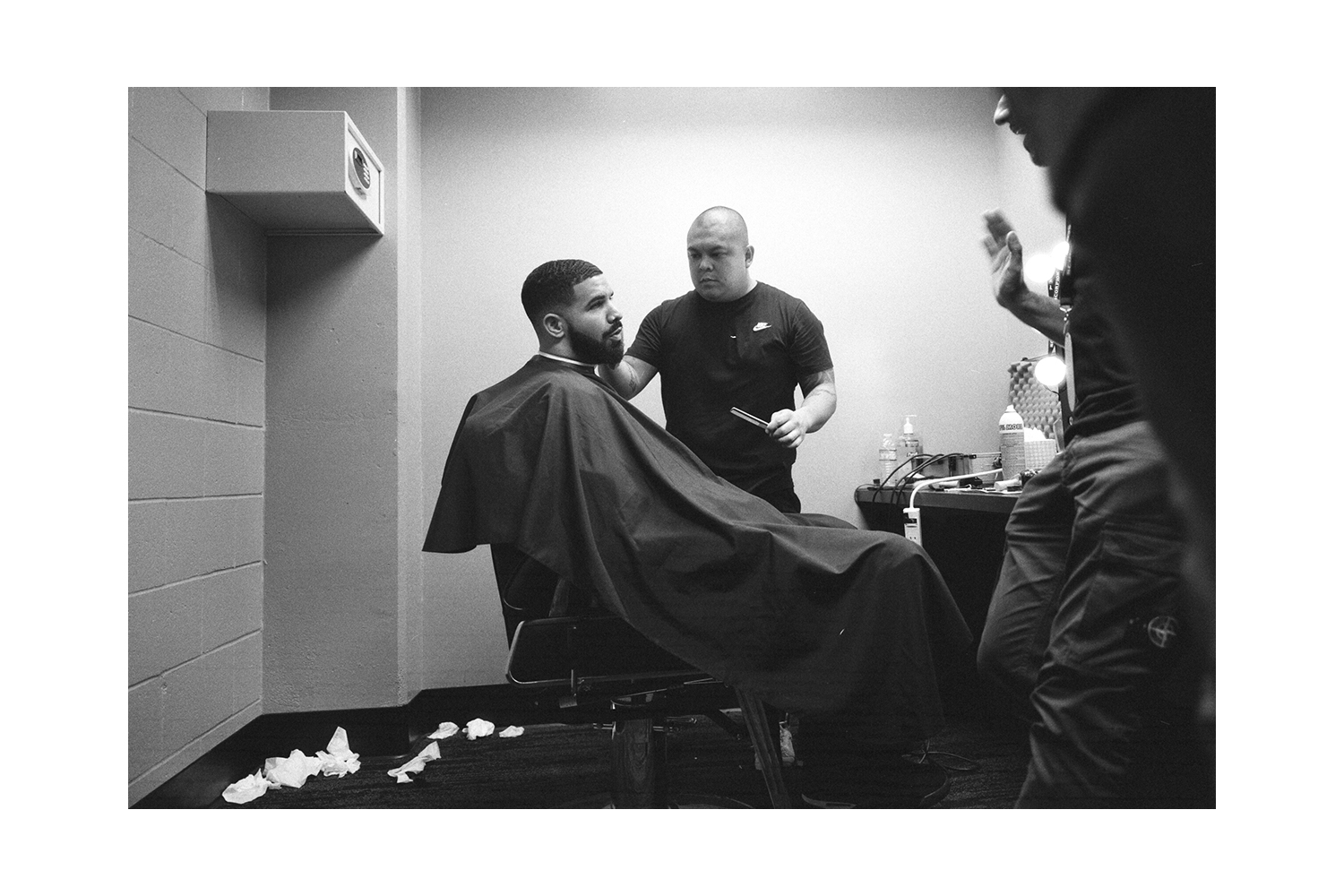 He would eventually enroll in Toronto Film School from 2006 to 2008 to learn more about the ins and outs of production and to pursue his love for filmmaking. Upon graduating, he spent his time making "terrible" short films with close friends that were partially funded by family members. He cites the Actor Series, a collection of shorts set to a score with no dialogue, as his first memorable passion project. Although it is no longer online, Skudra says he had a tremendous sense of pride in it and would use the video clips as his reel. To make money, he would pick up various freelance opportunities, shooting any and everything from house parties to "awful" corporate gigs. It allowed him to continue to hone his skill set, but also acted as a networking tool.
"The people that I would meet at a house party, concert or something like that, would often lead to some of the most exciting work that I've been able to be a part of," he says. "So there was just no excuse, everything that was on the table, I would grab."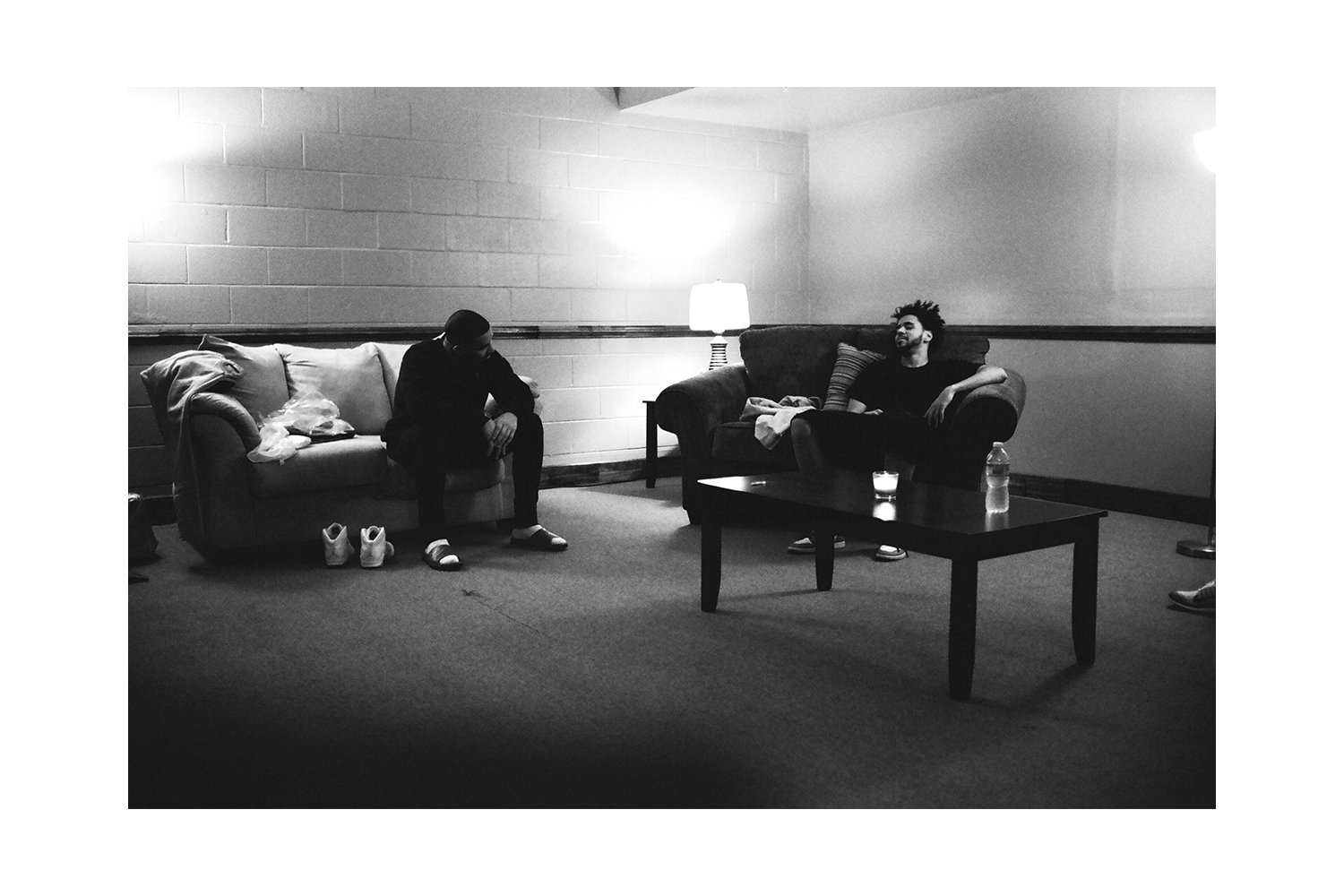 Obviously, documenting the life of a globally known rap star comes with extravagance and a fast paced lifestyle, especially when that star is Drake, who does things like fly around the world in a cloud-covered jet designed by Virgil Abloh. Skudra says that he has become used to the idea of always "being on" and having his camera ready to capture something. And after a project is done, he is formulating the next idea. While watching movies he jots down notes to reference for upcoming shoots. He walks to the coffee shop and listens to lyricless music in his headphones to be able to better imagine scenes playing out in his head. Even a simple conversation with friends at lunch can morph into scouting locations and prepping before a shoot. He says one of the standout moments for "Nonstop" came from the makeup artist joking about Drake on a double-decker bus during lunch on one of the shoot's final days. He texted Drake the idea and next thing you know, that became a focal point of the video.
"Working with [Drake], to me, it's a collaboration that I don't see having or needing to stop." -Theo Skudra
Thinking on the fly is another big part of the job. Skudra mentions Drake being sick the day of a shoot date for "Money in the Grave." Rather than cancel, he used two of Drake's security guards for certain scenes in an oil field he came across driving through Los Angeles a few days prior. The video opens with the two towering figures riding on an excavator. Shots of them standing in front of a hole being dug by the massive machine are peppered throughout the remainder of the video. 
"It ended up just being some of the most fun that I've ever had shooting," says Skudra. "We just started blasting music, had this massive excavator, and these almost twin tattooed guys got the star treatment there, which was just a lot of fun because they're my guys too."
Music videos like these have perhaps garnered the most attention as of late for Skudra. It all started in 2018 during a dinner in Miami when Drake asked him if he wanted to shoot the video for "Nonstop." At the time Skudra hadn't even heard the song, but Drake wanted it shot at a festival date in London, and Skudra agreed. He went on to direct "When to Say When," "Chicago Freestyle," and "War." He says the videos are his most rewarding and creative work. 
"There's nowhere I'd rather be than on set. When everyone starts clicking and the vision starts coming together, there's just nothing better. It's infectious. People from all walks of life making something together. Then when it's all said and done, you look back at the things you've made and where you were at in life," Skudra tells Complex. "It definitely makes a person sentimental. I think early on it started with loving film and video so much I'd give an organ to be a part of it all. I still would."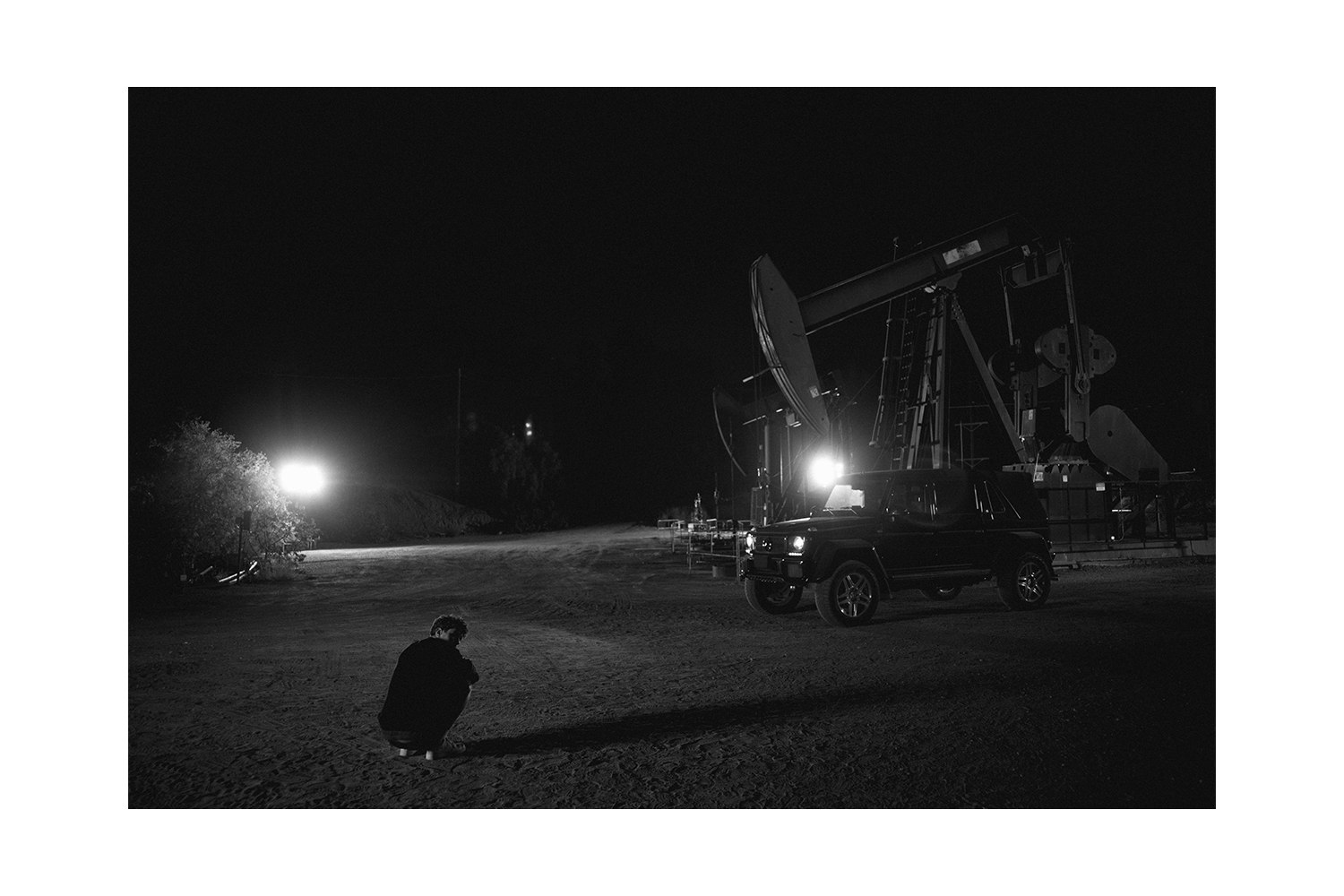 His videos maintain a raw, documentary-like shooting style unlike a more traditional video set in a studio with a storyboard. Skudra says this is more a product of necessity more than anything else. Each authentically captures Drake's busy lifestyle, whether he is sitting by his safe filled with money in "Chicago Freestyle," on a snowy mountainside ski lift in "War," or on a rooftop standing in front of the Brooklyn Bridge in "When to Say When," for instance. 
He refuses to single out a favorite, but says "Nonstop," which is shot in full black and white, is one he is particularly proud of. He compares it to Beatlemania as it follows Drake through London from the stage at the Wireless Festival to the roof of a double decker bus surrounded by droves of screaming fans to the afterparty. He credits the fans' reaction to that video as a huge motivator for Skudra moving forward.
"['Nonstop' was] the first opportunity that we really got to do something like that," Skudra explains. "It kind of is the epitome of our working relationship. To be able to capture these parties or these moments, they're just things that are hard to find in a director-artist relationship. It's something that we've honed in on after years of working with each other."
Drake is, "constantly throwing ideas at [him]." Their creative process is usually built around a location and born out of circumstance. Drake will mention they will be traveling to London or New York City, for instance, and provide a concept he has in mind for that location. Skudra's responsible for fleshing out the concept into something that is actually feasible to produce, taking days to scout locations, and lay out scenes. Of course, there is some trial and error involved with this. Things are left on the cutting room floor sometimes. Skudra notes a particular instance where he shot a video for Scorpion standout "Mob Ties" that ended up being scrapped. "I think fucking up is the best teacher," he says bluntly.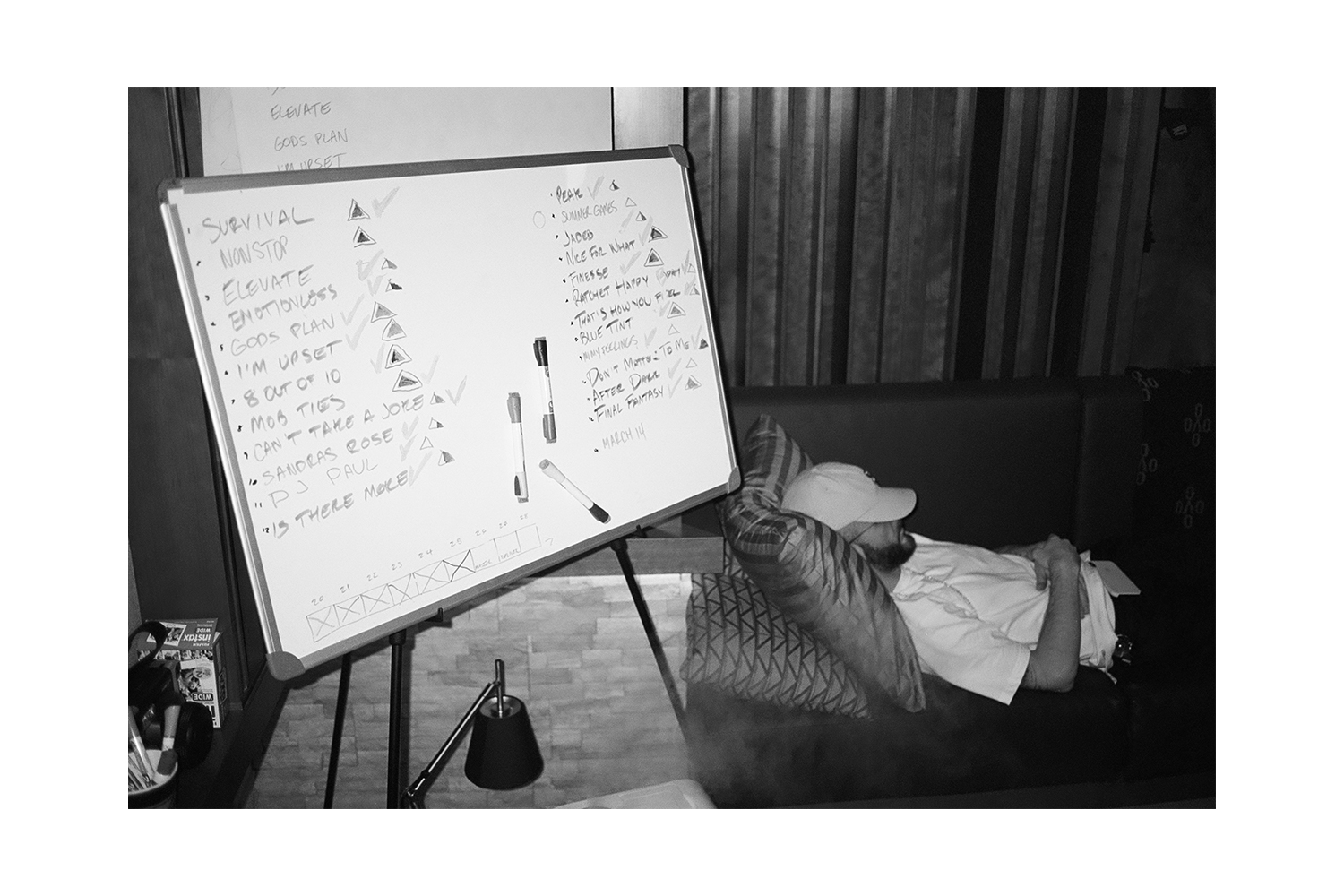 These days, Skudra continues to build his skillset by challenging himself with different mediums and making sure he doesn't get too complacent. For the past year, he has shot almost exclusively on 16 mm film, a task that requires lugging a 30 pound camera around with him and taking five minutes to change mags while filming. He says he originally pitched Drake on the idea and has been mastering his technique on the fly ever since. Now, he's trying to master large format 8x10 Polaroid photos like the one used for the Dark Lanes cover. While he has shot with more modern cameras as well in the past and still would, he says he prefers the final look that these older machines provide. They harken back to the photographers who were shooting during the 20th century who he admires. 
"I think my interests guide me and the feeling of being used to something pushes me to do something else," he says. "As soon as I feel like I really have an understanding of [a shooting style], I start thinking about what else I could be doing. What else is exciting, what else would interest me, what processes seem underutilized, what am I not seeing a lot of out there? That brings me to how I want to shoot next." 
Ultimately, Skudra will always have an intrigue for directing films. Before connecting with Drake, that was the path he ultimately saw for himself, even back to the days of "terrible" short films with his film school buddies in Toronto. While he says a feature-length project is certainly still possible down the line, he continues writing in his downtime, he doesn't think he needs to stop collaborating with Drake to achieve that dream. He's not done just yet.
"I actually get asked that a lot about what comes next and that sort of starts to establish this thought that what I'm doing with Drake is temporary and I don't really see it as that. Working with him, to me, it's a collaboration that I don't see having or needing to stop."