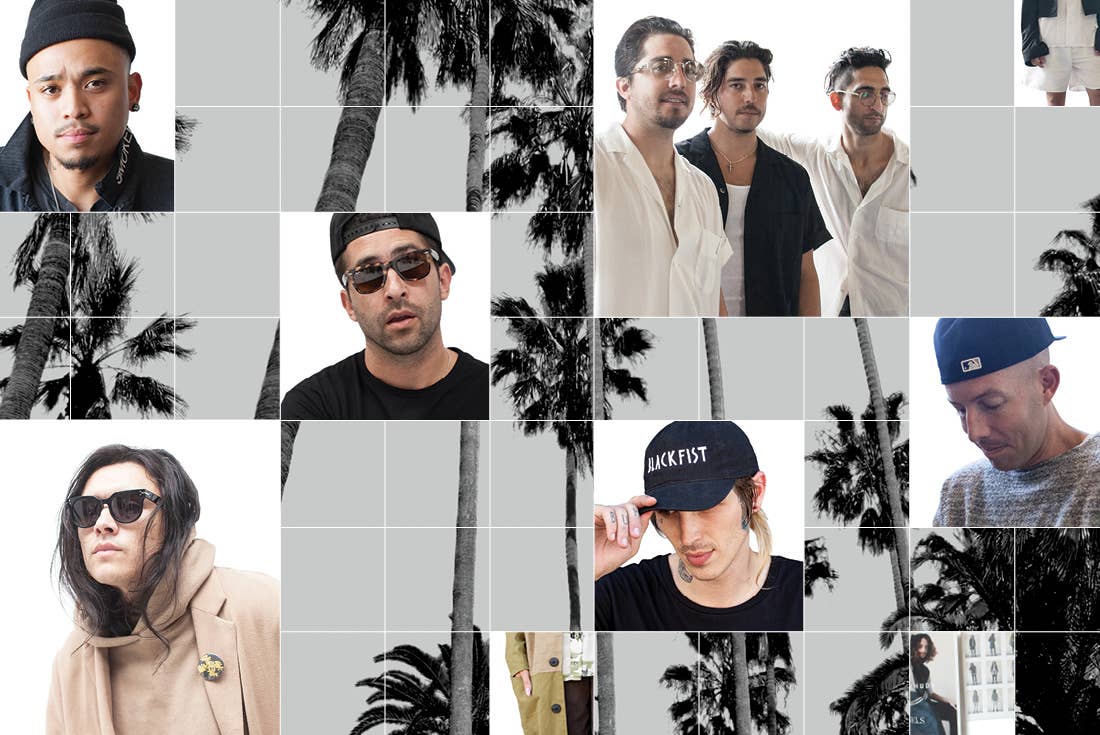 "I don't want to move to a city where the only cultural advantage is that you can make a right turn on a red light," Alvy Singer, Woody Allen's character in Annie Hall, famously said of Los Angeles, reinforcing a long-held belief that Southern California is where culture goes to die. And while it's true that the palm-tree-lined home of Hollywood has long been ridiculed or just plain ignored when it comes to fashion, a few things have changed since 1977, and a rising crop of talented young menswear designers is shifting the style world's gaze westward.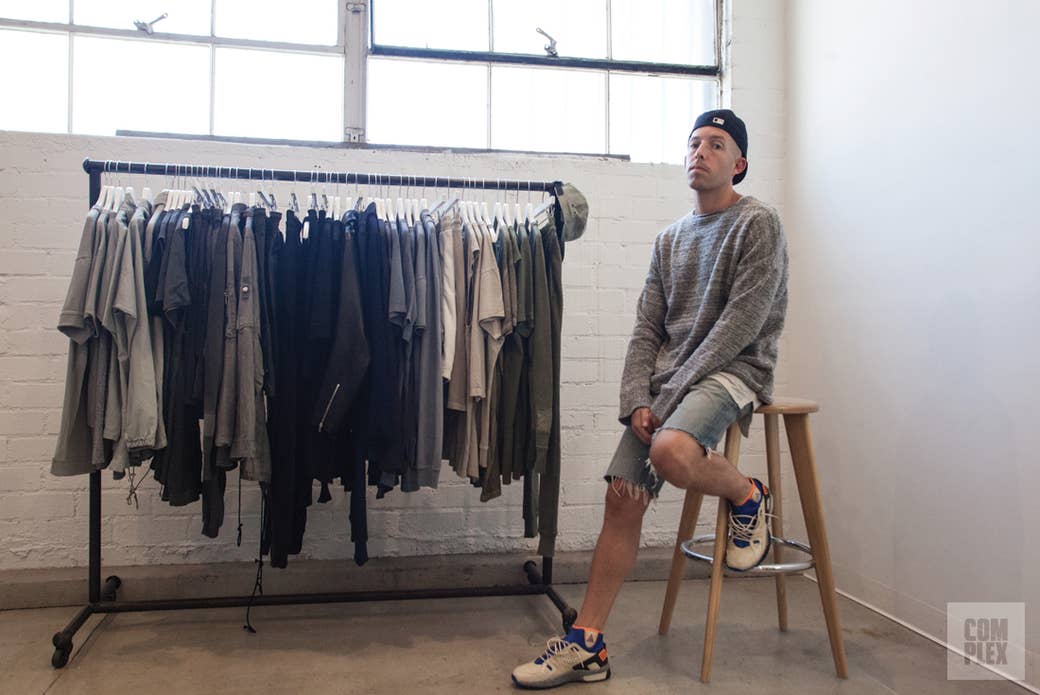 One of the most prominent figures in this newly emerging scene is John Elliott. In the two years since he started his eponymous label, the 32-year-old designer has amassed a fervent following around his canny and creative take on streetwear basics—one that includes the likes of Kanye West and J.R. Smith, both of whom showed up to support him at his first-ever runway show during New York Fashion Week last February. 
"While New York, San Francisco, Paris, and Tokyo are pushing out the younger creatives that really fuel innovation, L.A. is so vast, it's still welcoming to struggling artists," says Elliott, who originally hails from Northern California, but set up shop here for manufacturing purposes. "The ability to be hands-on was a major motivating factor."
Joshua Willis of Second/Layer, a Venice-based brand founded three years ago, also cites accessibility to production as a boon for SoCal designers, at least for most items. "Most of the production in L.A. is T-shirts, fleece, and denim," says Willis. "But finding good people to do semi-tailored goods is quite challenging." Willis runs Second/Layer along with his brother Jacob and friend Anthony Franco. All three men are L.A. natives, which heavily informs their current design aesthetic: gender-neutral silhouettes constructed from "no-season" fabrics like gabardines and double-faced cotton for looks that are at once tailored and breathable.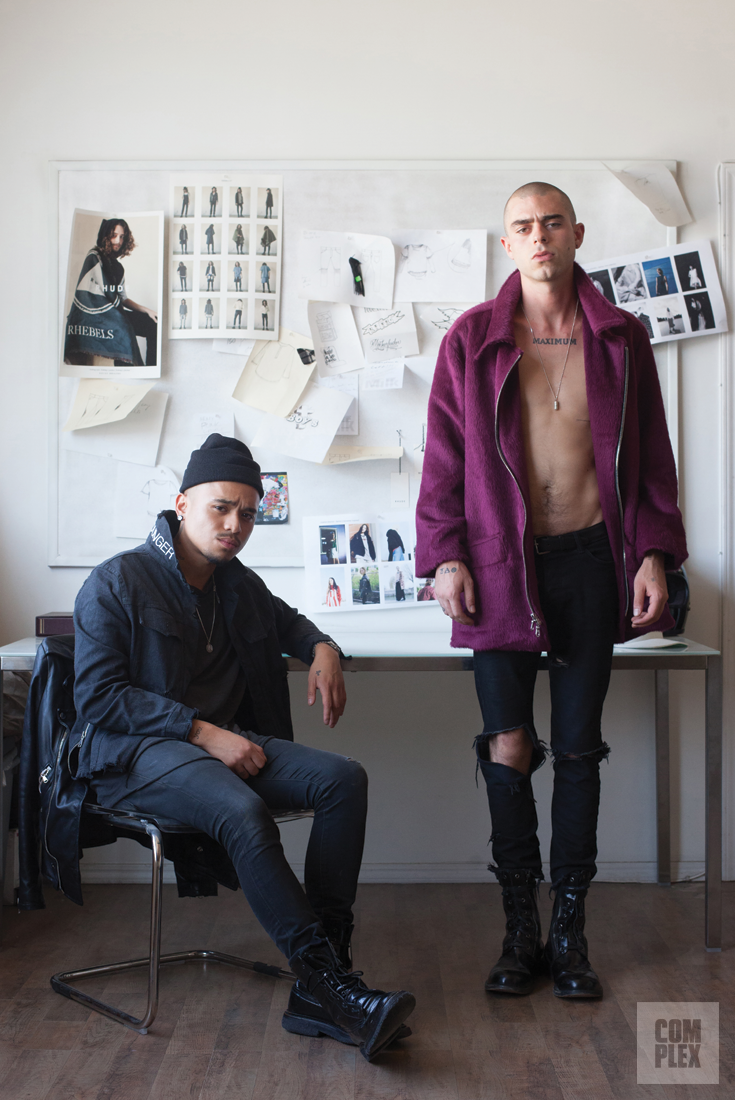 Los Angeles itself, with its unique geography and influence on youth culture, often serves as a visible inspiration for these designers' work—high-end clothing with an emphasis on comfort and fluidity, as well as inventive takes on sportswear basics like jeans, tees, hoodies, and coats, all of which embody the city's consummate laid-back cool. As Willis puts it: "Los Angeles is always going to garner a level of respect because its ideals are married with cool. I think people are looking for more than just good-quality clothing or cool styling, both of which are mandatory, and to us that's where the culture comes in. It's all about the story and it feeling authentic and genuine."
"I think Los Angeles is perfect. The geography allows my mind to be free," says Rhuigi Villaseñor, the Philippines-born founder and designer of RHUDE, a brand that was put on the map in 2012 when its allover bandana-print T-shirt was worn by L.A. royalty Kendrick Lamar and Kobe Bryant. Since then, RHUDE has expanded to a full line. Villaseñor's latest collection is a tweaked homage to biker culture, with leather jackets, distressed denim pieces, and layered hooded sweatshirts. Though there's plenty of California in the 23-year-old's designs, there are also hints of his art-school background and multicultural upbringing. "When I design, I use L.A. inspiration as the silhouette," he says, "then I counter with a culture that I find interesting."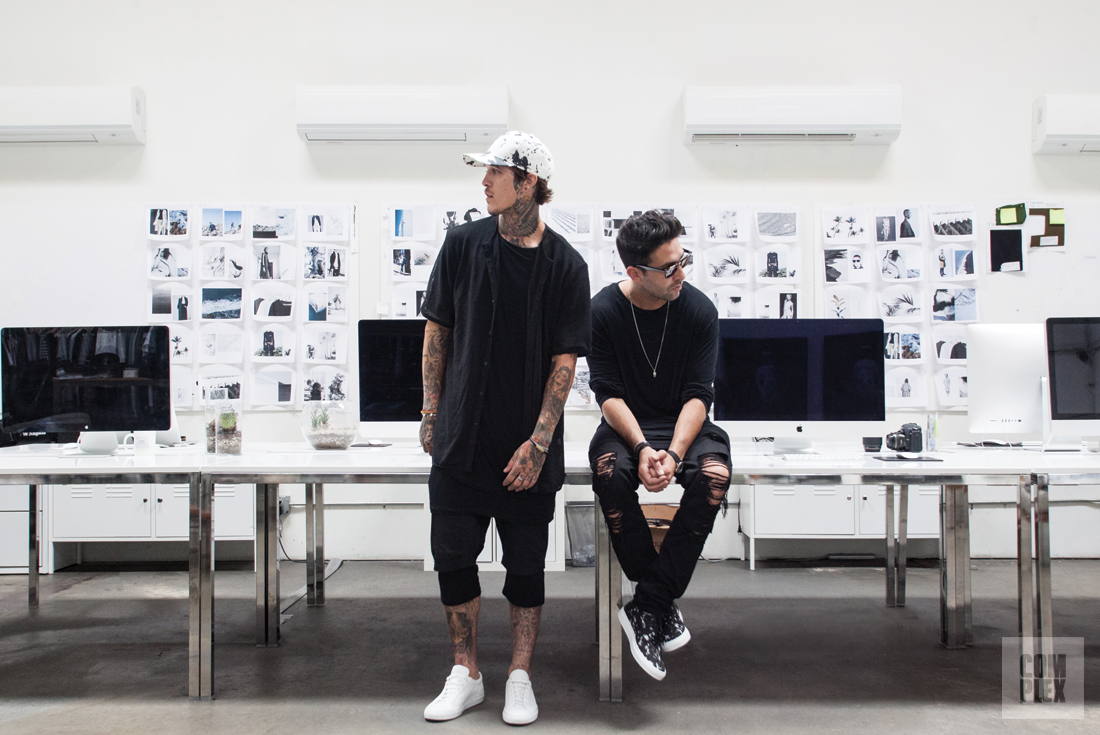 Chris Stamp launched his brand Stampd four years ago and has become well-known for his minimal take on the coastal lifestyle—maybe best embodied by the solid black palm trees painted on the stark white walls of Stampd's downtown L.A. headquarters. With his designs currently available in 120 stores worldwide, Stamp echoes Villaseñor's sentiment.
"For me, it's just about a mentality and a mind state. If I'm happy and enjoying my life and surrounded by amazing people, I'm more creative and I'm more inspired to put out better, more relevant things," says Stamp, 31, who is originally from the North County area of San Diego, and studied graphic design and business entrepreneurship at Cal Poly San Luis Obispo. The first iteration of Stampd was his senior project. "Coming out of school I was like: OK, do I go to San Francisco, L.A., or New York? San Francisco isn't really an epicenter for fashion, you know? I grew up a Southern California kid. My inspirations have always been drawn from being around hip-hop and that West Coast kind of mentality."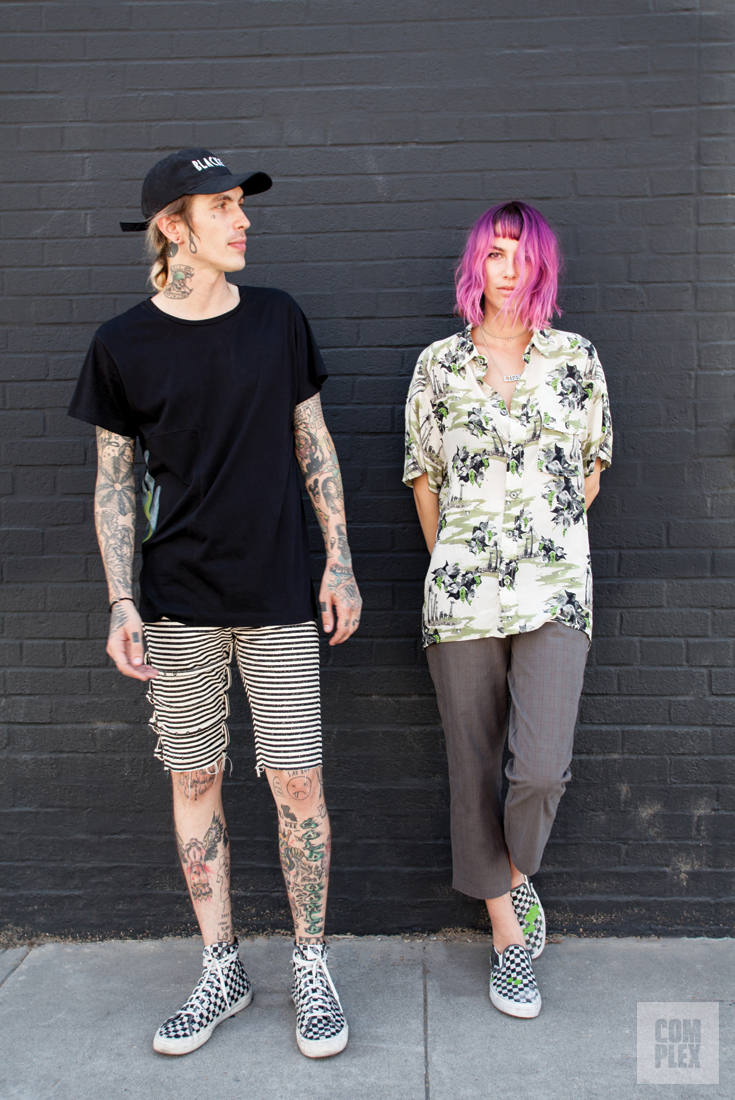 Another brand that incorporates Los Angeles into its designs in an unusual way is BLACKFIST. The newly minted line is designed by Bradley Soileau, 29, a Louisiana native and male model best known for the "war inside my head" tattoo beneath his hairline and his appearance in Lana Del Rey's "Born to Die" video. "Most of my design aesthetic is self-made, but I'm very conscious of Los Angeles weather and the early skate/punk culture here. A lot of my favorite hardcore and punk bands are from Cali," says Soileau. The influence of the region's rich outsider music history and his own "anti-everything attitude" is visible in his collection, the latest of which features asymmetrical trench coats, twisted floral button-downs, and cropped chinos. Even the brand moniker is a nod to that culture: "It's punk," he says. "It reminds me of a band name; it has that ring to it."
Though Soileau owns a distinct personal style and has been exposed to a lot of high fashion throughout his modeling career, he might never have thought to start his own clothing line had it not been for another player in the L.A. menswear scene: Guillermo Andrade, the 31-year-old owner of the cult fave boutique FourTwoFour on Fairfax Avenue.
"Guillermo gave a lot of us a platform when there was no other platform to be found," says Soileau of the shop, which carries nearly all of the brands mentioned in this piece.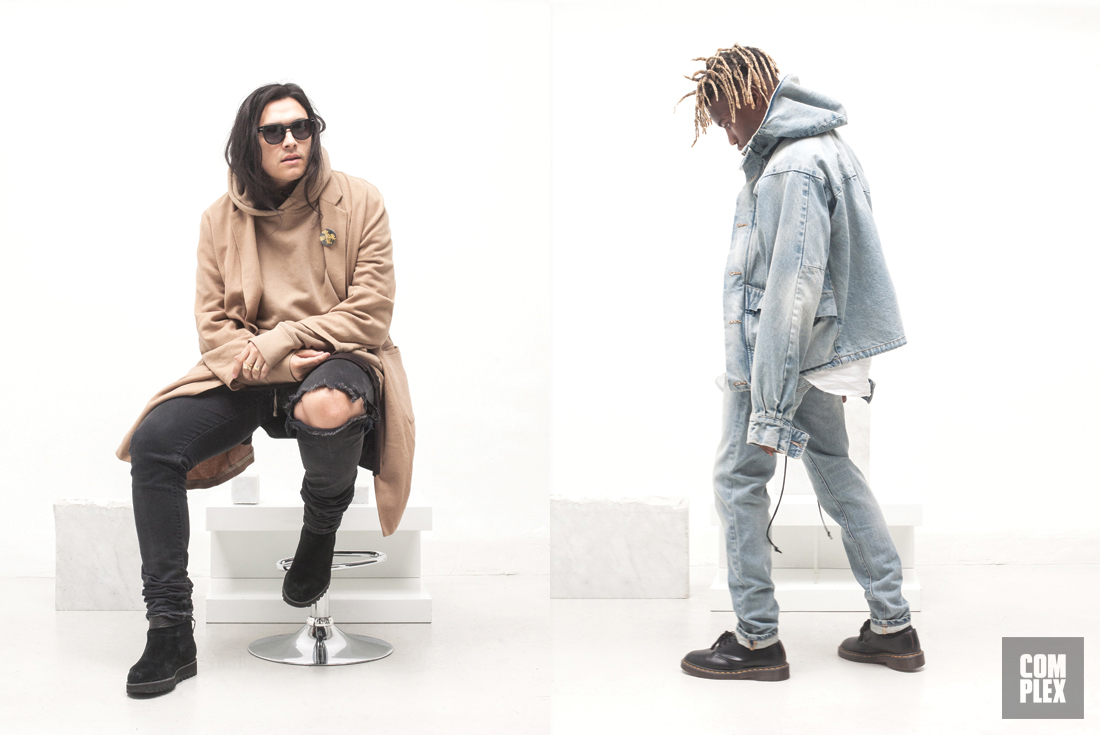 Andrade opened FourTwoFour in 2010 on Fairfax, which has since become streetwear's version of Rodeo Drive. He started out with just his own jewelry line, all the while acting as the hub for all that is forward-thinking in L.A. men's fashion, incubating new brands and creating a destination for influencers—or as Soileau puts it: "Every baller or rapper or whoever that dresses halfway decent shops at FourTwoFour, so you get a lot of brand awareness from being [carried there]."
Andrade's clothing line, 424, started out as a series of capsule collections, and finally grew into a full line this year. "I've always had a special relationship to clothing and developing a collection was a welcome passion project that's now turned into a dynamic part of my business," says Andrade. He credits the success of the store to the brands, as well as his own inclusive, risk-taking vision: "Before Barneys and Opening Ceremony were taking a chance on brands, the incubator and launching pad for these guys was FourTwoFour on Fairfax. I curate the store in a very specific way. It truly is a retail experience that has been put together for us by us—pun intended."
There's an unusually strong sense of camaraderie amongst the designers who make up this rising new guard in Los Angeles, something that has undoubtedly served to foster mutual success. Many of them are friends, and have watched each other's brands grow together, experiencing a similar arc of success. "There is a sense of community. We don't really look at it as this crazy competition," says Stamp, who was chosen to be one of GQ's Best New Menswear Designers in America this year, an honor that gave Stampd the opportunity to add a collaboration with Gap to an impressive list that includes KITH, Vans, and Puma. "It's more about how we can build things together and facilitate that kind of energy globally." Or as Joshua Willis puts it: "Our friends are all doing great things. They know who they are. We ride together."
Perhaps the most compelling element of this new Los Angeles fashion scene is, in fact, the newness itself. "L.A. is one of the last major cities in the world that is still somewhat affordable, so people with new ideas can live here," says John Elliott. "There's a new voice that has energy. There's a new story to tell."
This feature appears in Complex's Dec 2015/Jan 2016 Issue. Buy a copy today!​