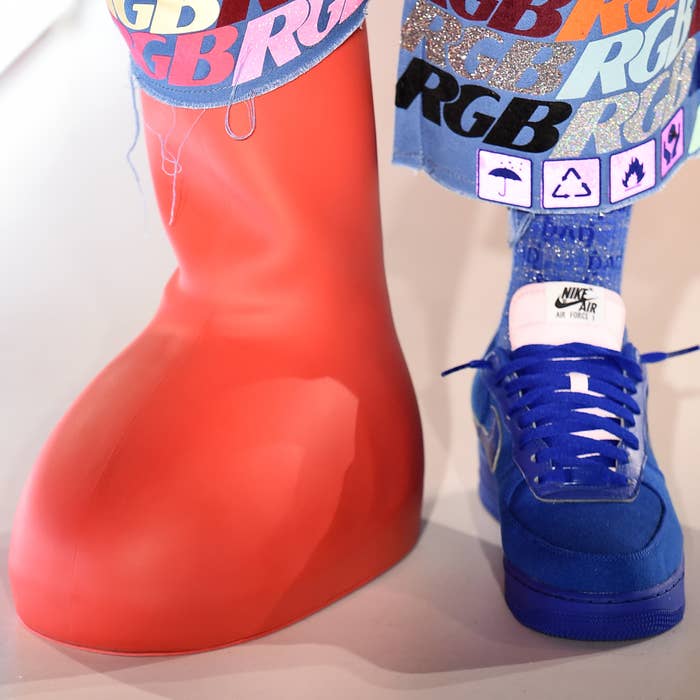 The "Big Red Boot" that MSCHF recently dropped on the fashion mediasphere like napalm is something out of an episode of Astro Boy. But it is not a licensed collaboration with Astro Boy, nor is it a photo of Astro Boy on a shirt or printed on some iconic sneaker silhouette. They are the literal boots that Astro Boy wears: bold and solid red, almost knee-high, cartoonishly balloon-round and nearly free of hard lines save the tread on the bottom. They cost $350 and are made of thermoplastic polyurethane (plasticky rubber) and ethylene vinyl acetate (rubbery plastic). The design isn't something you can easily incorporate into your daily life; they're truly so difficult to pull off that the model Wisdom Kaye cut giant slits in his pair so that his feet wouldn't get stuck in them. Are we having fun yet? One of my favorite books to quote on Twitter recently has been The Society of the Spectacle by Guy Debord, and in that sense these boots certainly are spectacular.
Debord reworks the Karl Marx idea that we worship commodities to fit the film and advertising age, explaining that our interactions with one another are intertwined with those commodities (we spend more of our waking hours at work than we do anywhere else, to produce things and unwind by consuming things that other people are producing) and spectacles, which he defines as the social relation among people mediated by images. Think about how we stay connected with our friends, via Instagram or TikTok, where the picture comes first and caption text is an afterthought. 
MSCHF's art, which entails creating unorthodox products with no specific function but lots of hype, sits somewhere between Pop Art, an era that used mass culture as an influence to produce objects (Gap ad star Andy Warhol) and post-Reagan meta-critical artists who interrogate mass culture's relationship to objects (Gap ad critics Art Club2000). Previous projects have included Only Bags, a run of the literal paper bags you get at designer stores for your purchase, and Severed Spots, where they cut up a $30,000 Damien Hirst "Dot" painting and resold the spots individually for a combined $260,000. They use the artist veil—the way ad companies use artists to convince consumers that what's being sold has existential value—for themselves! They're selling the goods direct-to-consumer style, but the joke is that it's ironic and that's what makes it "different." 
(Explaining the Only Bags project, they wrote: "IF YOU CAN'T CONSUME—AND YOU KNOW YOU CAN'T, NOT ON THE LEVEL YOU CRAVE, NOT ON THE LEVEL THAT HAS BEEN SPOON-FED TO YOU BY SOCIAL MEDIA AND THE MEDIATED FICTION OF CELEBRITY EXISTENCE—YOU CAN AT LEAST ATTAIN THE AESTHETIC OF CONSUMPTION." But how do we challenge that system with irony?) 
What MSCHF is doing isn't a new phenomenon: We've seen Mickey Mouse at Margiela, Studio Ghibli at Loewe, Superman at Coach—the list goes on. The Big Red Boots take things further and seem designed to embody nostalgia directly, as cosplay. You get to be a cartoon character instead of just signaling that you're a fan. I enjoy these kinds of creative risks, but I fear that risks relying on a gimmick leave us with nothing but waste once the hype subsides. Debord writes that, "in societies where modern conditions of production prevail, all of life presents itself as an immense accumulation of spectacles." It's really not a conscious choice, but one that comes out of the modern means of production. As you look at the boots, ask: How are the boots being manufactured? Who had a hand in making the physical product? Are they being paid enough? Is it labor-intensive to create these shoes? Can they relate to this product, or are they fully alienated from its meaning and use? 
We are falling deeper into a place where we consume religiously and try to derive actual meaning from it; the Big Red Boots allow us to conveniently justify our consumption with reassuring phrases like, "this is art." (Literally: Someone replied to a tweet of mine about the Big Red Boots by saying, "this is art, it's not made to be worn, you buy it and wear it once or twice.") When our nostalgia becomes conflated with commodities though, we can end up being driven to desire valueless things. Have you ever looked back at an ad from the '80s or '90s, for, say, HitClips, and thought, Why did anyone need that? Was the product worth producing? Was it worth the alienation it created in a working-class person's life? Art can be anything (a banana taped to a wall) but what art does (in us) is elicit a meaning. Challenging these things by asking questions of creatives in positions of power and visibility can help us do that. What is the meaning behind the unlicensed Astro Boy boots? Are they art? A product? A product as art? Or maybe they're simply the latest in a long line of images from our favorite stories being used to sell us something we don't need.