Louis Vuitton presented its Men's Fall/Winter 2022 collection by Virgil Abloh in Paris on Thursday, complete with a Tyler, the Creator soundtrack.
The show, available to stream in full above via LV's YouTube (as well as on LV's site), comes days after a temporary SoHo residency honoring Abloh's expansive legacy was announced.
Ahead of the livestream kickoff on Thursday, Louis Vuitton shared a prelude to the show at the Carreau du Temple featuring a collection designed by Abloh, who died last November at the age of 41.
Tyler responded to a fan's Twitter inquiry about his involvement with the show's music, offering a quick "bingo" when asked if he composed the soundtrack.
Later, Tyler said he felt "blessed," while over on Instagram he shared a Stories update shouting out the fellow musicians who helped him bring this vision to Paris.
"I love yall," he wrote when sharing a photo of the show's string section, including players from the Chineke! Orchestra. "Did the music for [Louis Vuitton] show with some GENIUS minds."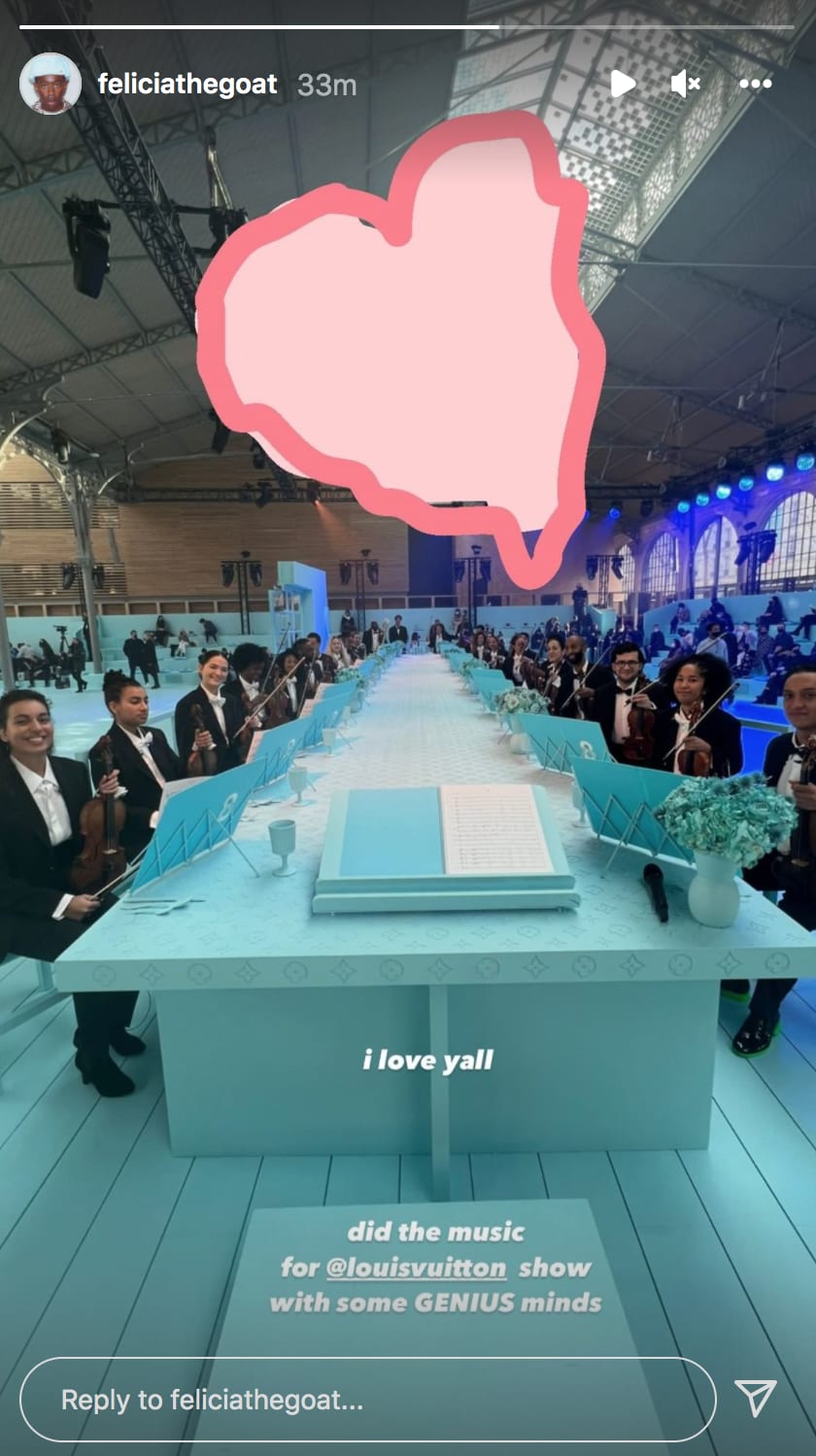 The show itself, per LV, is intended to serve as a consolidation of the "themes and messages" found in Abloh's eight-season arc at the French luxury house.
In November, Tyler shared a note on Instagram in which he remembered Virgil Abloh as having been a "cheerleader" for himself and other artists.
"I'll keep pushing and trying things while leaving the door open," T said at the time. "He'll shake those pom-poms. we'll keep that on loop. safe travels." More recently, Tyler remembered that same support during a video interview with Fast Company focused on his own Golf le Fleur line. 
"I wanted him here so bad to see like, 'Hey, look what I did,'" the Call Me If You Get Lost artist said. "Because I wanted him to just say, 'Fire.' And I wanted him to know."