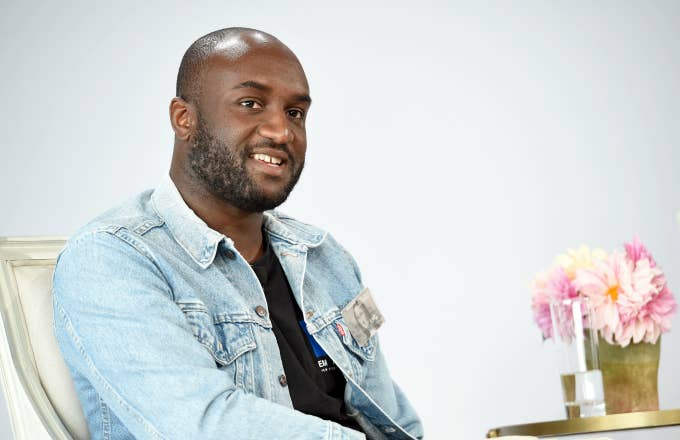 The only rug that will matter this year has arrived. Monday, during a livestream from the IKEA prototype shop in Älmhult, Virgil Abloh offered prospective home improvers an early look at one of the pieces from his forthcoming collaboration with the gods of sleek self-assembly furniture and my favorite cereal bowl.
"My idea is that humans don't make things by themselves," Abloh said during the live Q&A session with IKEA creative leader Henrik Most. "Collaboration is not a punchline... I only collaborate with the best in each category."
The exact pieces in the collection, which will be available worldwide at what are currently being touted as affordable prices, have not been determined. However, Abloh and Most have discussed collaborating on everything from tables to chairs to beds. Abloh said Monday the goal is to provide "new solutions for a millennial's first home."
For Abloh, the IKEA collab is the latest step in keeping his restless creativity on the cusp of innovation. "I don't have the patience to be a non-creator," he said. Abloh—who first met Most at an event in Milan—also revealed that he initially tried to reach out to IKEA via a mutual connection about collaborating, but his email went ignored. IKEA later contacted Abloh about collaborating on a rug, which inspired Abloh to present a multitude of additional ideas. The collection is currently projected to drop at some point in 2019.
We first learned of Abloh's IKEA plans back in June, with Abloh describing the early stages of the process as having allowed him the freedom to put his "opinion on a classic."