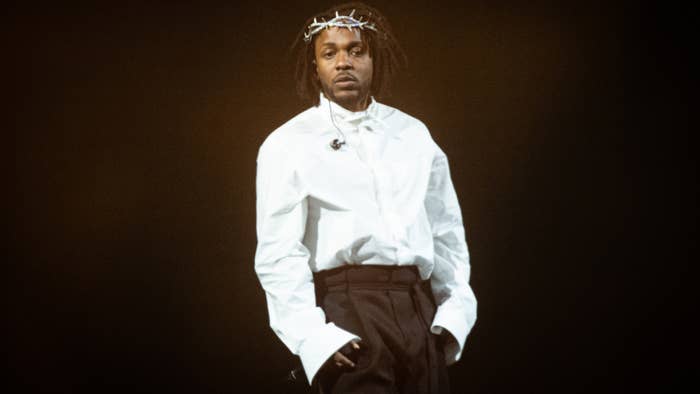 Kendrick Lamar, whose headlining Glastonbury set included a powerful statement in support of women's rights, wore a custom titanium and pavé diamond crown from Tiffany & Co. for the performance.
The piece was made possible by way of 10 months of design work, with Tiffany having since confirmed that four of its most skilled artisans worked on what became the final product. In a statement shared Monday, Alexandre Arnault—who serves as Executive VP of Product and Communication at Tiffany—said the team was "proud and incredibly excited" to have been enlisted to help bring this vision to life.
"Kendrick Lamar represents the artistry, risk-taking creativity, and relentless innovation that has also defined Tiffany & Co. for nearly two centuries," Arnault said of the custom piece, which ultimately became the focal point of 1,300 hours of diamond-setting work.
Last year, Kendrick and his collaborator Dave Free (with whom he previously co-founded pgLang) came to Tiffany with their idea, which takes inspiration from the familiar religious symbol and Jean Schlumberger's 1947 Thorns brooch.
Per a press release, the titanium design of the crown (which itself weights in at around 200 grams) was cast using 14 individual components that were put together into a single final piece. More than 8,000 diamonds were used in the crafting of the custom piece, which boasts 50 total thorns in different shapes.
The symbolism behind the crown, of course, has been a fixture in this current Kendrick era. Most notably, he's seen wearing the crown of thorns on the cover of his May-released album Mr. Morale & the Big Steppers.
Speaking more on what the crown means to him and his collaborator in comments toBritish Vogue, which first reported on the Glastonbury use of the Tiffany piece, Free pointed to its "godly" intentions.
"The crown is a godly representation of hood philosophies told from a digestible youthful lens," Free said.
Pressed by YouTuber the Unknown Vlogs (below) for a price tag on his fit and the crown specifically, Kendrick and his team cracked up when it was suggested the headwear cost $3 million.
Complex recently named the aforementioned Mr. Morale as one of the albums of the year (so far). See the full list here. Pusha-T, meanwhile, recently declared Kendrick's latest to be "great competition" amid talk of his own It's Almost Dry.