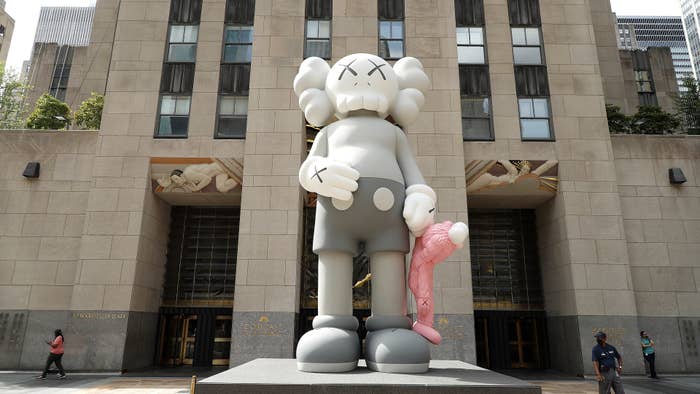 The widely revered artistic stylings of KAWS are now expanding into the uniquely versatile world of delectable breakfast options.
As you may have seen on Reddit in recent days, particularly over in the KAWS-focused subreddit, some eagle-eyed fans have been able to score boxes of KAWS-ified Reese's Puffs at their local major grocery retailer. Reddit user Locksmith-Glum shared a photo of the front and back of a clearly KAWS-ified box of the peanut butter-slash-chocolate cereal, saying they purchased it at Walmart.
In the ensuing comments, another KAWS enthusiast claimed to have learned that Target also has the boxes on hand but not yet on the sales floor. Below, see the aforementioned Reddit-shared pics:
Meanwhile, an associated site from General Mills (i.e. the manufacturer behind Reese's Puffs) has been spotted and shared in recent days by a number of sleuths. That site, however, wasn't live at the time of this writing. Another site showcases a KAWS PUFFS logo against a backdrop of individual pieces of the delightfully unhealthy cereal, complete with a message stating that the drop is set for Nov. 8.
Also of note with regards to the second site is the production-related mention of Acute Art, with whom KAWS has collaborated in the past on augmented reality experiences.
"It can be hard keeping exciting news under wraps and we love seeing that there is already buzz around our REESE'S PUFFS collab with KAWS," Mindy Murray, senior manager of Brand Experience at General Mills, told Complex in a statement. "We can't wait to share all the details with our fans soon. Stay tuned!"
Of course, this wouldn't mark the first cross-medium collaboration from the Reese's Puffs team. Previously, Travis Scott—whose affinity for the art of collaboration is well-documented—linked up with the cereal brand. Lil Yachty has also collaborated with the breakfast crafters.