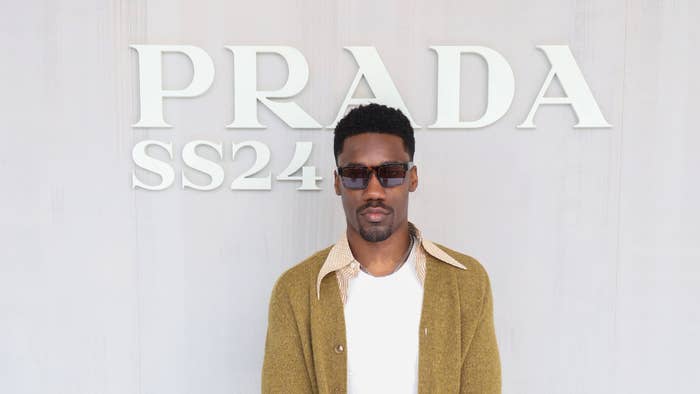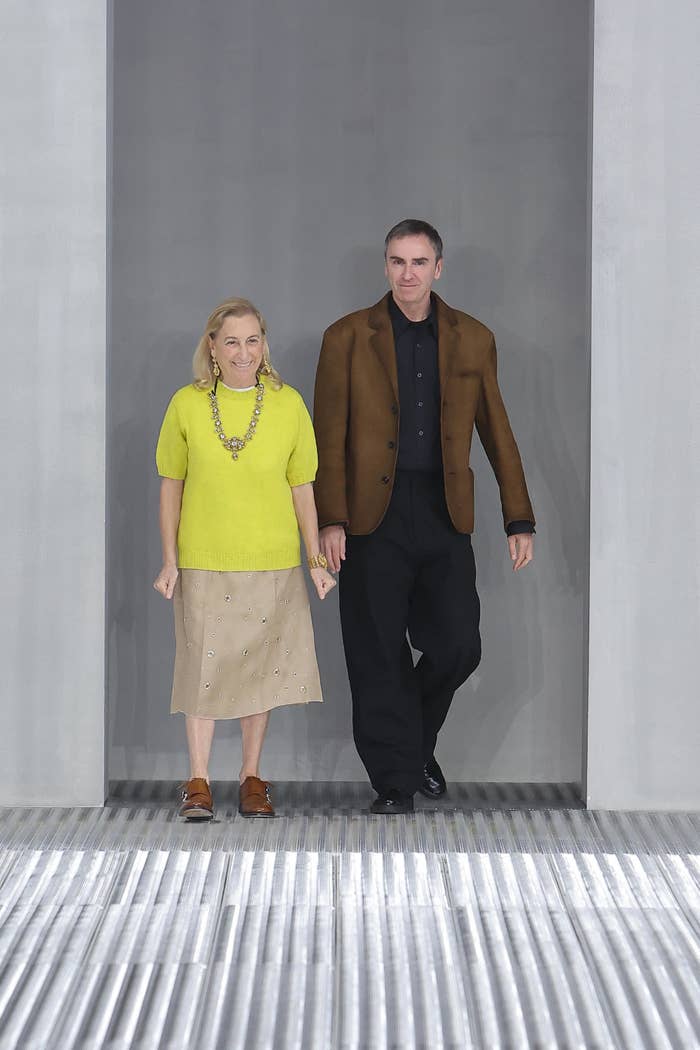 The show, the latest collaborative experience from Miuccia Prada and Raf Simons (pictured above), was housed inside the Deposito at Fondazione Prada. For Givēon, the presentation marked an "incredible" feat from the designers; of particular note for the Give or Take artist, per a subsequent conversation with Complex, was the approach to tailoring exhibited across the featured pieces.
Below, see more of Complex's conversation with Givēon, who recently wrapped a European tour in support of his debut studio album. During the Q&A, the 28-year-old Grammy nominee touched on everything from his personal relationship with the Prada label to his fondness for Coldplay's 2000 Parachutes cut "Sparks."
What did you like from the show? What would you want to wear?
The whole show was incredible! Definitely want to get my hands on that outerwear and those shoes. The tailoring on everything was beautiful too. Grateful to have been able to attend the show.
What is it about Prada as a brand that's special?
What's not special? Prada has always been a favorite of mine. The brand image, the clothes, and story all coexist perfectly together. You always know when someone is in Prada. Prada makes you feel. How many brands can say that?
What are you listening to right now?
Right now I am listening to lots of acoustic sounds, like "Sparks" by Coldplay. I've been loving that moody, filtered, acoustic vibe lately. It's so timeless.
You just got off your European tour. What's different from performing in Europe to performing in the US?
Performing in Europe is different in the way that it is a whole new world for me. I grew up in Long Beach and have done a North American leg for the Timeless Tour and Give Or Take Tour, so I've been familiar with the amazing crowds here. However, this is a whole new world and it's so great absorbing all of the culture Europe has to offer.
What do you have planned for this summer?
Definitely locked in the studio and just practicing gratitude for all that I've experienced until this point. I've definitely been on that wave of collecting memories, having more amazing conversations with those I love.
Are you working on new music? If so, how is it different from what you've previously released? Any different producers or artists you want to work with?
Always working on new music. I am a firm believer in always creating art that you want your world to be like. Being human, we are all subject to ebb and flow, so my music will always differ every time I release it. I am so excited to work with more artists I've already worked with and more up-and-coming ones.