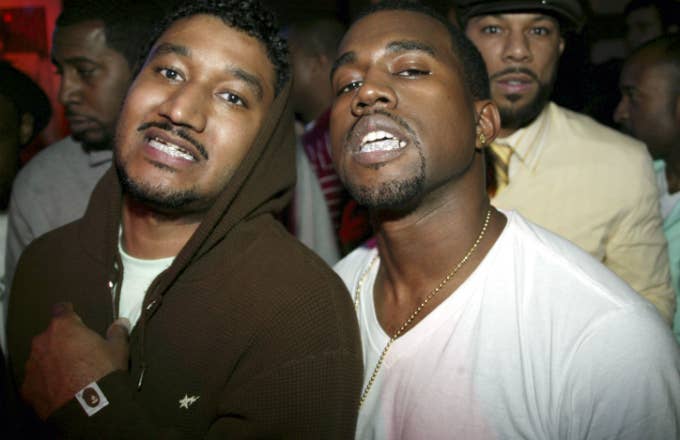 There are few photos iconic enough to warrant still talking about them nearly 10 years later, and this is one of those photos:
A lot has happened since Tommy Ton captured this moment outside the Comme des Garçons show in Paris back in 2009. Virgil Abloh just got nominated for multiple CFDA awards. Kanye West has continued to achieve greater and greater creative heights across multiple mediums. Taz Arnold continues to casually predict trends eons before anyone else.
In a new interview on the Failing Upwards podcast, the one and only Don C looked back on the Paris moment and revealed who he feels had the best style at the time. "Taz Arnold," he said. "He's always been ahead of everyone. He's so ahead of the curve that we still think he looks weird." Though Don considers both Taz and Fonzworth Bentley "super style gods," he still gives the edge to Taz.
"Bentley has got credit, Taz has got no credit," he explained. "Nobody gives Taz the credit he deserves for as forward as he [was], before the internet. See, I'm privileged to have known Taz in the 90s pre-internet when my friends from Chicago used to trade Polo with him in L.A. I used to see pictures of Taz in photo albums. Like, literally these guys were so serious they used to take images of each other, Polaroids of polo outfits. They would take squad fit pics, put them in a photo album, then mail your photo album to the crew in Chicago, while the crew in Chicago would mail their photo album to the guys in L.A. That's how I know Taz . . . He was just in, like, one of these photo albums when I was a teenager."
Catch the full interview here, then try your damnedest to dress and exist as confidently as everyone in the planet-pausing 2009 slice of classic photography up top.