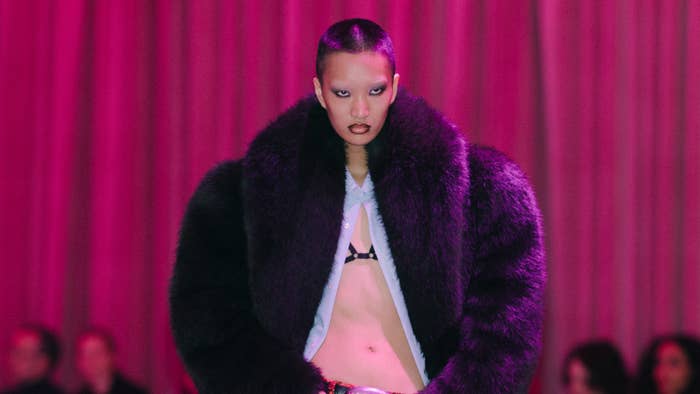 Alexander Wang, through his alexanderwang label, debuted a new womenswear collection and relaunched his menswear division in New York this week.
Julia Fox was among those who walked the runway as part of the Cupid's Door show, which saw models wearing pieces from the Pre-Fall and Fall 2023 womenswear collection, as well as from a new menswear collection. The collections will be available starting in May.
"New York has always been home, but one of the most exciting things about New York right now is that it's going through this renaissance with a lot of new energy and new people coming in," Wang said in comments to Complex about the Cupid's Door experience.
In terms of what he found to be the most difficult aspect of bringing this new round of pieces to the runway, Wang pointed to the inclusion of multiple seasons as being particularly challenging.
"It's a mixture of three seasons so we always try to wait for the right moment when we feel like there's something to say with a message we really believe in," the designer said. "The most challenging part is when you're working over a duration of multiple seasons, how to then put it together into one story and present it at the right time, in the right location, all the logistics of it; but it's the exciting part."
See a selection of Cupid's Door runway looks below. The new show arrives following a statement from Wang in March 2021 about the sexual misconduct allegations against him. In a statement shared to Instagram at the time, Wang expressed support for the "right to come forward," although he also said there was a disagreement "on some of the details of these personal interactions." In the same statement, the designer also said he would "set a better example" in the future.