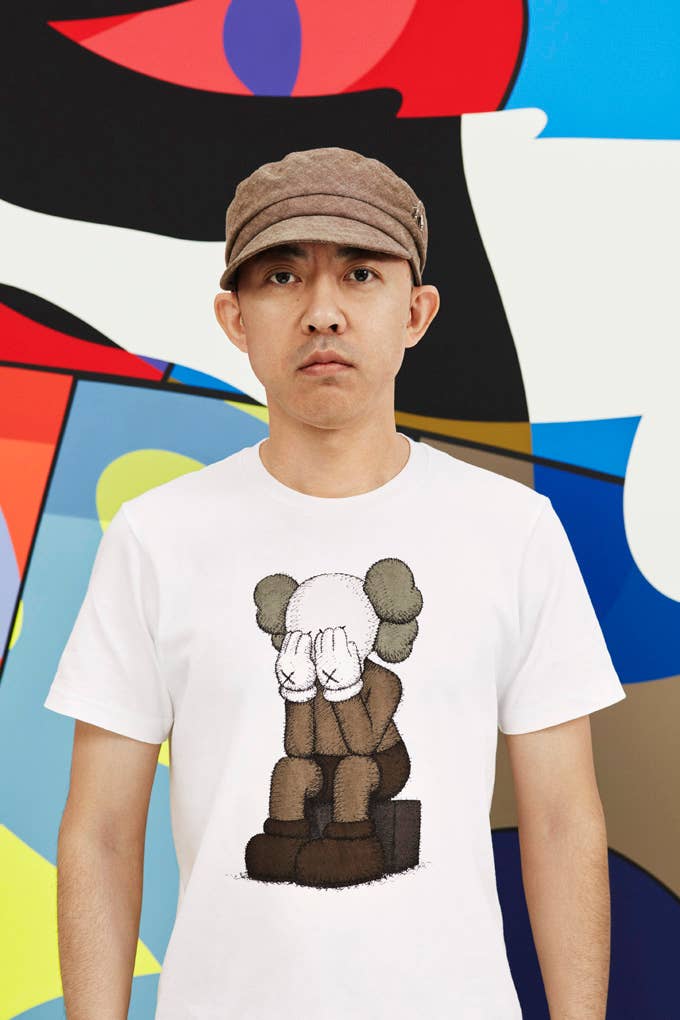 This morning, Nigo teased a new collaboration between Uniqlo's UT line and KAWS on his Instagram. The image didn't have any details—no release date or information on what the collection would include. But we spoke to the legendary Japanese designer about the project to fill in the gaps. 
In October 2013, months after he left his post at A Bathing Ape, Nigo wasappointed the creative director of Uniqlo's UT line—the retailer's special project branch for limited edition graphic T-shirts for men and women. Since then, he's put several of our favorite pop culture characters on tees, including Mickey Mouse, the Simpsons, Darth Vader, the Minions from Despicable Me, and the Mr. Men and Little Miss characters. He even managed to make Wu-Tang Clan and Metallica tees for UT. 
The new collection, set to drop this March, will consist of 12 different men's T-shirts that feature KAWS' artworks. The white gloves, Xs, and an illustration of the Companion are all there.
In this interview, Nigo talks about what it was like working with KAWS on the tees, their longstanding relationship, and how he balances his work between Human Made and UT. 
Interview by Skylar Bergl
You have Human Made, which is smaller production and not geared toward any particular season and are asked to collaborate on a lot of other collections as well. It has to be a lot to keep track of, how do you approach each line of work?
I think that each of the projects I am working on at the moment is in a distinct zone. The objective for Human Made is very different to what I'm looking to do for UT or Adidas. I have been careful to try to choose projects that can function in parallel, without creating friction for me or for my business partners.
You're a fan of KAWS' work and you've also worked together before on the sofas. What is the creative process between you two? Do you have different approaches to things considering your backgrounds? How do you take the ideas that you come up with with KAWS and translate it to work for a huge global brand like Uniqlo?
I also worked with him on several capsule collections at BAPE. We've been working together in some way or other since 1997. I think we have a mutual trust and understanding so it just happens naturally. I trust his art, illustration, graphic design and I believe that he trusts me to translate that to products.
The approach is exactly the same as it always has been, but I think that since we first started working together in the early part of our careers both of us have eventually moved into a space where something on this scale feels right, or even, comfortable.
How do you keep the integrity of a huge collaboration like the one with KAWS and make it mass? Once upon a time collaborations were limited and hard to get. Is this new approach—the democratization of specialized goods so everyone has access to special things—the new wave?
KAWS artworks themselves are rare—they are practically unobtainable. But, he's told me that he also likes to produce some things that people can get hold of if they want it. I like to think that we're offering something genuine as well: UT T shirts are very affordable, but I have worked to ensure that it is a real product—not a cheap version of something.
Even though it's not the intention at all, I wouldn't be surprised if these shirts become scarce quite quickly, though. Given the quantities we are making for UT I was surprised at first to find that some designs will sell out quickly, but it's happened quite a lot.
The art and fashion world have been getting closer over the past few years with increasing art involvement in collections and storefronts. How do you think this affects the way people dress and also learn about art/design? Do you like this evolution and shift?
I'm not sure that I agree that it's a new thing. At least, in street culture art and fashion were always close - and art has always been one of my main points of reference. I could go back further to Yves Saint Laurent's Mondrian dress and so on… I think art is a standard source for most designers. Each generation finds a new way to express that relationship. Maybe it's more of a visual culture in general now, though… Images have more prominence in more people lives, perhaps.
Do you think the shopping habits of consumers have changed? And how do you see that affecting the way that designers create and release collections? And is this a good thing or a bad thing?
Of course the Internet has changed everything. There's no point in hoping that things will go back to the way they were… So, thinking of the positive: designers now get to have a much more direct relationship with consumers. The power of the traditional gate-keeping elite of the fashion system: buyers and editors is really diminished when consumers can see designs at the same time as those people and make their own judgments. It's more democratic. I've always wanted to have a direct relationship with my customers and that's the way I've tended to work in the past—opening my own shops and avoiding the fashion press. I can see it as a positive development.