 A$AP Nast is sitting on the hood of a white Honda, his classic white adidas Sambas planted firmly on the ground. He's layered a pair of jackets on top of one another, with two gold chains hanging low, resting against an adidas track jacket zipped to his neck. On his lower half, long white tube socks stretch out from underneath a pair of tapered black adidas pants. If you were to take a look at only the Instagram photo Nast posted in mid-January depicting this scene, you might think he was a strict adidas loyalist from head to toe. But, that's not exactly the case—he switches up his sneakers and his shirts and his jackets, sampling Vans, Astrid Andersen, Supreme, and, famously, Stone Island. The pants, though, often remain consistent; Nast, like a growing number of guys, is faithful to his adidas track pants above all else.
"I wear them for comfort honestly," he admits. "Sometimes you don't want to go outside wearing denim or whatever, so you wear something comfortable. If the track pants are made for sport and performance, it's extremely cozy, it looks really good, too, and I think that's what people are starting to realize."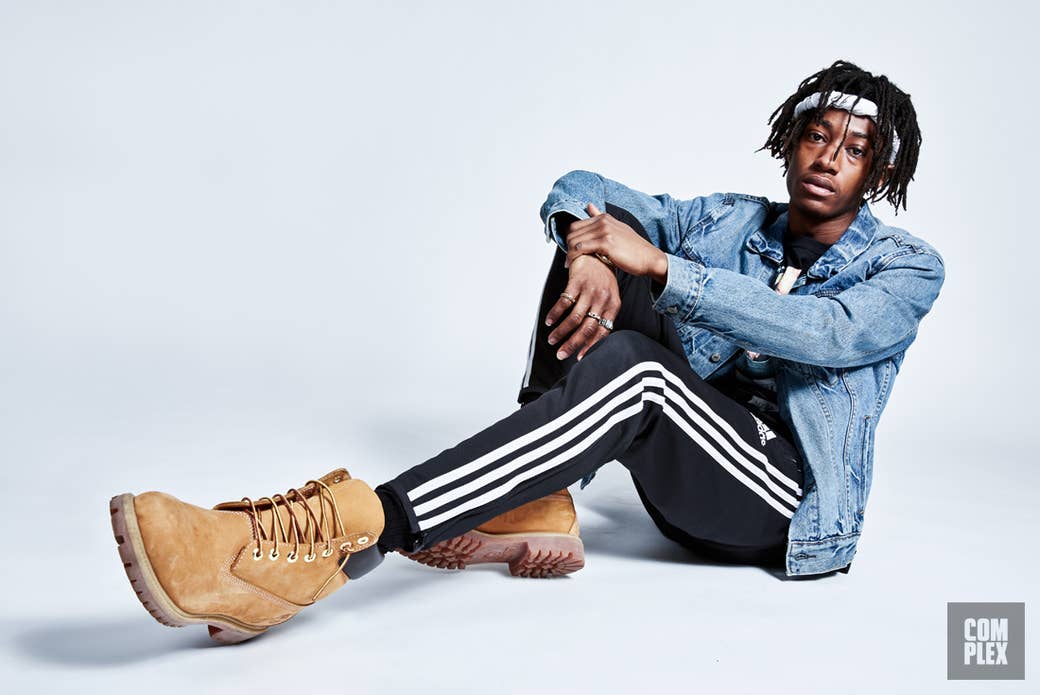 For decades, calling fashion "accessible" would be like calling quantum physics "simple," or North Korea "a fun place to spend a long weekend." Glossy photos of expensive, out-of-reach gear in magazines might look nice, but they've never really spoken to the common consumer, and you likely aren't dropping thousands of dollars on a black suit just because you see a sexed-up Dolce & Gabbana ad. But lately, the industry has shifted dramatically. There are still clothes for the 1%, but pieces heading down the runway trend toward everyday wear now more than they've done in a long time.
It's hard to say if one person is responsible for this shift, but among his countless cultural contributions, A$AP Yams fostered a cult of Cozy Boyz—a group of guys who want to look good and feel, as the name implies, cozy. You may not identify as a "cozy boy," but you're definitely dressing more comfortably in more public now than you did five years ago. Although it might horrify the Fashion Establishment to hear this, in some ways, the couch is the new runway.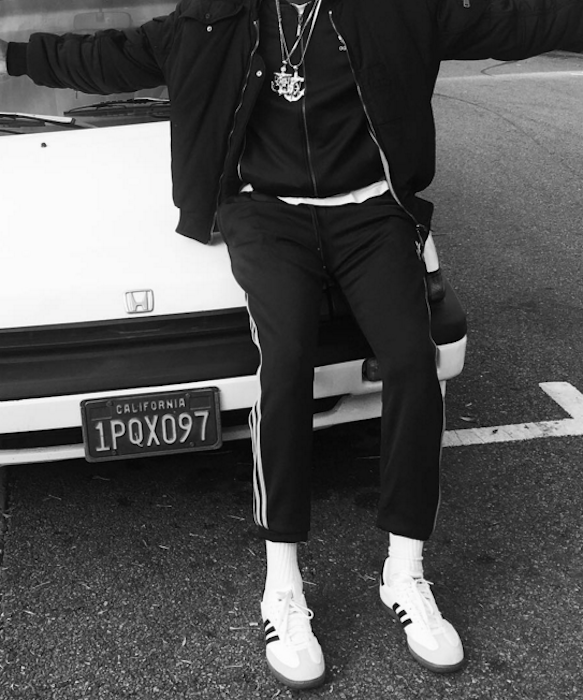 Fashion trends flash and fade quickly—remember normcore?—but athleisure, the performance-based cousin of the Cozy Boy, centered on clothing that at least looks like it's made for sport, has stuck around. Despite being a garbage portmanteau, athleisure has established itself as more than a flash in the pan. And no brands have benefited more from this than Nike and adidas. The cult of Nike Tech Fleece is as fervent, but it's been adidas and its signature track pants that have reaped the lion's share of the rewards. Especially lately. As the swagless, chino-with-a-cinched-ankle-cuff jogger pant lies on its death bed, adidas' trim Tiro track pants—with a zipper at the ankle and a wider thigh—have leapt off the soccer pitch and onto the streets, sparking the popularity of similar adidas styles.​
In New York City specifically, the pants have taken on a life of their own—to the point that some Modell's Sporting Goods locations opt to tape up handmade posters in their windows to inform passersby that they've received more pairs, which never gather dust on shelves regardless. "The track pants have been a top seller for the past three years across all of our locations and Modells.com," a Modell's spokesperson told us. "It's a big reason why we've increased our assortment to 'fashion' colors beyond the traditional black. Nike, Under Armour and other brands have produced their own style of tapered track pants as well, but adidas remains #1 at Modell's with the Tiro."
It's not like track pants are some recent groundbreaking creation either. They've been around since the '60s as a vital piece of the soccer player's uniform. But the sudden popularity off the pitch is notable considering that they are, after all, a real sport-first piece of clothing—which may in fact be why they work so well. "It's pure authenticity," VP of Design for adidas Football Sam Handy says. "The tapered leg was put there so you don't trip over your pant. The zip on the ankle is there so you can get your pant on and off to play. And the slightly wider thigh is there so you can wear shorts underneath. It's an authentically built piece of apparel, made for proper sporting reason. But now we know it means more than that to people. They're wearing it in their daily lives."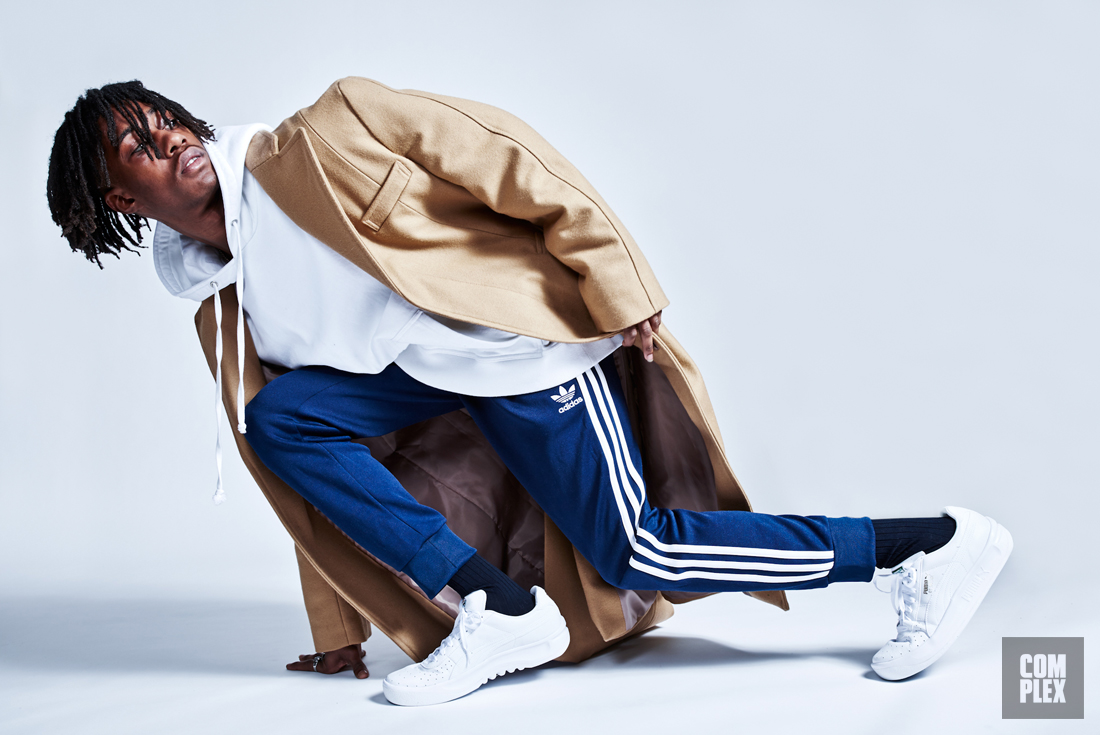 That's for sure. On a daily basis in New York, you are certain to see someone wearing adidas track pants with almost any type of footwear, including classic adidas sneakers, like Sambas or Superstars, sturdy running shoes, like Brooks or Asics, casual Nikes, Jordans, and even Timberlands, whether there's snow on the ground or not.
"I'll wear them with Vans or New Balance, because New Balance are cozy as hell," Nast says. "But awhile back you couldn't wear adidas track pants with anything other than adidas."
But make no mistake: Whatever the type of shoe, it's almost guaranteed that the pants have the three adidas stripes. "You have a lot of choice in footwear," Handy agrees. "The market is a big place and there is a lot of diversity. But if you want a track pant, it's the only one you're going to wear if you want something real and believable."
There are other ways to swerve unexpectedly with adidas track pants, too. If going full "Euro Lad about to punch an opposing fan" with a top-to-bottom tracksuit is your first instinct, consider pairing them with a typical hoodie up top instead, layered with a topcoat or trucker jacket, even. They can also match with another sport-inspired piece, like a varsity jacket. At this point, they can be looked to as a substitute for denim—unless you're working on a construction site or doing other heavy lifting.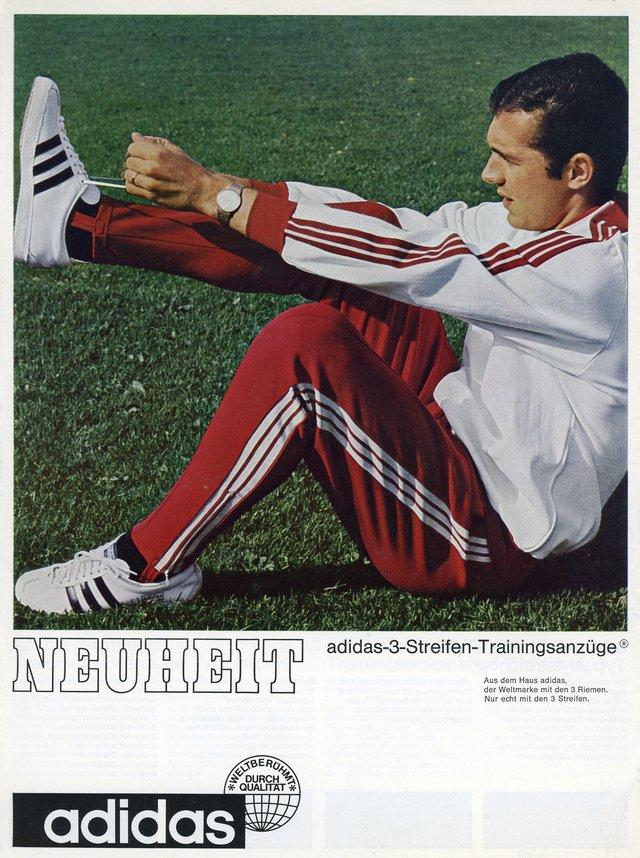 Unlike some of the calculated efforts by adidas to turn the Stan Smith and Superstar into modern classics through endless collaborations and new colorways, the rebirth of the adidas track pant has happened organically. "I don't think anyone made it happen," Nast says. "It was just one of those things where people thought they could wear something comfortable and not be trying to make a fashion statement. But people saw that and were like, 'That actually looks good. Why not make it a fashionable thing?'"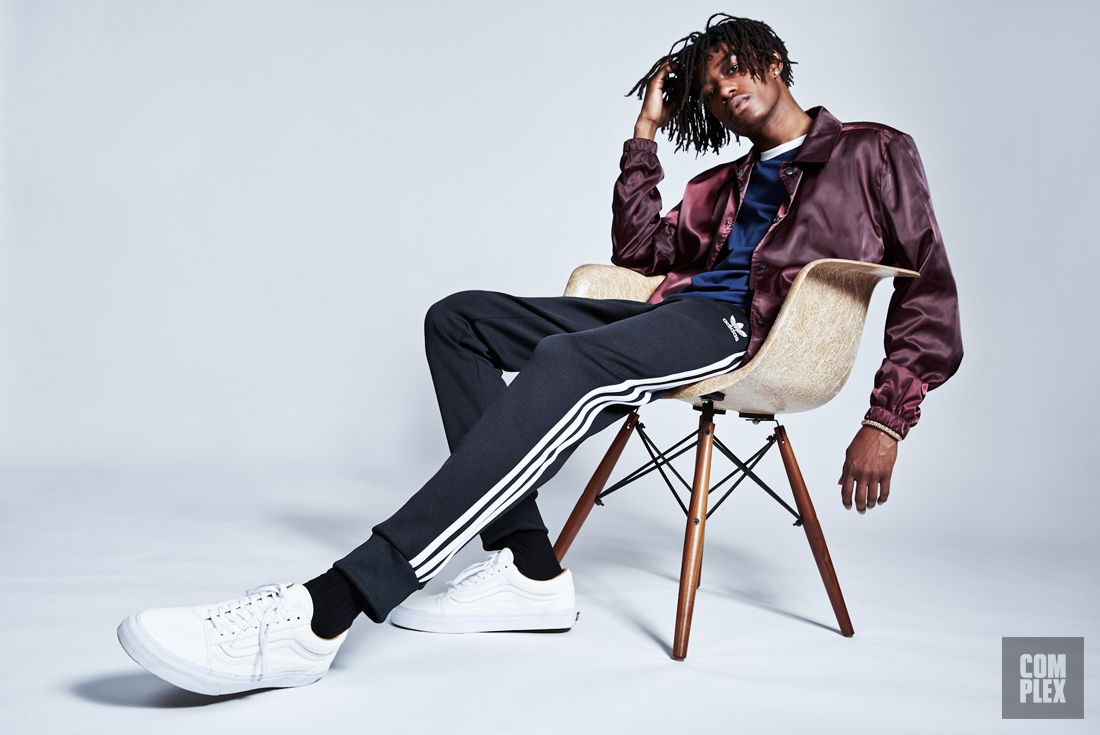 While adidas didn't disclose specific sales figures for their track pants, Handy noted that the company has seen a "big upswing" in the last two years in the U.S., and, combined with its popularity at places like Modell's, it looks like the enduring design will continue to, well, endure.
Handy agrees: "There's a reason for them to exist. They do something. It isn't fashion, it's sport. And sport is a very enduring idea. Football is more than a sport; it is a big part of culture. When you build a perfect product for such a perfect sport, it should be around for a long time."