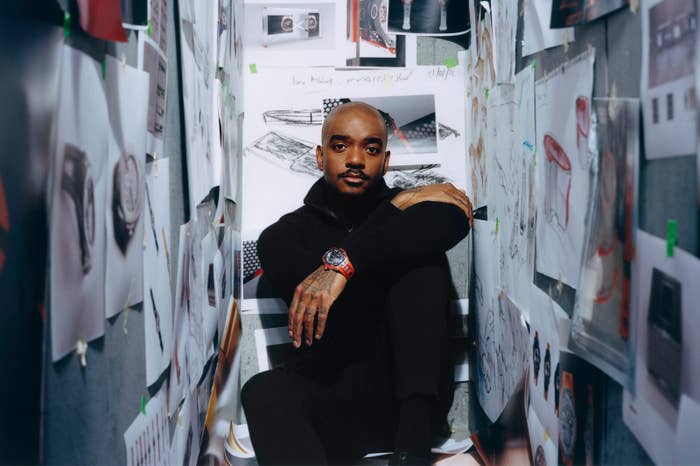 Samuel Ross, 31, is one of the most inspirational figures in fashion today—a multidisciplinary artist who has continuously straddled the worlds of art, style and architecture since launching his label, A-COLD-WALL*, back in 2015, which has gone on to become one of the most sought-after brands in the world. 
In 2020, the London-born, Northamptonshire-raised creative launched the Black British Artists Grant programme, which seeks to combat the lack of Black designers, artists, photographers and architects in the UK year on year. Ross' aim? To open doors for the next gen of creatives to have a seat at the table. The Hublot Design Prize and British Fashion Award winner—and LVMH Prize and ANDAM Award finalist—was a mere novice when he was appointed as the late, great Virgil Abloh's first design assistant in 2010 (the pair worked on Pyrex Vision and the launch of Off-White™), but Ross has since been hailed for his brutalism-inspired approach with A-COLD-WALL* and his collaborative projects, which range from disruptive Converse Aeon Active CX sneakers to moulding sculptures for Concrete Objects. 
ACW*'s latest link-up with Dr. Martens is all about overlooked workwear combined with subcultural influences. Ross and his continued commentary on the UK's cultural zeitgeist gets more pertinent with every season, and this two-part release is no different. Building on ACW* and Dr. Martens' on-going partnership, which started in 2020, the new footwear offering utilises both light and shade to create minimalist interpretations of the 1461 shoe and 1460 boot. Highlighted by a branded zip fastening in replacement of Dr. Martens' typical lacing system, Ross continues to further ACW*'s signature look with a clean, monochrome colour palette and a towering, double-height Bex sole. 
We caught up with Samuel Ross and Dr. Martens' new creative director, Darren McKoy, to find out more about the pair's long-standing relationship, finding inspiration in brutalism, Virgil's lasting impact on Ross, and the future of footwear. 



"Virgil started off as my boss and it was an honour to work with an older creative who, at that point, was ready to twist the industry model… We miss you, V."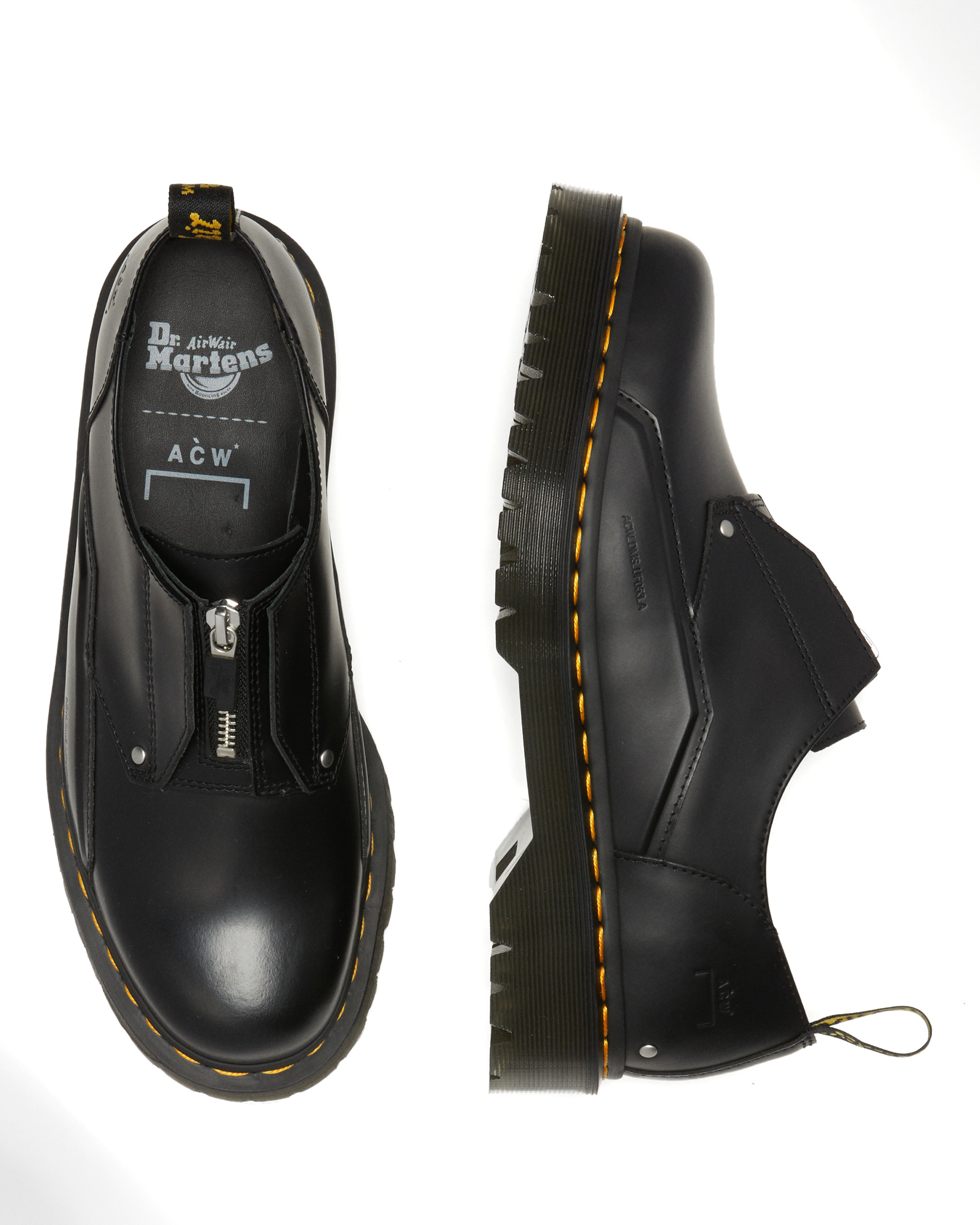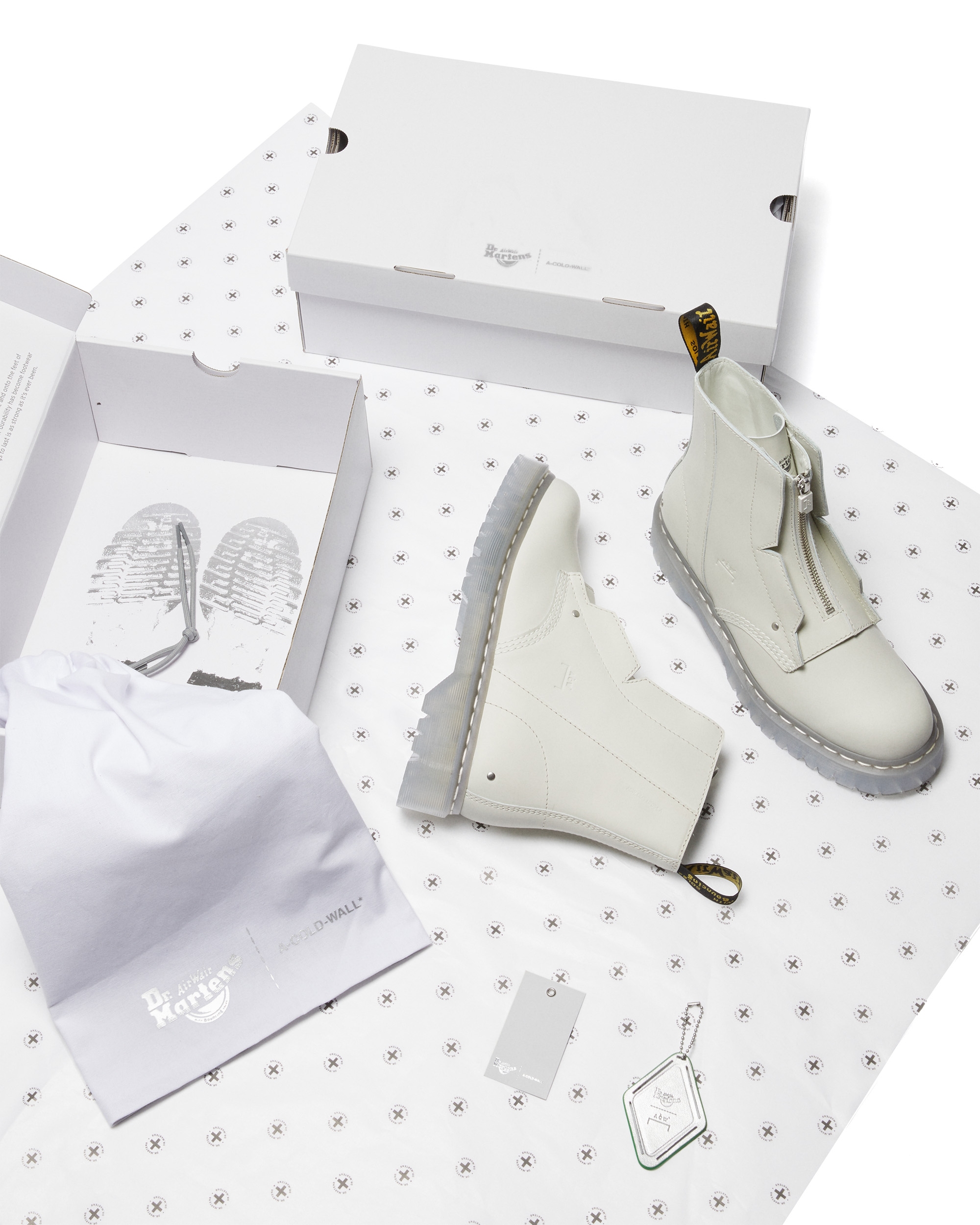 COMPLEX: What can you tell us about this new offering and what makes it different to your previous collaborations?
Samuel Ross: The main point of newness is that, throughout our collaborations, we've been able to identify what the right balance between Dr. Martens and ACW* is. The range of collaborations with Dr. Martens is always linked quite strategically; if you think about where I grew up and went to school, in Northampton, it was within the same town that Dr. Martens was founded in, so the connection was already there. The brand language for ACW* is very clear: it's symmetric, it's architectural, it's relatively subdued, and it's about the idea of living with garments. Also, the idea of earlier colour iterations that were actually concepts was really at the front of my mind. I've had a relationship with Darren [McKoy] for a few years and we discussed for a while the best way to move the collaboration forward. We both felt it was more about creating an icon from this signature style that we had already produced, versus slowing down the idea of refreshing or styling ideas and expanding the strength of the cult classic 1461 that we'd developed.
What are some of your earliest or fondest memories of Dr. Martens? Is it a brand you were always into?


Samuel Ross: Dr. Martens was very prominent growing up in Northamptonshire, especially as a boot town. The culture of the brand was so dominant within Wellingborough, Wollaston and Northamptonshire as a whole; it was an icon that people would associate with that area. The history was filtered through the villages, and if you go into Wollaston, it's so emblematic of Dr. Martens. My family didn't really indulge in luxury products when I was younger, so it was more the geography, the region and the feeling of Dr. Martens that really resonated with me. This idea of a local shoe that was based on craft and history, but also had this parallel line into the world… I remember seeing early collaborators of Dr. Martens travel up from Japan or at local trading shows, and it was almost like a lens into the wider world but it was so palpable at a local level.

Darren McKoy: Dr. Martens has always been part of my heritage and history. They were my first ever school shoes—which, for me, was really important. My uncle was the first person I knew in fashion; he was part of the ska movement and was always in Cherry Red 1490s. His music taste, his sense of style, it all influenced me. He forms some of my fondest memories.
Talk us through the thought process when it came to redesigning the 1461 shoe and 1460 boot.


Darren McKoy: We've created a clear, progressive design narrative, which you can see throughout our collaborations with Samuel that are so unique and special to both brands. Ultimately, it's created a space we can continue to design into. The concept itself can be traced back to our first collaboration with ACW* for our 60th anniversary, where the purpose was to redesign, repurpose and rethink the 1460 boot. What we've been able to do is establish a clear design narrative that stands the test of time. It's instantly recognisable as an ACW* treatment, whilst still having the iconic design cues of Dr. Martens.
What are the key features that make a good shoe and, in this case, a collaboration?


Darren McKoy: There aren't specific key features, but we do care about simplicity and purity. The project has to have a reason to be. It's really about respecting the design philosophies of both brands and letting that take you to a new space.
Samuel, prior to the launch of A-COLD-WALL* in 2015, you worked in advertising—what would you say are the parallels between both worlds and, subsequently, Dr. Martens?


Samuel Ross: When I think of my time working in advertising, it was really the allure of provocation and emotion—as well as the idea of disruption—that pulled me into the game. When you first think of Dr. Martens, you think of a feeling, you think of a subculture, you think of people, you think of a cult, and all of these touch points are rife for communication and traditional advertising. There is so much to play with; there's the idea of tension and rebellion and resistance, and if you think about the link between brutalism and architecture, it's the atmospheric tension and resistance that brutalism brings. Which is why it's such a hand-in-hand notion for me. From an advertising standpoint, we've tried to offset the coarseness of both brands by adding an intellectual texture that comes through casting the writer and poet Wilson Oyrema—who is a dear friend of ACW*— and Grace Wales Bonner, who represents, for me, the ideal modern consumer for A-COLD-WALL* and Dr. Martens. It's for the person interested in leadership and sustainability, who's inquisitive and curious but also has a sophistication that doesn't feel appropriated.
What is it, in particular, that you find so inspiring about brutalism?


Samuel Ross: The inspiration point stems from the idea of almost living with brutalism. If I think about British council estates and the immediacy of what it means to walk through a brutalist façade or even a brutalist architectural council estate, that dominating memory has been with me for as long as I can remember. If I think back to the estate just off of Brixton Hill and the council houses in Hemmingwell and Queensway in Wellingborough, that was the first type of architecture that I was exposed to and had an effect on how I felt.
How was it working with the late, great Virgil Abloh, and what did you learn during your time at Off-White™?


Samuel Ross: The relationship with V was a pretty much a 10-year thing. I met him when I was 21 and I'm 31 now—the dynamic made up almost a third of my life. First and foremost, he started off as my boss and it was an honour to work with an older creative who, at that point, was ready to twist the industry model. This idea of duration was so key, as well as the idea of freedom. Ideas weren't wrong—they were things to be explored. There was never a hard 'yes' or a hard 'no'. It was more "does it feel right, culturally?" and "does it feel right for the community?" It was always about finding a new way. We miss you, V.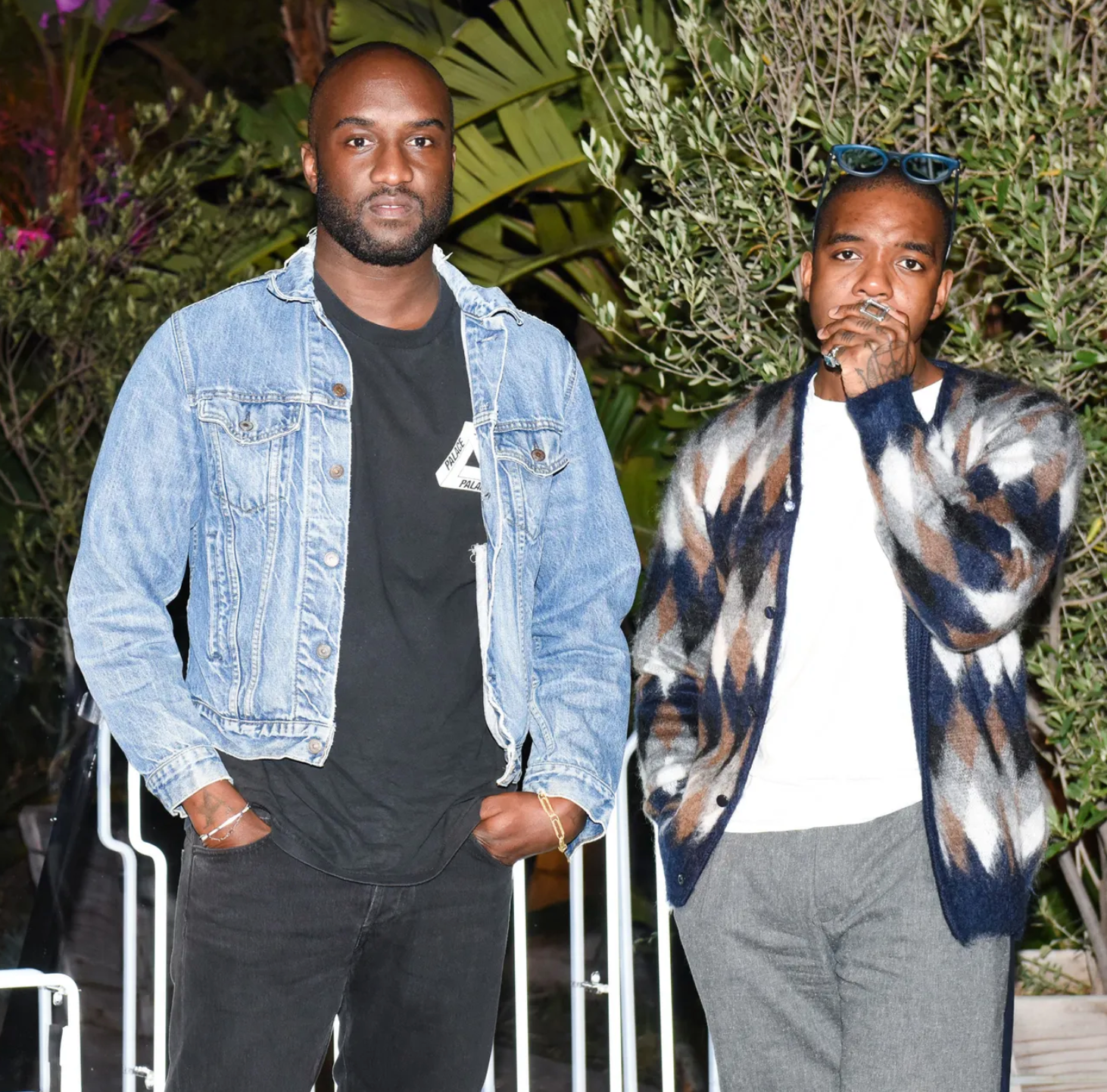 Darren McKoy, Creative Director, Dr. Martens