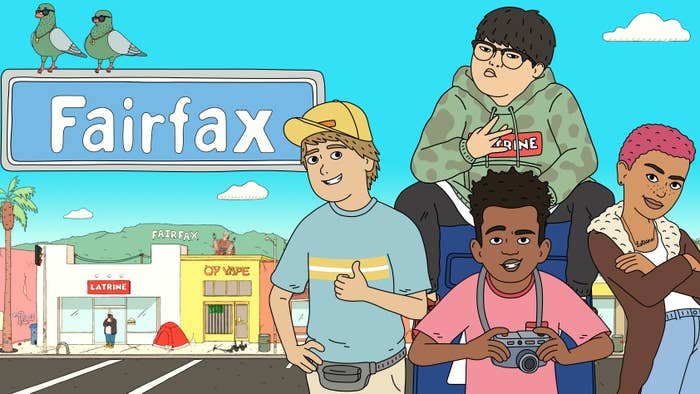 Growing up, everyone has their grails, the items they would do anything to own. For Teddy Riley, it was a purple ABC Camo zip-up hoodie from Bape. For Matt Hausfater, it was a pair of Arnette sunglasses and a No Fear chain wallet he purchased in 1995. And Aaron Buchsbaum spent all of his bar mitzvah money on a Sean John velour tracksuit. Each had a distinct grail of their own as teenagers. Now, each is in the entermainent industry. Riley and Buchsbaum met while attending USC in the 2000s and have written and sold various projects together ever since such as El Tigre, a feature comedy that was sold to Sony in 2012. Hausfaster has been a writer and producer on various comedy series such as NBC's Undateable, and also has assisted in developing shows for networks like NBC and FOX throughout his career. 
For their latest project, the trio have come together to co-create Fairfax, a new animated comedy series premiering on Amazon Prime today. The first season centers around a group of four middle schoolers, Dale (Skyler Gisondo), Derica (Kiersey Clemons), Benny (Peter S. Kim), and Truman (Jaboukie Young-White), as they navigate Fairfax Avenue, the iconic block in Los Angeles the show is named after, in search of their own grails—mainly a Dr. Phil box T-shirt from the most popular brand on the block, Latrine.
For streetwear aficionados, the reference should be immediately obvious. One of Supreme's most celebrated pieces is its photo T-shirt that features figures like Kermit the Frog and Raekwon wearing the brand's notorious Box Logo T-shirts. In Fairfax, it's Latrine, not Supreme, who is selling the limited designs. But rather than an iconic rapper, the celebrity of choice is a well-known television therapist. Yes, it's a bit out of left field. But that's sort of the point. It's the same reason why later in the series, Shania Twain is headlining a hip-hop festival, and in other episodes, Joaquin Phoenix serves as the streetwear plug who has the intel on upcoming drops. It doesn't quite all make sense, but it's so weird that you can't help but at least giggle at it.