 On a brisk October Friday, there's about a dozen people at Sara D. Roosevelt Park in Manhattan's Lower East Side. Photographer Jamel Shabazz scans the scene and two Latina nannies tending to toddlers on swings catch his eye. On the surface, they are unremarkable, just a couple of the many women of color caring for the city's white children at parks at this very moment. But Shabazz sees them. The nannies are sisters and nearly identical.
Presenting the Canon around his neck, he asks if he can take their picture. They're reluctant, so Shabazz produces a folio of his photographs, neatly organized in plastic sleeves.
"I love shooting brothers and sisters," he tells them, and starts flipping through images of smiling siblings and families from across the city. The women giggle in tandem but decline.
Still upbeat, he thanks them for their time, and wishes them good day.
"I knew right away they weren't feeling it," Shabazz tells me. "But you know I had to ask."
It would have been a classic Shabazz image: A group shot of people who many wouldn't give a second glance, warmth spilling over onto a lived-in street.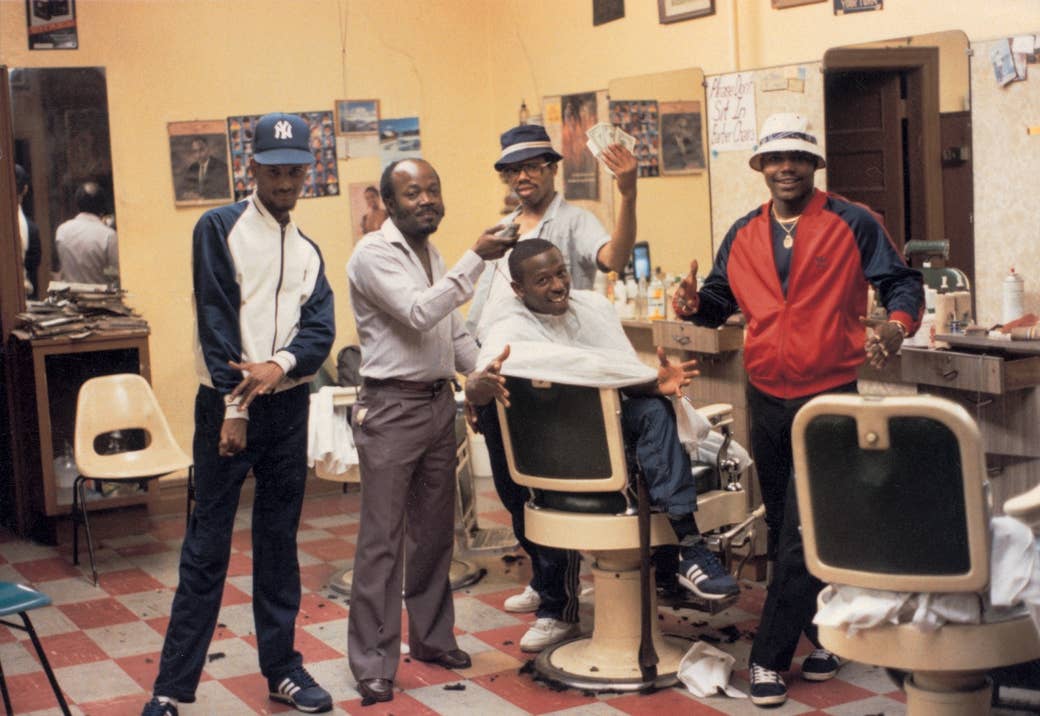 Shabazz has been taking these kinds of photographs of these kinds of New Yorkers on these streets for 40 years. He is most immediately associated with his images from the 1980s, which, because they feature kids in Cazal frames and wild-fitting shearlings, fat-laced adidas Superstars and clean Puma Clydes, a Pantone selector of candy-hued Kangols, beavers, Panamas, Jordaches, thick dookie ropes, and three finger rings, can be classified as street style avant la lettre.
If you have logged the hours necessary to exhaust the street style slideshows on Vogue and New York magazine, or have been outside nearly any major Fashion Week show and felt the gale force of a thousand purveyors of street style blogs rushing past you for the same shot of a questionably-employed industry fixture in architecturally significant footwear, or been unfortunate enough to find yourself in the flight path of the person for whom other human bodies are not a compelling enough deterrent to getting in front of a camera, then you know the cultural import street style has fashioned around itself.
By corralling the eager fashion fauna, photographers like Scott Schuman and Tommy Ton have turned a niche genre into a requisite publishing vertical and their own names into brand extensions. They also caught on to something that Shabazz was doing four decades ago, but that we've only gotten a look at recently; when his monographs Back in the Days (2001) and A Time Before Crack (2005) were published, they were like transportation devices to a particular New York moment of expression through style, performed on the pavement.
"Oftentimes when people look at my work, especially people today, all they look at is the style and swagger, but for me, I'm looking at the person,
the inner self."
—Jamel Shabazz
Of course, there were already street photographers loping about New York before Jamel Shabazz. In the '30s and '40s, Arthur "Weegee" Fellig captured the city's mob-era violence with hard-lit unsentimentality; Garry Winogrand pinpointed the bubbling anxiety of postwar Manhattan with an in-your-face, smash-and-grab style. Yet while these photographers documented the street in situ and didn't care if you wanted your picture taken or not, Shabazz was interested in something different. Who else was taking photos of people from the hood, in the hood? His images captured the particular flavor of the street itself, gathering the inner city up into frames bursting with joy. This has always been the goal: From the time he picked up his mother's Instamatic in 1975, Shabazz has steadily and deliberately created an expanding visual document of the black urban experience.
"He influenced culture retrospectively with these books, and it is profound," says multi-hyphenate New Yorker Charlie Ahearn, who directed the new documentary Jamel Shabazz: Street Photographer, available now on VOD and DVD from Oscilloscope, the film distribution company founded by the late Adam "MCA" Yauch. "When I saw his photographs from the first book, I felt like, this guy's an artist. He's not an amateur photographer taking pictures of his friends. He has the kind of drive and mission of an artist. A vision, in other words. But this is something new. You have to come up with a different term for what he does."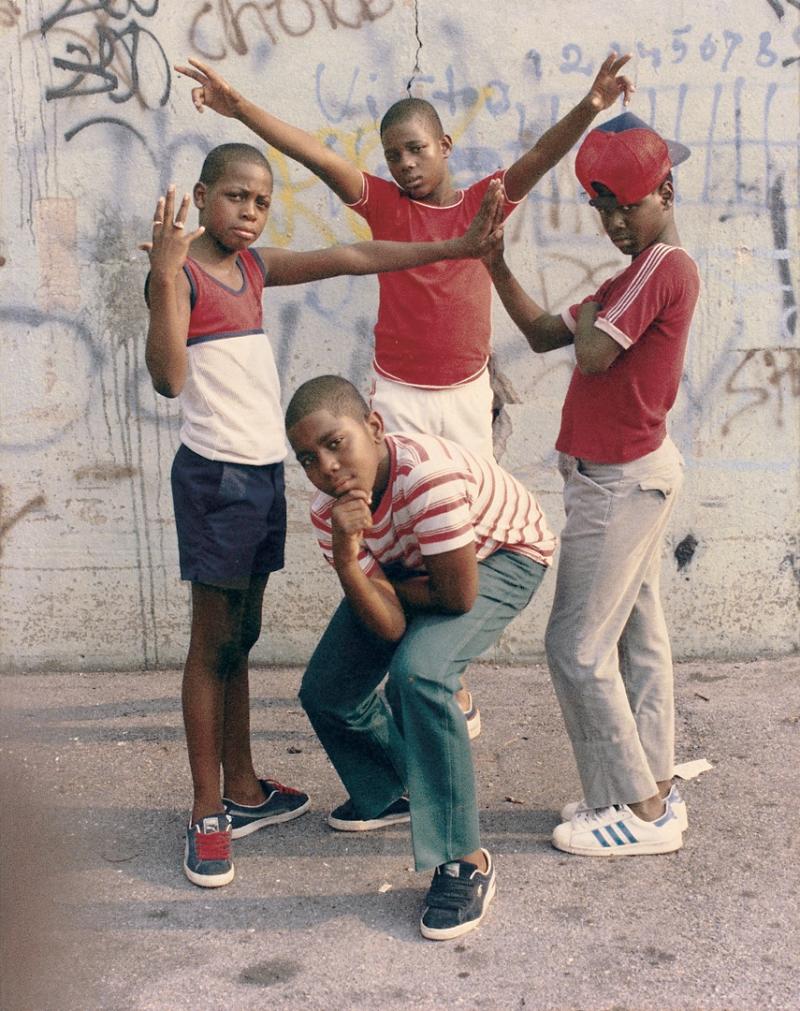 Shabazz uses words like "mission" and "purpose" a lot. He speaks emphatically, his Brooklyn lilt lyrically traipsing over streets from Fort Greene and Flatbush, to Times Square and the Lower East Side. Flipping through his most recent book, Represent: Photographs from 1980–2012, which Shabazz self-published in 2012, he seems to recall the story behind every image. After listening to him unspool several of these, about Ethiopian schoolkids, born-again dope boys, and outsize Hasidic families on a stroll in Prospect Park, it's apparent that, for Shabazz, storytelling is the real work, the image merely a conduit.
If Shabazz's books function as yearbooks for entire neighborhoods, Street Photographer is like the back page where the staff lets you in on its process. In this case, it is a staff of one ebullient humanist talking about the crucible in which he lived and worked.
It makes sense that Street Photographer is a Charlie Ahearn project. When Ahearn's Wild Style, an enduring portrait of New York's early hip-hop scene, released in 1983, it gave filmic credence to a powder keg culture that was theretofore being shunted out to the margins or dismissed out of hand by the mainstream art world. As a result, graffiti writers like Fab 5 Freddy and Lee Quiñones, considered criminals a year earlier, were now exhibiting  in Roman galleries. Thirty years later, they're held up as elder statesmen of hip-hop culture.
Fab, who went on to host Yo! MTV Raps, features in Street Photographer as well, as do other hip-hop luminaries like KRS-One and Bobbito Garcia, all parsing the import of Shabazz's work and finding it difficult to overstate the cultural significance of his documenting the urban style vanguard in its infancy, or as Fab says here, "before rap made them large."
Shabazz grew up in the Red Hook projects and in Flatbush in the '60s and '70s. He recalls the cameras and equipment that belonged to his father, a Naval combat photographer based on the USS Intrepid, scattered throughout the house, but he mostly remembers the books: James Van der Zee, Edward S. Curtis, Gordon Parks. One in particular, a signed edition of Leonard Freed's 1968 book Black in White America, which his parents kept on the coffee table, held special heft, serving as a crash course in deep-rooted inequality and photography's power to illuminate the unseen. Shabazz refers to it to this day.
At 17, Shabazz enlisted in the Army, which brought him to Germany. By the time he returned in 1980, Brooklyn was a different place. There was more violence in his neighborhood; young people were getting killed. Shabazz was intent on finding a way to connect through his camera.
"The photograph is evidence of my journey. It's evidence of the conversations I've had and relationships I've had
with people."
—Jamel Shabazz
"My purpose when I came home was, clearly, to make a difference," he says. "How can I use my voice to make a difference? And I found that by being the type of photographer I was, I was able to engage young people, and gain their attention, and talk to them. That's why people are, for lack of a better word, posed. They're posed because I'm having a conversation. I didn't want to take the photograph without them knowing it. I wanted to engage you to know about your life. The camera was a master key to gain entry into the lives of some of these people. Without that I would have been empty."
When Shabazz was 19, he briefly met the high-ranking warlord of the Brownsville-entrenched Jolly Stompers gang, who also happened to be an amateur photographer with a style Shabazz says rocked him and crystallized his aesthetic.
"He had photographs in well-structured albums—phenomenal images of his gang—well-posed and, unlike the gangs today, very dapper," Shabazz recalls. "And it was something that mesmerized me. Prior to seeing those photographs I had only seen images that Van der Zee had taken, and Leonard Freed had taken, but these particular photographs, they were from Brooklyn, and everyone was dapperly dressed. He might have just been an amateur, you know, taking it with probably a 110 or 126 Kodak Instamatic, but for me they were great photographs."
After that, Shabazz set out in earnest to chronicle real people on the streets he knew best. His father wasn't as impressed by his new style.
"Initially I was doing the portraits, and he referred to them as snapshots," Shabazz says. "He didn't view them as fine art photography. He would challenge me to do documentary work. He would look at my work and critique it, then he would put me on assignment, and challenge me to shoot on another level. When I picked up the wide angle lens, the 20mm, it opened up my eye to another world, and I understood what he was saying."
The first assignment was his room. This was designed, Shabazz says, to get a feel for the politics of composition, how he would rearrange things to tell a narrative, the way he would structure his image. After that he graduated to his block, which Shabazz thought was boring. "But as I look back at those photographs now," he says, registering the irony, "the whole entire block has changed."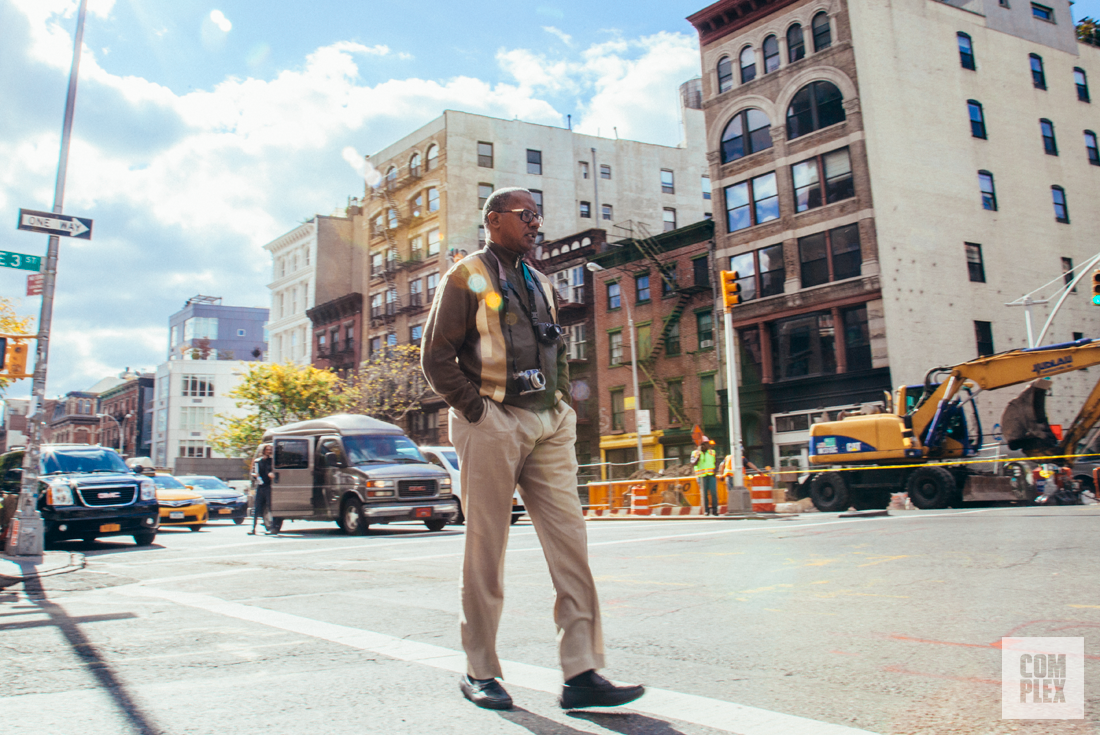 Shabazz became a corrections officer at Rikers Island in 1983 and worked there for 20 years, shooting both inside, and working the streets after his shift . At the notorious prison complex, he encountered people he knew from the neighborhood, and the relatives of friends. Shabazz was conscious to engage them on a humanistic level, an approach he says earned him respect, both in Rikers and on the street, as word of him being on the level traveled.
"Jamel had an eye for signifiers," Ahearn says. "In other words, what people call 'street style' is a series of signifiers of someone's point of view and membership in a kind of culture, which did not have a name, really, in 1980. Jamel was on a mission to connect with these people because, as he was working in Rikers Island, he was in a kind of trauma, seeing the generation that he belonged to entering prison life. He related to Malik Shabazz—Malcolm X—and he embraced this idea of cultural and political transformation on a one-to-one basis, one person at a time."
He approached young people in Brooklyn and Manhattan, primarily in black neighborhoods, with the refrain "I see greatness in you," and as they parted ways, "I both love you and recognize your power." He captured their style, yes, but also their humanity.
"I wanted to engage you to know about your life. The camera was a master key to gain entry into the lives of some of these people. Without that I would have been empty."
—Jamel Shabazz
"What people don't really know is my work is a visual diary of my journey," Shabazz says. "It's not really about photography. The photograph is evidence of my journey. It's evidence of the conversations I've had and relationships I've had with people. So, when you see people gathered up in groups, I'm talking to them, about the need to love and respect one another, the need to maintain our communities, to respect our elders. There's a conversation going on. What you see in my photographs is a reflection of what I'm giving them."
Far from being slum tourism, Shabazz's images present his subjects within the halo of their best selves. When you think of the work of Kehinde Wiley, elevating black men and women into the regal forms of the Old Masters, you must certainly think of Shabazz. But whereas Wiley's work jars, highlighting the incongruity of his subjects, resplendent in furs and dripping in jewels, Shabazz's images present them in a natural state of regality. If they read as stately it's because that's how they were. The lionizing poses, A-line stances, index fingers pointing to their brains—here were the young princes and queens of the hood, fully self-possessed.
The images taken during the '80s tend to resonate. In 2011, the Roots released undun, a conceptual album that explores themes of urban struggle and that, according to Los Angeles Times critic Ernest Hardy, has "a psychological depth and complexity rarely afforded black folks in modern pop culture." For the cover, the group selected Shabazz's "Flying High," an image of a boy jumping on a discarded mattress in Brownsville.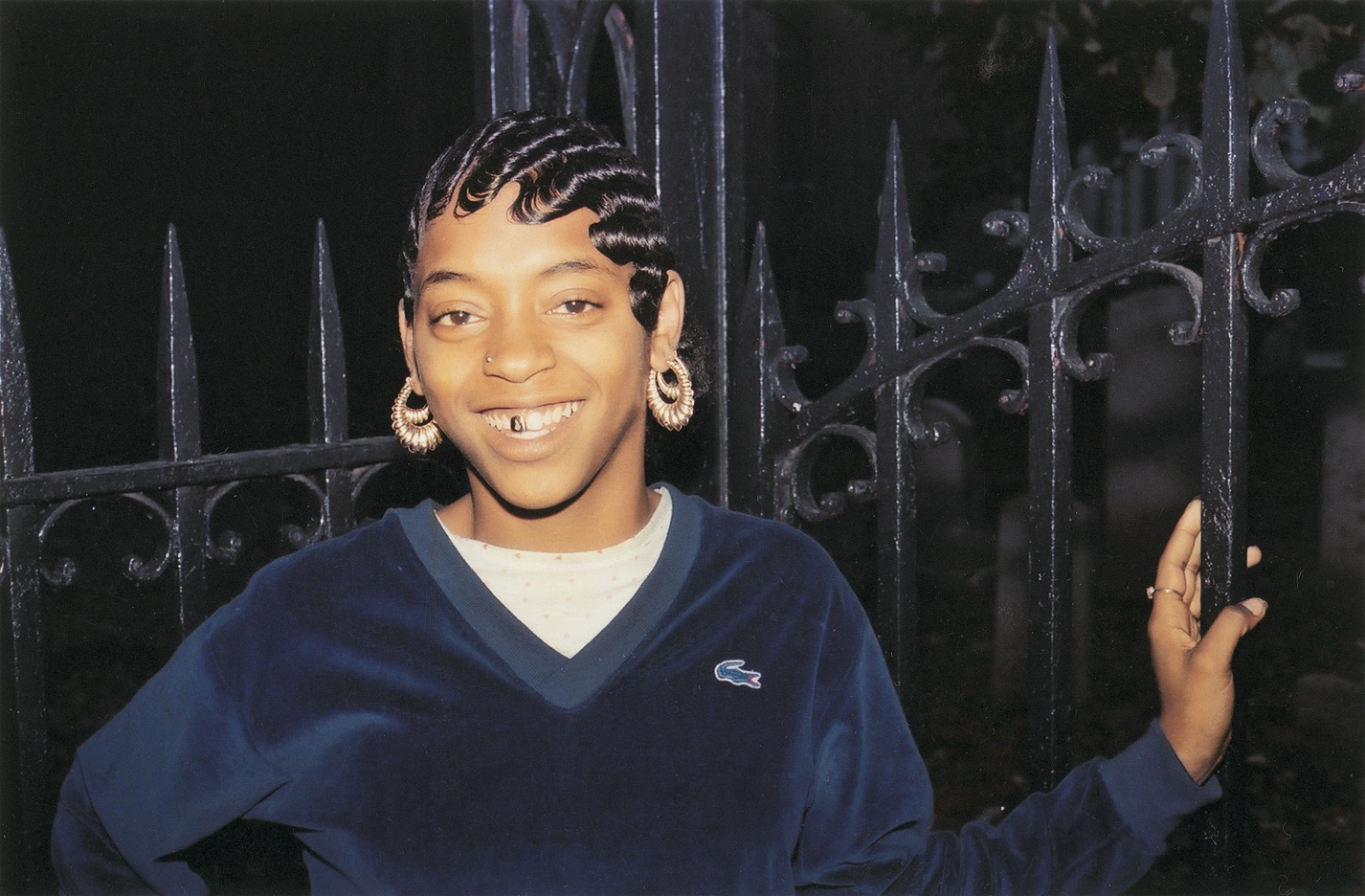 Last year, when Nas wanted to effectively convey "the human experience...of the fashion and art of an era we look so fondly back on," for a capsule of his HSTRY apparel line "celebrating the golden era of hip-hop," he connected with Shabazz. Pro-Keds, adidas, and French Vogue have all tapped him to shoot campaigns or editorials inspired by his work.
"If you look at his photographs, like Diane Arbus, he's very interested in twinning, and grouping people, and showing how people are connected, and creating bonding experiences," says Ahearn, whose own twin brother is the artist John Ahearn. "The girls look like they're twins, and, like, why do these guys all have the same hat on? And why are they posing in the same way? It's about creating a tight sense of unity and purpose, which is not what street photography has traditionally been in the Robert Frank mode, which is to capture people unawares in moments that they might not even identify with."
Shabazz attended Samuel J. Tilden High School in East Flatbush, one of seven identical Depression-era public schools the city built off the same blueprints (and the setting of 1974's Lords of Flatbush, which depicted a much different, much whiter Flatbush, and featured Henry Winkler and Sylvester Stallone wearing leather jackets) which the city declared failed in 2006 and dissolved into several smaller schools.
In a scene in Street Photographer where Shabazz returns to Tilden to photograph current students, the changed styles are markedly apparent. Shearlings have turned into nylon bombers, buckets into blacked-out fitteds, Quarterfields eclipsed by hoodies. Shabazz styles his subjects in the full suite of '80s-era poses. These kids likely don't know why they're crouched low to the pavement or choreographed into an eight-deep tableau like a Merce Cunningham production, Shabazz declaring excitedly, "That's old school!" but they're clearly flattered, and everyone, including Shabazz, is having a good time. Cut to the actual old-schoolers, Shabazz's own peers, leafing through his books and reminiscing about block parties and dice games and friends long gone, and you realize that for the last four decades Shabazz has functioned as a one-man cultural preservation effort.
Back in the Days was a smash when it was published in 2001, selling out its first modest print run before even being unloaded. Galleries and magazines around the world clamored to mount shows. Nearly 15 years and nine print runs later, that aura hasn't dissipated. A retrospective exhibition was held earlier this year in Cologne, Germany, and when Shabazz traveled there it was the first time he had returned to the country since he was stationed there in the late '70s. "It was surreal to me," Shabazz says. "I never imagined when I was there, 17, 18, 19 years old, that I would ever return as an artist, and have people come and celebrate my work in such a manner."
"My role in life is the reminder, and my work
serves to remind."
—Jamel Shabazz
The Cologne show was one of five exhibitions of Shabazz's work taking place between this year and next. He was just involved in a group show on the Lower East Side, has been invited to Paris Photo, has a show at the Smithsonian in January, and is involved in another group show at the Brooklyn Museum in summer 2016. His work is also in the permanent collections of the Whitney Museum of American Art, the Bronx Museum of the arts, the Rubell Collection and Schomburg Center for Research in Black Culture, among others.
Shabazz doesn't follow the street style scene anymore, which has changed tremendously since you could get away with wearing that much Adidas at one time .
"I'm pretty much caught up in a time warp," he says. "I like the period stuff of the '80s, the '70s, the '60s. It's something about that period I'm mesmerized by. Fashion today is too commercial. It's too common. T-shirts and logos. Nothing really inspires me. There's nothing really distinguished about it, you know? Back when we came up, we had a swagger, a flavor, a uniqueness, a sense of pride. And not to say that doesn't exist now—of course all those elements are here today—but as an old-timer looking back, coming up in a time when it really meant something to be clean and fresh, I look at what I see now and it doesn't move me. Most people who are trying to be trendy, I find they go back to the '80s. You see them wearing Cazals and adidas and all that—they're going retro. And I find that to be quite interesting."
That's not to say Shabazz resents the street style designation connected to his work. He acknowledges the fashion element is there, but qualifies that "when I came up, everybody had style. The most average person had style." This is, after all, someone who has designed his own clothes since the '70s.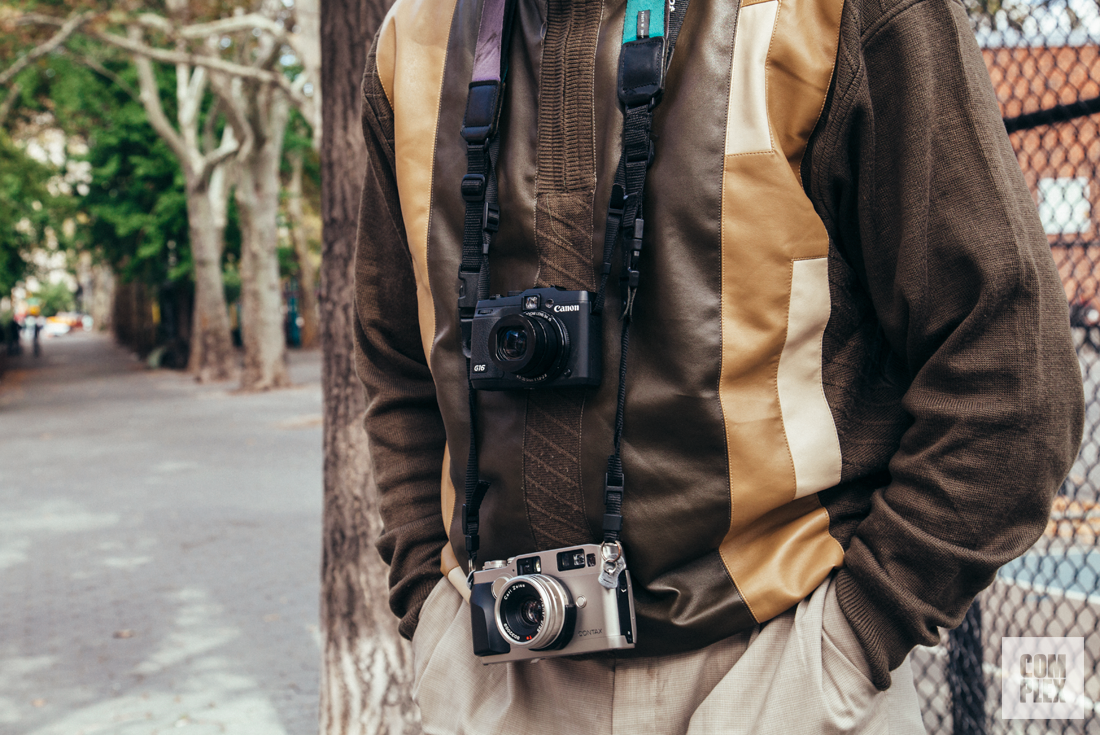 "It's a cornerstone," Shabazz says. "But for me, the true style is the essence of a person's character. When I took the photographs in Back in the Days, I might have approached a person based off the fact that they was stylish, because oftentimes a stylish person is the one who's most open to being photographed. That debonair individual, he wants to be seen. But for me it's really about the heart and soul of the person. Where is the person's head at? Because, in my generation, materialism also cost the lives of a lot of people. So, I look at it as bittersweet, 'cause on one hand, you stylish, but the other hand, I know people who died over Cazals, died over sheepskins, died over sneakers and all that. That's why I don't focus too much of my energy getting caught up on the fashion element. Oftentimes when people look at my work, especially people today, all they look at is the style and swagger, but for me, I'm looking at the person, the inner self."
Shabazz travels often, to Newark, Philadelphia, the Caribbean, France, Seoul, and elsewhere, to document communities there as part of an elastic long-term project he calls "Honor and Dignity."
"My eye has changed," he says. It's the focus of a new book, tentatively called Pieces of a Man, that's designed to inspire both young and old "to see the honor and dignity that exists within a community, in a time in which so much has been compromised."
"You might see a picture of a young father with his son, and the connection between them, the love between them," he explains. "And a young father-to-be might see that photograph and draw inspiration. I might take a photograph of generations: a father, a grandfather, a great-grandfather, uncles, and it might inspire families to come together as one. I've never been one to shoot so-called stars. I don't shoot for fun. It has to say something. It's like, how can I create images that are profound and have impact? If it doesn't have that, I don't shoot it."
Shabazz calls the prevailing thesis of his work "visual medicine," a prescriptive salve for the violence and pain he watched wend through the lives of his peers and leave neighborhoods riven. "That's why I do the books," he says. "It's not about me. It's about the people."
Shabazz points to a particular image, one that takes pride of place in Back in the Days and figures into an elegiac moment in Street Photographer, of a young man, stolid in reflective sunglasses, a girl smiling over his shoulder.
"A young woman had reached out to me not too long ago," he says. "I have a picture of her mother and father, and the mother, unbeknownst to me, was pregnant at the time. And the father got murdered. So, the mother gives birth to this girl who never met her father. But that one photograph—I had only one photograph of them together—made her feel so good. To know I captured a photograph of her mother and father while they were here. My role in life is the reminder, and my work serves to remind. I promised people early on when I would engage them, 'I want to secure your legacy for future generations.' I said it and it just wasn't some cliché."
"I fulfilled my obligation," says Shabazz. "I feel with that, I've done my job."