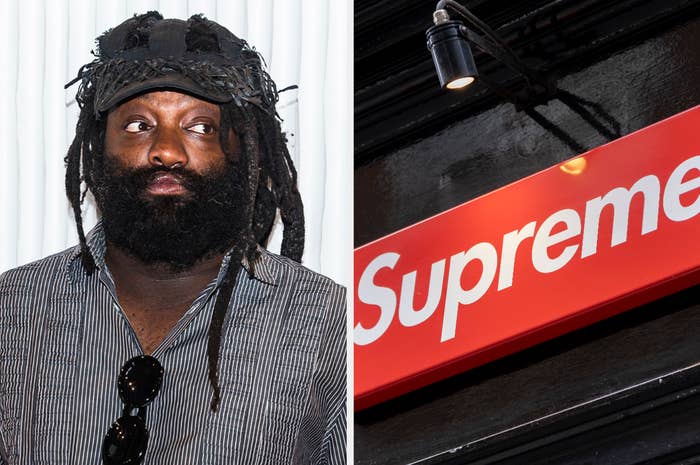 Some people on social media were not feeling the proposed t-shirts Tremaine Emory had in mind for Supreme depicting lynching and an enslaved Black person.
On Thursday, people began to share their thoughts on the "black men being hung" t-shirts that Emory explained in his Instagram post regarding his exit earlier this week. Complex first reported that Emory and Supreme had parted ways, and he shared DMs of us asking for confirmation of his exit, along with images of the book White Fragility by Robin DiAngelo.
He eventually broke his silence and explained why he left Supreme, which was allegedly a result of company founder James Jebbia nixing the idea of including images of violence against Black people and Whipped Peter, the slave in the infamous picture with lash wounds on his back in the late 1800s, from a forthcoming collaboration with visual artist Arthur Jafa.
"I wanted to work with supreme to change these things and instead I told I was racially charged, emotional, and using the wrong forum by bring up systemic racism in a meeting when I was asked if we should work with a black female artist whilst this jafa project was secretly shutdown without anyone talking to me," the Denim Tears founder wrote in his IG post. "That's why I resigned…james agreed with all of my points and said he's gonna change supreme… he's gotta stand on what he said to me and the whole c suite and head of design gotta stand on what was said."
Elsewhere in the post, Emory explained that he talked with a Black, ex-Supreme employee who took issue with the t-shirt images, and thought the collab should have been canceled altogether. "James admitted he should have talked to me about cancelling images from the jafa collab because one of the few black employees( who ironically has quit supreme before I did partially because of his treatment due to systemic issues by the supreme…his words not mine) in the design studio didn't think that we should be putting out this collab because of the depiction of black men being hung and the freed slave gordon pictured with his whip lashes on his back," he wrote.
News of the alleged images that were going to be used circulated online. One of the most used conversation starters was a tweet that read, "Without downloading any new pics, what's on the tshirt of your Supreme collab?"
Various images were used, including the House and Senate Democrats kneeling in the Capitol building while wearing Kente cloth to honor George Floyd, Al Sharpton feeding Foxy Brown a piece of cake, and more.
Other people called out Emory for posting the controversial book White Fragility in his Instagram Stories, which he said he did to spread awareness of systemic racism and how it affects all people of color.