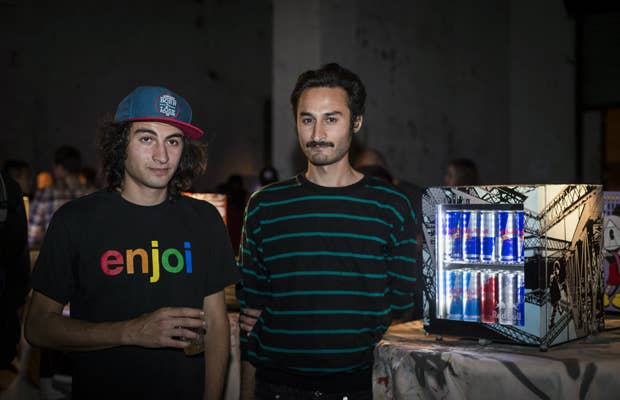 Street art brothers Icy and Sot hail from Tabriz, Iran, where being caught graffiti writing can result in an accusation of "Satanism." Amid the hostile environment, the duo, who moved to Brooklyn last summer, developed a portfolio of urban stencils that address global social issues. From their extremely specific experience in Iran, Icy and Sot have risen to become truly international street artists.
This month, the artists exhibited work at the SCOPE fair during Art Basel Miami Beach because they were two of the winners for "Red Bull Curates: The Canvas Cooler Project." The "Canvas Cooler" project took place in six different US cities, where local artists decorated coolers wrapped in canvas. Two winning artists were picked by Red Bull from each city to appear in Miami. Icy and Sot spoke with us about their design for Red Bull, the street art scene in Iran, and Banksy's "Better Out Than In" New York residency. 
What inspired your design for the Red Bull Canvas Cooler Project competition?   
Our inspiration for our canvas cooler came from our surroundings in Williamsburg, the Williamsburg Bridge, since the cooler ended up in a local venue. We included our signature stencil, the walking boy, which we have used all around the world. It represents the kids in Iran which we'd see walking the streets having all kinds of crazy things happening around them while trying to remain being a kid—that exploration and innocence. 

What does it mean for emerging artists, such as yourselves, to participate in such competitions? 
The competition was fun since there was an amazing lineup with great artists. It's also cool that the coolers will end up in the public eye and that you can end up showing your own original work at the Scope Art Fair during Art Basel Miami Beach. It was our first time at the fair, and we were able to see a lot of our international friends there and meet up. 

As Iranian artists who cannot practice in their own country, how does this affect your work? 
So many things are limited in Iran. We can't compare it to here. The freedom here is totally different. Spray paint was very hard to find there, and the charge if caught by the government was severe. They could charge you with other things. 

How do you represent a national identity in your work? 
Most of our work is about the experiences we've had, but our work is not just about Iran; it's global. 
Of course there are very few street artists in Iran, but do you anticipate a rising tradition of Iranian street artists either inside or outside of Iran?   
Right now there are more kids starting to do graffiti. There is a lot of spray paint around the city, but people can't really do it professionally because it is so expensive and unpractical. But slowly, yes, we think there will be a rise. 

What are your thoughts on Banksy's "Better Out Than In" New York residency? What do you think that this viral event means for street art?   
The way Banksy plays with the media and people is genius. This is great for street art because so many more people are now curious about it.  Even people who didn't pay any attention before are now following and that helps everyone in the scene. 
Which artists (street or otherwise) have inspired your work? 
M-3, Blek Le Rat, and Hobo Cartman (king of the stencils).

Many early graffiti writers and street artists started painting in their local communities, establishing their roots. As truly global artists yourselves, how do you think your work, which crosses borders, is different from other forms of street art?   
Everyone has different work, a different mentality, and everyone is trying to do the same thing—share their vision. Our subjects and work focus around societal issues such as child labor, or really children in general, since people all over the world can relate to their innocence and that they are the future. 

How do you think skate culture informs your work?   
For us it is a big influence. Our career started with skateboarding. We would stencil our boards with skate brands or skulls before we knew the word "stencil." We just used cardboard and X-Acto knives and would post wherever we skated in parks or the streets. They were always covered up within 24 hours.