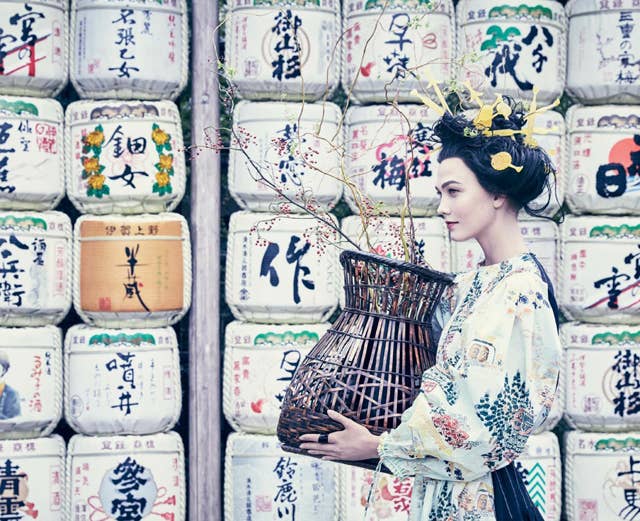 While the cover for Vogue's March 2017 issue might have been a step in the right direction for including the likes of Ashley Graham and other non-conformist cover girls (although it might not have been diverse enough), it's what's inside that's getting people riled up. The Japanese-themed Spirited Away piece finds Kloss looking like a geisha, chilling with a sumo wrestler, and other troubling images. With the whitewashing of Asian culture being very real, and very relevant, this is a questionable move, and Twitter made sure Kloss and Vogue knew that.
Emma Stone, Scarlett Johansson, and Tilda Swinton turn to Karlie Kloss. "Your turn, girl."

Karlie on phone: "Hello, Vogue? Make me Asian."

pic.twitter.com/zgUWIB022Q
#Vogue

styled Karlie Kloss as an Asian woman for their "diversity" issue. That's an interesting interpretation of diversity 🤔
Karlie Kloss gets a 6-page spread in yellowface for Vogue's DIVERSITY ISSUE... while Imaan Hammam & Liu Wen get one pic each... the irony

pic.twitter.com/fXn9Ikz7ik
It's even more troubling when you find out that this shoot was a part of Vogue's "diversity" issue. C'mon, fam.
I just found out that the Karlie Kloss yellowface editorial was for Vogue's "diversity" issue. Diversity. Issue. 😐
vogue hired karlie kloss to model as a geisha? did we suddenly run out of asian models and had to hire a white woman to play one instead ???
One Twitter user did bring up a great point.
The fact that people are talking shit to Karlie Kloss and not vogue or photographer is INSANE. Sexism at its finest.
We can't front; it's hard to pin all of this on Kloss. It was Vogue who paid for the shoot, more than likely came up with the look, and so on, but Kloss did end up apologizing for her part in this anyway.
We'll see, but Karlie; you might need someone to triple check your next moves before making them public. Just saying.