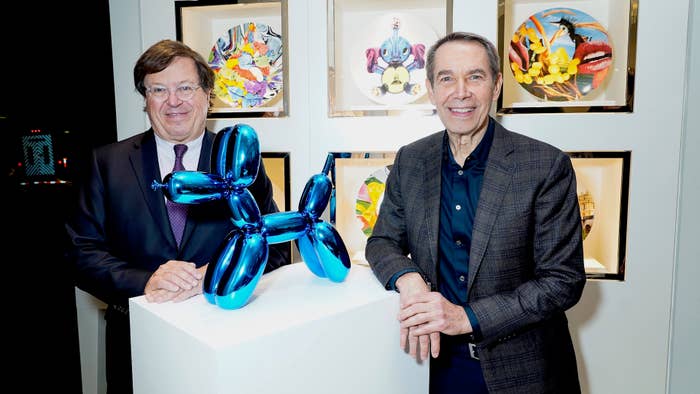 Here's another reminder for curious exhibit patrons: Never. Touch. The. Art.
An unidentified woman learned this the hard way this week, when she accidentally broke a Jeff Koons "Balloon Dog" sculpture reportedly worth $42,000. According to the New York Times, the expensive mistake occurred Thursday night during a VIP preview event at Miami's Art Wynwood festival. The bright blue porcelain piece—which was about 16 inches tall and 19 inches long—was reportedly displayed at the Bel-Air Fine Art booth, where it eventually shattered into pieces.
Art collector/artist Stephen Gamson managed to catch the aftermath on video, filming the shiny shards on the ground as a group of visitors looked on. 
"Before I knew it, they were picking up the Jeff Koons pieces in a dustpan with a broom," he said.
Gamson told the Times he was about to call attention to the sculpture when he noticed a woman tap the piece with her finger, causing it to fall off its pedestal and hit the floor. He said he initially thought the incident was some kind of performance art, but quickly concluded it was a blunder.
"[It was] kind of like a car accident on the highway," he recalled, "where people start looking and then there's traffic and then it becomes this big thing."

Cédric Boero, a district manager for Bel-Air Fine Art, said he felt like "life just stopped for 15 minutes" after the incident. He told the Times that the woman who broke the sculpture was both apologetic and embarrassed, as she reportedly told his colleague: "I'm very, very, sorry" before expressing her desire to disappear. 
Gamson said he offered to buy the broken sculpture, but wasn't given a definitive answer. Boero confirmed the pieces have been stored away, and will be reviewed by an insurance company.
Though the incident undoubtedly caused some stress, Boero managed to find a silver lining. The number of  "Balloon Dog" sculptures has gone from 799 to 798, which effectively boosts the value of the remaining pieces.