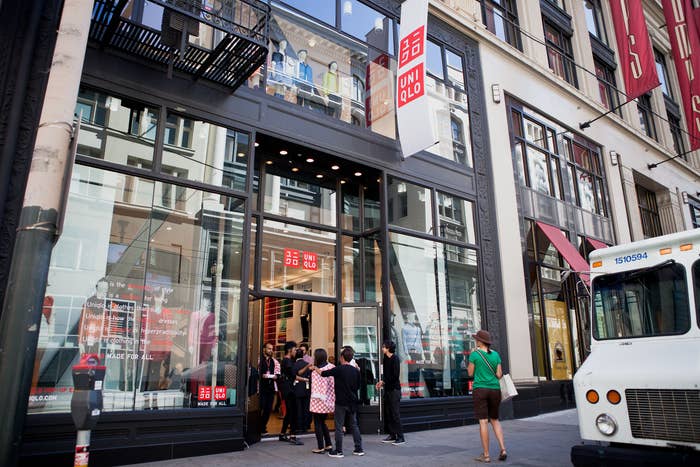 In a move that speaks to its continued growth, Uniqlo has just announced that it will open its first Canadian stores in Toronto next fall. The stores will be located at Yorkdale Shopping Center and Toronto Eaton Center, which are two of the city's biggest and best-known shopping destinations, and will offer 24,000 and 28,000 square feet of shopping space, respectively. 
Originating in Japan in 1984, Uniqlo is known for quality basics, designer collaborations, and series of proprietary collections including AIRism, HEATTECH and Ultra-Light Down, as well as premium denim Jeans, Supima cotton T-shirts, Polos, and Fleece.
"Entering the Canadian market is a milestone for the company and a significant step in our growth strategy," says Larry Meyer, CEO of Uniqlo USA and Canada. "Our first two stores in the great City of Toronto will mark the launch of the Uniqlo brand in Canada, which we aim to build upon thereafter with a presence in the lovely city of Vancouver." Late last year, Racked reported that high costs surrounding openings mean that Uniqlo is yet to turn a profit stateside. Despite this, the retailer is on an aggressive growth plan in North America, planning to have 200 stores open by the year 2020. 
Uniqlo is just the latest in a string of international and U.S. retailers that have set up shop in the Great White North as of late. In November, Muji opened its first Canadian store in Toronto, and will add more shops in the area by the end of 2015. Nordstrom just opened its first store in Calgary, and has plans for five others in Vancouver, Ottawa, and Toronto by spring 2017. Let's hope that they all fare better than Target, which just announced it will close all 133 Canadian stores immediately after losing $2 billion since 2011.
No exact date has been given for opening yet, but for now our Canadian friends can just look forward to Uniqlo coming to town sometime in the fall of 2016.