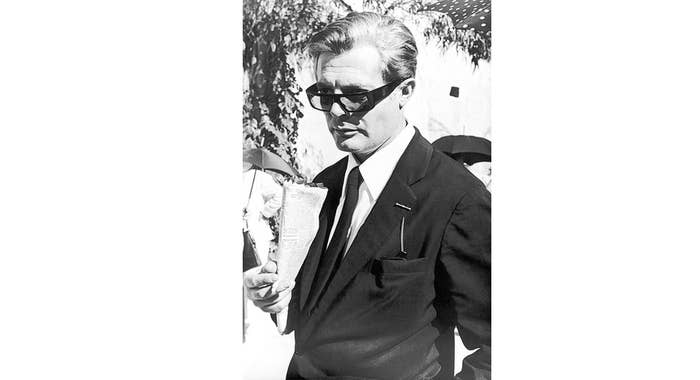 Yesterday, The Wall Street Journal published an op-ed by Alexander Aciman entitled "Succumbing to the Tyranny of #menswear". I'll wait for everyone to stop giggling. The main thrust of the piece is that the recent explosion of commerce and interest in menswear, especially on the Internet, hasn't actually led to a style renaissance of sorts, but instead has created a dogmatic uniform, within which men do not think for themselves, but simply paint by ridiculous, affected numbers. We've all been lied to!
In an attempt to trace the genesis and trajectory of #menswear (incorrectly, I might add), Aciman argues that the rise of street style photography has sounded the death knell of "…the elegant and understated suit, and opened the gates to burgundy velvet Doc Martens, double-layered silk scarves…and cuffs crinkled for that extra dash of insouciance." Okay, I'm not sure Aciman even really knows what #menswear is, but we're going to solider on for the sake of the culture.
Aciman further intimates that the ascent of street style and the explosion of style related websites have not helped foster individual style, but rather, young men "…have become so overwhelmed by images of the flamboyant that they find their own clothing shamefully deficient. The solution? To look acceptable, dress exactly as the Internet tells you." To deny the source of your inspiration is the true affectation of which I think Aciman should be railing against.
This is all a relatively new phenomenon according to Aciman who argues, "Thirty years ago the only men susceptible to fads were the few who read magazines like Vogue Hommes and went to the shows in Paris. Now, anyone with a lunch break—or anyone whose girlfriend has a lunch break—can log onto Tumblr and subject himself to incessant criticism of dressing normally."
There have always been fashion fads, just as there have always been 'experts' telling men how to dress.
This is simply not true. This sentimental view of the past creates a false, almost macho-like facade of menswear and fashion pre-2008. If it we took Aciman at his word, Alan Flusser wouldn't have a career. (Flusser's first book, Making the Man: The Insider's Guide to Buying Men's Clothes was first published in 1981.) GQ and Esquire were founded in 1931 and 1933, respectively. GQ, originally a trade publication aimed at industry insiders and store owners, became so popular that Esquire was subsequently created to meet demand. To make the argument that trends and fads have existed only in the last thirty years is to deny reality. Look at photos from any era and you will see people, both men and women, dressed remarkably similarly. There were fads in Elizabethan England, let alone 1940s America. Take, for example: powdered wigs, the Zoot suit craze, fedoras becoming the dominant headwear and then all but disappearing, sideburns in the late 1800s, leisure suits, etc. If fads and trends and "style reports" and rules didn't exist in such prevalence throughout the course of human society then explain to me the existence of thrift stores. If everyone was dressing as an individual then why can I go to any city in any state in the entire country and find a polyester suit with giant lapels? There have always been fashion fads, just as there have always been "experts" telling men how to dress. The constant pressure to fit in within society is nothing new. In fact, societal mores and pressures are pretty much the defining factors of living within society.
Aciman suffers from saudade for an era that never really existed. He argues that men like Marcello Mastroianni were individuals, picking the cloth for their suits based on their instinct and personal preference, not Mr. Porter's journal. What Aciman conveniently neglects to mention is that Mastroianni most likely employed a master tailor—the type that will correct you when you're wrong and keep you from making ridiculous sartorial decisions. And what about the directors and stylists of Mastroianni's films, who no doubt played a part in the plethora of iconic images of the Italian actor that fill our heads, and Tumblr dashboards, with a stylish, bygone past. It's almost as if Aciman mourns for a time in which style was some sort of innate trait that only a lucky few possessed and that with the rise of #menswear it has become subsumed by studied, artificial design. He cites unbuttoned surgeon's cuffs and unstrapped monks as once signatures that have become so ubiquitous they have become part of a sanctioned uniform.
Continuing to chide style rules and magazines, Aicman invokes the most stylish of Hollywood icons, James Bond. His comparison of the sweaty, beleaguered New Yorker and the effortless, unaffected secret agent belies the circularity of his argument. He faults the New Yorker for trying to dress like James Bond, despite James Bond being THE icon of men's style and panache. Aciman denies that the birth of any personal style is, at its heart, The Steez Bite.
If anything, the young men of today's generation are the polyglots of style.
The influx of style-based rules and guidelines and street style stars is no different than the old silver screen glamor of decades past. We laud people like Steve McQueen and Paul Newman because they dressed in a manner that seemed to embody their personalities, both on and off screen. But to argue that they didn't at least think about their appearance before they got dressed, or that they didn't pay attention to the prevailing styles of the time, is to posit that they never consulted with a tailor or spent an extra moment or two in front of the mirror adjusting their pant leg. And that is to deny their humanity.
The sheer amount of product and design that any man can see simply by Googling "menswear" does not create cookie cutter sartorialists. I think it actually forces young men to figure out which of the trends and style rules work for them and which do not. True personal, individual style is a matter of growth and self-reflection, which is why there are a thousands of street style photography sites, but only a handful of good ones. And it's the same reason why there are only a handful of street syle stars that regularly pop up on your Tumblr dashboard without fail.
I believe that menswear is branching out more and becoming more varied and open-minded because of its proliferation on the Internet. The glacial American style scene seems to be finally moving in the direction of the Japanese scene, which is brimming with the most disparate style tribes known to man. Some young men are embracing silhouettes that 8 years ago were considered downright ridiculous. Sure, while some of their peers may still wear selvedge denim and Red Wing boots, they can understand the appeal and importance of Takahiro Miyashita. A kid who can spot a Sciamat shoulder from a mile away may lust after both a pair of Air Yeezy IIs and a scarf from Drakes. If anything, the young men of today's generation are the polyglots of style. And like any young men, while they may suffer from over-enthusiasm, bravado and impressionability, know what they want, when they want it. I doubt they feel beholden to anyone about their sartorial choices.
PS. Can everyone stop complaining about guys not wearing socks? ARE YOU MY FUCKING GRANDPA? I HAVEN'T WORN SOCKS IN SHOES OUTSIDE OF WINTER SINCE HIGH SCHOOL. AND I WENT TO HIGH SCHOOL WHEN MODEMS STILL MADE THOSE CRAZY FAX MACHINE NOISES WHEN CONNECTING TO THE INTERNET. THAT SHIT IS NOT A FAD OR A RULE. IT'S JUST HOW SOME PEOPLE LIKE TO DRESS. BLISTERS? PUH-LEASE, YOU NEED TO GET SOME SHOES THAT FIT, HOMIE.