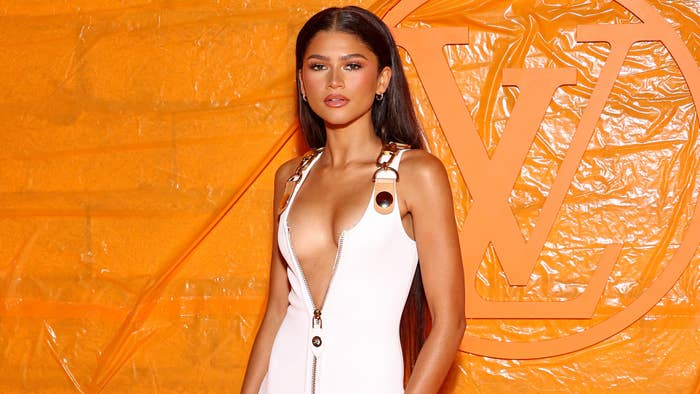 Zendaya was a knockout at Louis Vuitton's Womenswear spring/summer 2024 show during Paris Fashion Week.
On Monday, the actress was seen wearing a floor-length white gown, designed by Nicolas Ghesquière to sit front row at his presentation. The dress featured a double zipper down the front—and Zendaya was seen showing a lot of skin. The piece was also adorned with oversized buckles on the shoulder straps, resembling the hardware on an LV purse.
The 27-year-old—who was named a Louis Vuitton ambassador earlier this year—completed her ensemble with white heels and Bulgari jewels.
The show saw a slew of celebrities in attendance, including Jaden Smith, Pharrell Williams, Regina King, Ava DuVernay, Jurnee Smollett, Cate Blanchett, and Jennifer Connelly, among others.
Zendaya's stylist, Law Roach was also present, following his reveal in March that he was "retiring" from the industry, citing "politics" and "lies." At the time, the announcement looked to have originated from him feeling dissed at a Louis Vuitton show. A viral clip of the incident showed him walking in with Zendaya but not being seated next to her in the front row.
He later responded to rumors that there was bad blood between him and Zendaya: "So y'all really think I'm breaking up with Z…..we are forever!" Roach wrote. "She's my little sister and it's real love not the fake industry love."