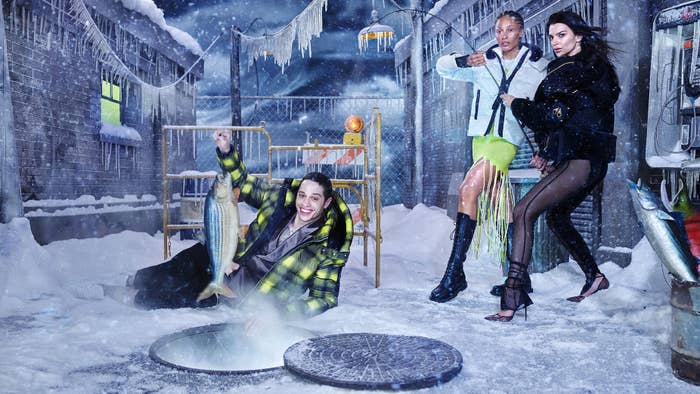 Moose Knuckles is back with another range of cold-weather essentials.
This week, the Canada-based outerwear brand unveiled its fall/winter 2021 campaign shot by David LaChappelle. The images, which were styled by Kyle Luu, continue the photographer's signature aesthetic, combining humor and high gloss with a considerable amount of humor. Campaign stars Pete Davidson, Emily Ratajkowski, and Adwoa Aboah are seen in an urban winterland setting, where they pose with motorcycle ice sculptures, ride frozen waves, and ice-fish from a manhole.
"Utility has a different definition at Moose Knuckles," Brody Baker, creative director at Moose Knuckles, said in a press release. "We know our audience. They like to have fun, to have a good time, to create, and they're spirited and full of energy. We wanted to create imagery that would resonate with their sensibilities. David's world was the perfect fit."
Davidson was photographed in the brand's Naufrage Jacket; Ratajkowski rocked the Comptoir Puffer and Tracadie Jacket; and Aboah was shot in Gataga Puffer and Afton Vest. You can check out several of the pieces in the lookbook photos below.
The Moose Knuckles Fall/Winter 2021 collection is available now in stores and online.